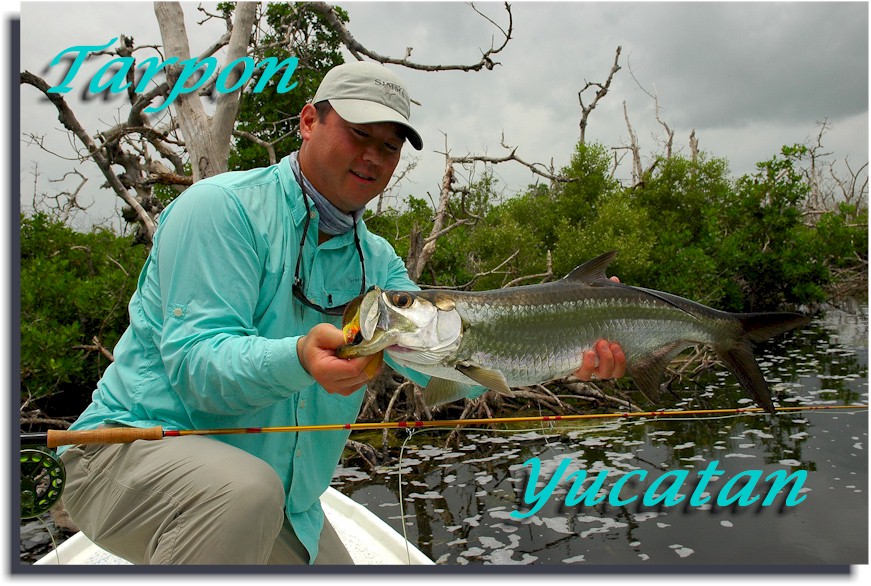 By Dan Blanton
Photos by Dan Blanton and Keith Kaneko
Mexico's Yucatan Peninsula, in particular, Tarpon Cay Lodge and Isla Del Sabalo Lodge, offers some of the most incredible fly-fishing for both baby and adult migratory tarpon to be found anywhere in the Americas.  Indeed, it's possible to sight-cast to fish cruising the turtle grass flats or to rolling fish in open water and in mangrove-lined jungle rivers, creek mouths and bays, hooking and jumping  a dozen or more a day; and if you're lucky, landing a few to boot.  No matter what your score, just feeding and jumping these magnificent creatures is the ultimate fly-fishing thrill.  Landing a few is icing on the cake.
In early July 2008 I had the opportunity to sample the tarpon fishing at two different Yucatan lodges, a double header consisting of three days at each venue, accompanied by Keith Kaneko and Ryan Miller of Angling on the Fly travel – the exclusive booking agent for Tarpon Cay Lodge and the new, Isla Del Sabalo Lodge – owned and operated by Marco Ruz and Jesciel Mena, both of whom are are superb fly anglers in their own right.
It had been 25 years since I'd been to Cancun honeymooning with my wife Cindy.  Upon arriving at the bustling Cancun airport and after working our way through immigration and customs, we were met outside by Jesciel Mena who transported us from Cancun to the small coastal town of San Felipe and the Hotel San Felipe – AKA Tarpon Cay Lodge – about a 3-1/2 hour drive over a well maintained highway, much improved since the first time I'd traveled it 25 years prior.  We were a little cramped in the new air-conditioned SUV but Keith and Ryan graciously gave me the front passenger seat so I had lots of room.  Except for passing through a couple of small towns the highways for most of the drive were in superb condition, making it an easy transfer.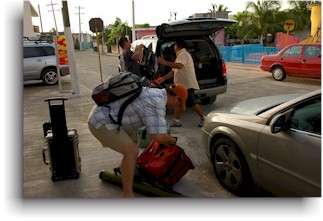 Unloading at the Hotel San Felipe
The Hotel San Felipe/Tarpon Cay Lodge in the little coastal town for which it's named is a jewel in the rough.  It's not a large hotel by any standard but it is incredibly clean, well appointed and the accommodations were more than adequate with AC and wall fans to keep us comfortable.  The Hotel dining room is right on the water's edge and it was wonderful to be able to walk out of the dining room after breakfast and step right into your skiff.  The hotel seawall and walkway is right at the water's edge.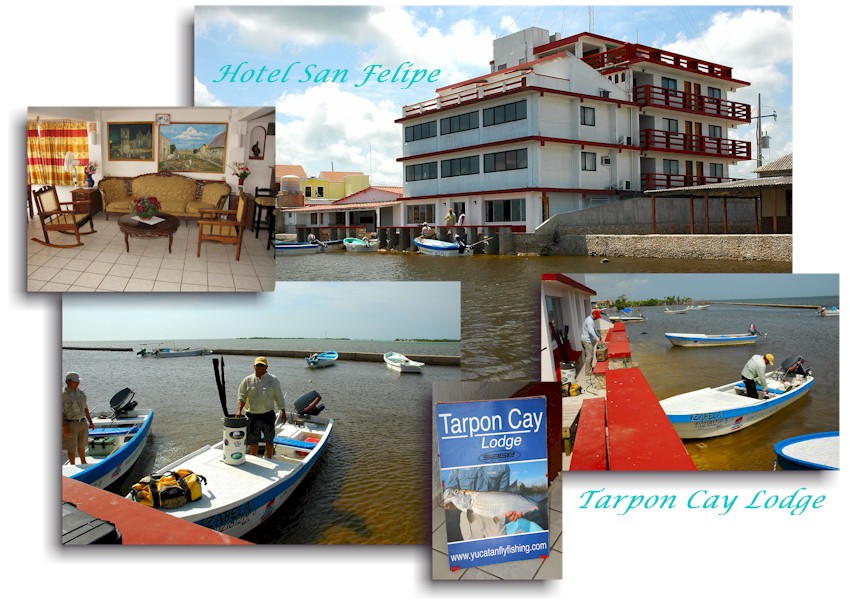 The hotel staff couldn't have been better or nicer with first class service and attention to details.  The food, mostly from the sea, was superb and varied; the beer ice cold and the margaritas as tasty as any I've sampled.  All you had to do was ask and Beto, our affable lodge host, would get you whatever you wanted to drink.  Breakfast each morning was served at around 5:30 a.m.; you put your order in the night before after dinner.  Lunch each day was a surprise but it was always good.  The usual fishing program if the tides were right was to come in for lunch and a siesta each day, going back out round 3:00 p.m., fishing until dark – perfect!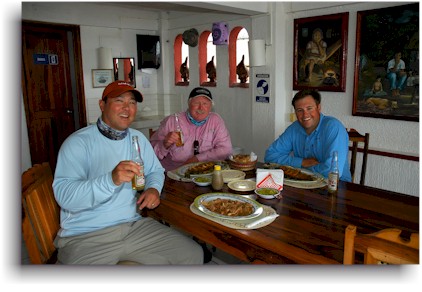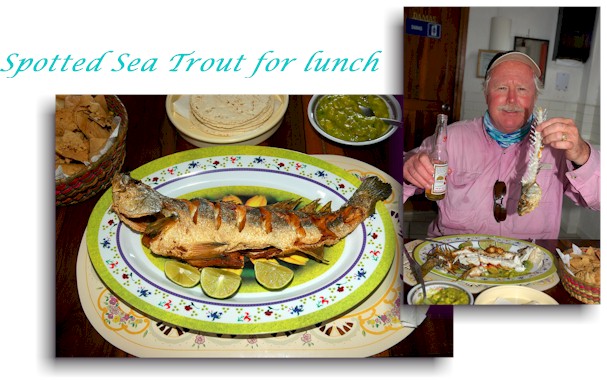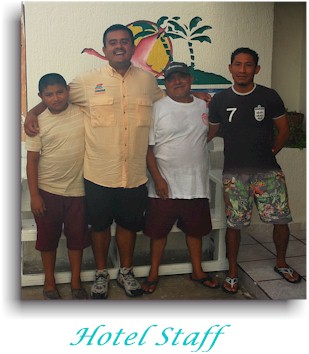 The Fishing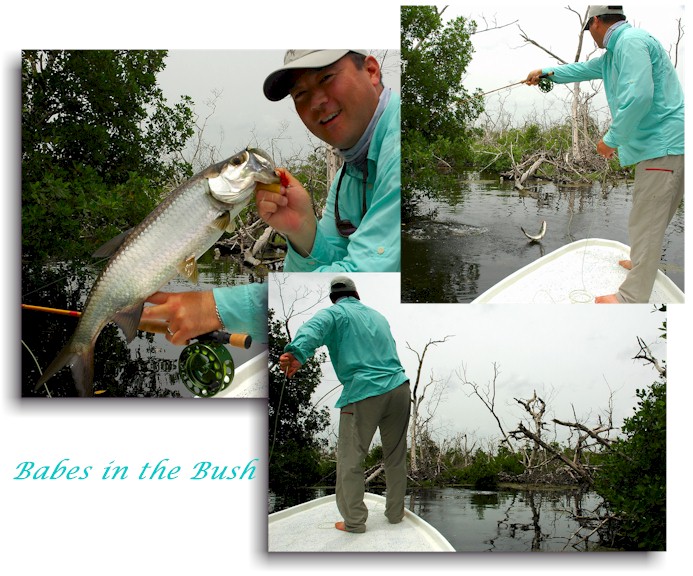 If there was a constant in 2008 when it came to tropical fly-fishing, world wide, it was abnormally cool and windy weather.  Our Nemesis at Tarpon Cay Lodge and Isla Del Sabalo averaged from 20 mph to more than 30 most afternoons with a little break in the mornings when it dropped to under 10 mph.  Surly winds and choppy water notwithstanding, we actually had superb fishing by any standard, with each outing providing lots of opportunities – shots, eats, jumps and landed fish.  Tarpon Cay Lodge has a double-edged sword because of its tarpon habitat diversity.  If the wind won't let you fish the open, deeper water where larger, junior and adult tarpon roll, feed and cavort and are more than willing to eat a fly, there's always the inshore grass flats, mangrove creeks and creek mouths which are well-protected from harsh winds and are full of eager baby poons ranging in size from 4-pounds to teeners – perfect for an 8-weight rod and floating line.
Tarpon Cay Lodge's peak season is summer – June through September – like most other tarpon destinations.  The weather is most stable then and the tarpon are usually happy.  Happy tarpon mean happy anglers.  In fact, the wind we experienced in early July was abnormal.  Usually it is hot and still and folks are suffering from the heat; but I'll take still and hot and happy tarpon over a cool wind any time.  Again, the average size of the tarpon at TCL are from 5 to 10 pounds with opportunities for shots at larger fish to 20-plus pounds.  During the three days Keith, Ryan and I fished at TCL we each landed a fish exceeding 40-pounds and jumped a couple more of equal size.  I saw a few free-jumpers that would easily top 70-pounds.  Opportunity for a big tarpon are real and every season someone latches onto one.  That said, this is a tarpon nursery and the numbers of baby and junior tarpon are incredible.  Other TCL species include barracuda, snook, snapper and varied jacks.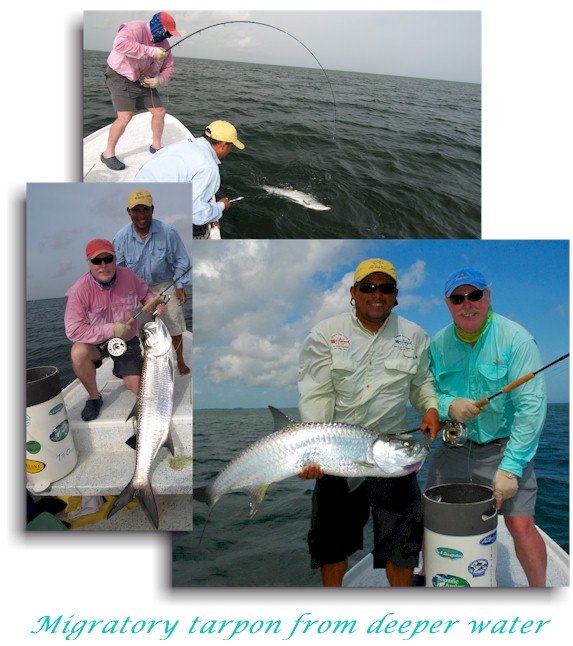 The first morning at TLC we ran about 40 minutes to the big fish bucket, an area well off the flats a half mile or more in water ranging from 10 to 15 feet deep.  The poons were there, rolling, breezing and busting bait.  It wasn't sight fishing in the classic sense since dark bottom, tannin water and clouded skies prevented us from seeing individual fish or schools.  We had no trouble seeing groups of rollers though and all you had to do was get a fly in front of or into the wad and if it was the right fly (and there were many) you got bit.  Had there been no clouds it would have been easy to sight-cast to visible fish.
These poons were eaters, the grabs solid and enthusiastic; and on a couple of occasions Keith and I could have easily scored doubles from the same school of rolling fish.  We scored double eats a few times but just couldn't keep one or both from jumping off the hook, spoiling the double .  It was wild!  Like I said, these offshore tarpon ranged in size from teeners to 50-pounds with some seen rocketing skyward that eclipsed 70 or more pounds.
Tarpon Cay Lodge and Isla Del Sabalo are perfect tarpon destinations for the novice flats fly-angler.  This is not to say that you don't need to have the basic skills.  Indeed, you do need to be able to cast a decent line and being able to double haul is required.  Being able to properly set the hook and execute a timely bow when a tarpon leaps is paramount to landing a fish.  However, if you can only lay out a 60-footer or less, you will still have ample opportunities to score; but if you can crank out a 90-plus-footer in the wind, your rewards will be even greater.  So, yes, like in all flats fishing, casting ability counts!  The best thing about these Yucatan tarpon areas is that you'll get so many opportunities – do-over's –  that the learning curve is vastly shortened.  Opportunity is EVERYTHING!  This was Ryan Miller's first tarpon trip and to say his excitement was piqued would be an understatement.  Ryan being a seasoned steelhead guide had all the casting skills and once he got his sea legs under control, he had no trouble placing the fly on the dining room table.  He fed quite a few, stuck several and missed a few bows but once he got the hang of it, he boated his first tarpon that first morning that pushed 50-pounds; and was the largest landed during our trip.  You could hear him whooping it up all the way back to Cancun!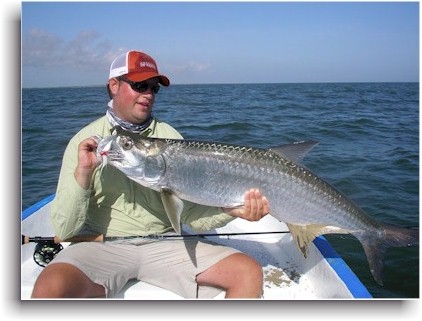 Ryan Miller with his first tarpon on fly, a 50-pounder
We only got to fish the big water for big poons two morning out of the three we had at TCL because of the incessant wind; but the fishing program – fishing mornings, coming for lunch and a siesta, then going back out again around 3:00 p.m., working protected creeks and creek mouths until dark made each day, regardless of the weather, always productive.  This is about the closest thing to guaranteed tarpon fishing I know of; and while there really are no guarantees in the angling world, TLC comes pretty close to being able to offer one.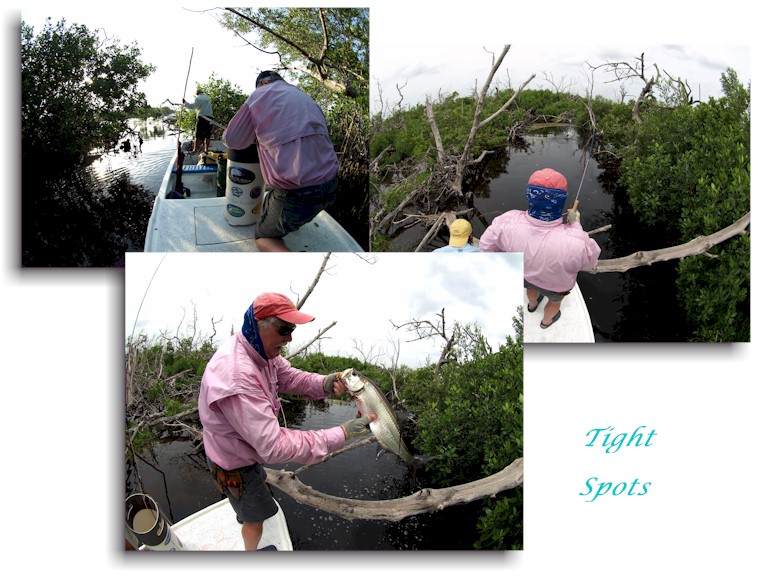 I'd forgotten how much I enjoyed fly-fishing mangrove banks and creeks for baby tarpon, having done quite a lot of it in Venezuela back in the mid-80's.  They are hilarious on an 8-weight and floating line.  Some of the creeks our guide, Pedro ( a superb fly-fisher himself), pushed Keith and I into were like a Disney ride into the lost world.  Some spots we had to duck under a low canopy of mangroves just to get into the wider sections of creek and then we were often casting into pocket water that looked more like it held brook trout instead of tarpon. We knew we wouldn't be able to get most of them out of the sticks but the blow-ups, eats and jumps were just too much fun and it was worth losing a fly now and then when a fish crash-landed through a web of mangroves branches.  We did manage to land many of them though, especially the fish hooked outside the creek mouths (bocas) when they moved out of the creeks on falling water. Flats fishing can be incredible too, especially at low tide when most of the tarpon have dropped out of the creeks and congregate on adjacent flats.
Like I said earlier, being a good caster really helps and I would say that if you couldn't consistently cast at least 60-feet or more with accuracy, your score would be considerably less than that of someone who could – especially when the wind is up.  This is even more true when fishing Isla Del Sabalo, with its larger creeks and rivers and larger, more easily spooked fish.  Keeping your distance from rolling fish and delivering the fly long distance often makes a profound difference between an eat or nothing.  If you book a trip to these tarpon destinations, practice casting well in advance of the trip and if you don't know how to double haul I strongly advise you learn.
Isla del Sabalo Lodge – Game Two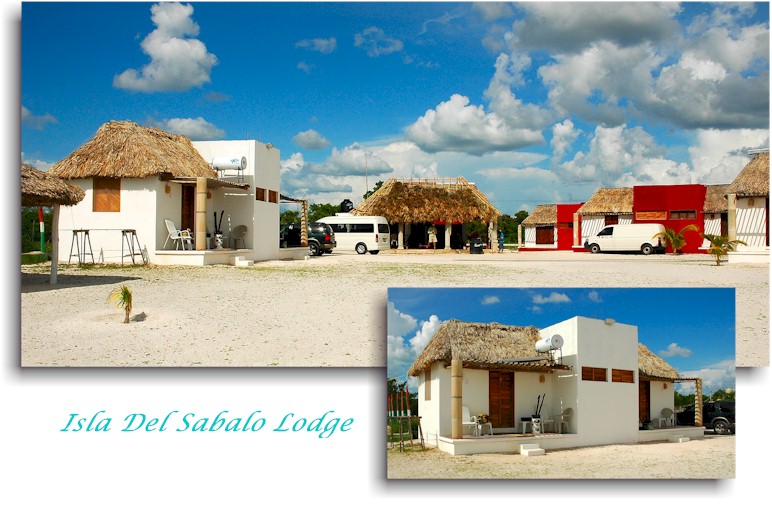 Isla del Sabalo Lodge is located in an even more remote region of the Yucatan Peninsula than Tarpon Cay Lodge, sitting a couple of hours north of Campeche on the western side of the peninsula.  The mangrove forests there are pristine and so are the many rivers that flow out of the mangrove jungle.  The mangroves themselves are much taller and denser; and unlike some of the mangroves at TCL, have not been killed or damaged by hurricanes.  It is truly a wild area abundant with birds and other wildlife – but most importantly, the rivers and flats are home to tarpon, lots of them.  There are no migratory tarpon there but the baby tarpon fishing which includes some fish to 20 or more pounds is stellar.  The flats are gin-clear, carpeted with turtle grass and when the tide is right can provide exciting and challenging sight fishing to cruising baby tarpon.  This highly visual element adds to the electric excitement of this unique fishery.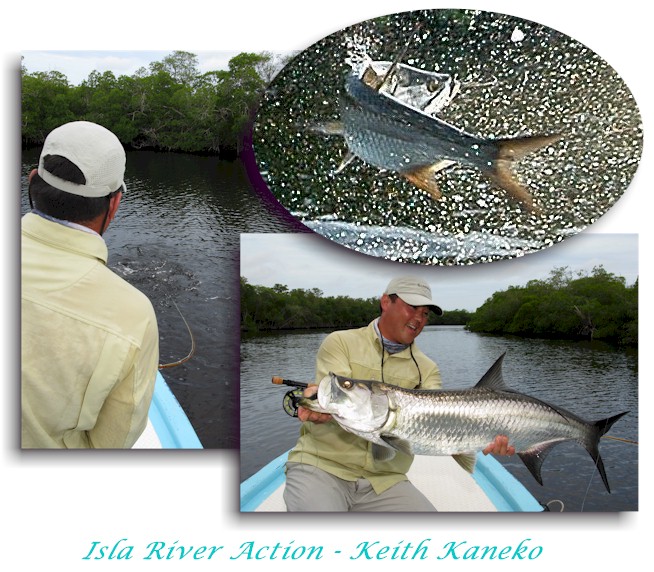 The area's numerous rivers and vast lagoons offer another exhilarating dimension to the tarpon fishing when at high tide and during the first of the fall, this network of watercourses can become alive with rolling tarpon feeding on a variety of baitfish.  I think it safe to say that Keith and Ryan managed a few fish to hand each day while fishing at Isla, jumping more than they landed of course.  My worst day at Isla I only jumped one fish and fed one.  Two good days out of three isn't bad though, especially when you consider the tetchy weather we encountered.  The next day, our last, our host Marco Ruz and guide poled me silently into a river mouth and the first bend was alive with rolling tarpon.  I managed to jump a dozen and landed 7 to about 10 pounds.  It was a great way to end a wonderful trip.
Isla Del Sabalo is a new lodge (about a 1.5 hour drive from Merida), barely a year old, and Marco Ruz and Jesciel Mena did a fine job with the building of the guest cabins and the main dining salon.  They are air-conditioned, clean, comfortable and well appointed with plenty of room for two guests sharing a cabin.  They are located on a stark white, sandy beach only a cast from the Gulf of Mexico.  The only thing missing were full-grown palm trees and that luscious babe in the bikini with the Corona beer.  But it is my understanding there may be a few full-grown palms planted there the next time I visit Isla, which I hope is no too far off.
The staff at Isla bent over backwards to make sure we enjoyed our experience and that all our needs were taken care of.  The food at Isla was not as good as the food at Tarpon Cay Lodge but we've made several suggestions on how to improve the meals and Marco took plenty of notes and guaranteed all would be taken to heart.  Like the guides at Tarpon Cay, the guides at Isla were superb, fully understanding the requirements of fly-fishing for tarpon.  They poled the flats and rivers, keeping the caster in perfect position at all times.  The guides at both lodges were as good as any I've fished with, anywhere.  All of them could throw a fly line a 100 feet with ease…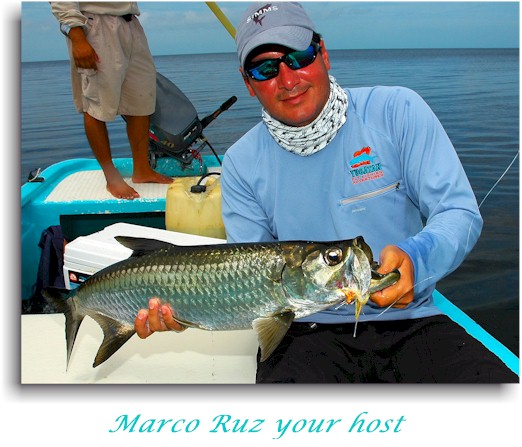 The bottom line for me, is that while there needs to be several improvements at Isla Del Sabalo (all probably done by now), I would make the trip again in a heart beat.  In fact, I would do the "double header" Tarpon Tour trip again, spending three days at each lodge. We experienced decent tarpon fishing by any standard at both venues and I can only imagine what it would be like if we hit the weather and conditions the way they should be in summer.  Doing the combo trip would certainly hedge your bet by allowing you to experience and sample two distinctly different tarpon habitats.
Boats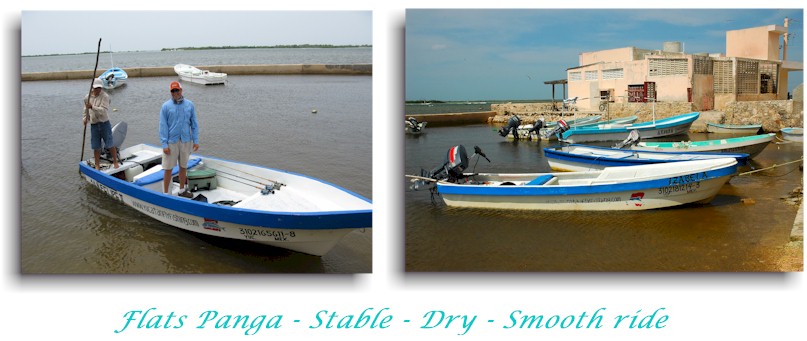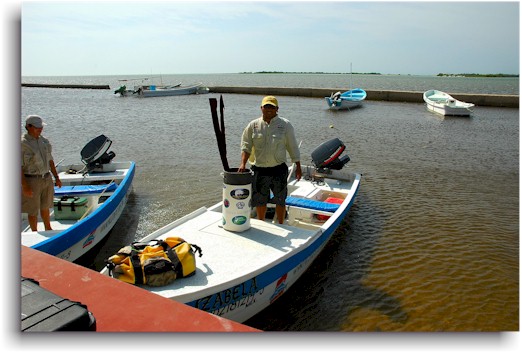 Having a VLMD and Rigged `N Ready rod bags made life much easier
The boats we fished from at both lodges were specially designed "flats" pangas and they were excellent to fish from.  They were fairly stable casting platforms and only drew inches of water.  They were also a dry, fairly soft ride in a hard chop.  There were no rod racks though and having my Rigged `N Ready rod bags made having two or three rigged rods in the boat much easier and safer for the rods.  Also having a boat VLMD (vertical line management device), a casting tub, made fishing in the wind profoundly easier.  Without one, casting in the relentless wind would have been nearly impossible; certainly frustrating.
Gear and flies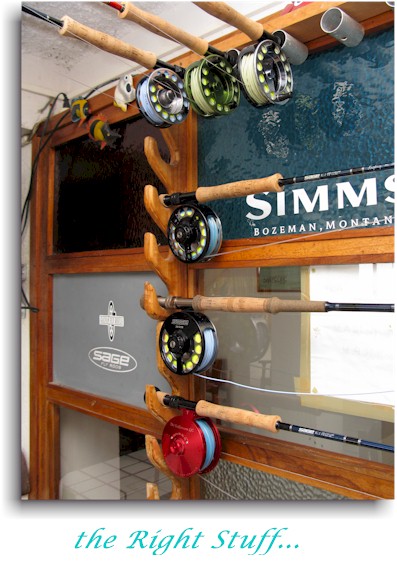 When it comes to tackle, you basically only need two different outfits: an 8-weight with a good, tropical coating, WF floating fly line for baby and Junior tarpon action; and for the larger, migratory fish, a stout 10-weight with both a floating and clear sink tip line will get the job done.  I fished with TFO's TiCr-X 890 for the babies and used the TFO Baby Blue (blue water series) for the larger fish.  When the wind was up, the 10, loaded with a 400 grain SA tropical Streamer Express Clear Tip worked extremely well.  It cast brilliantly and subdued the larger fish quite easily.  Keith and Ryan used Sage rods in similar line weights; and Sage's new Largemouth Bass rod with matching line worked brilliantly for the mangrove fishing, casting in tight quarters and ripping fish out of the mangroves.  Of course any rods of similar stature will suffice.  Reels need only have a good drag and hold at least 250 yards of 30-pound backing, which should be more than  enough insurance for the larger fish.  Most of the baby tarpon were played by hand-stripping them in and rarely did one put you on the reel.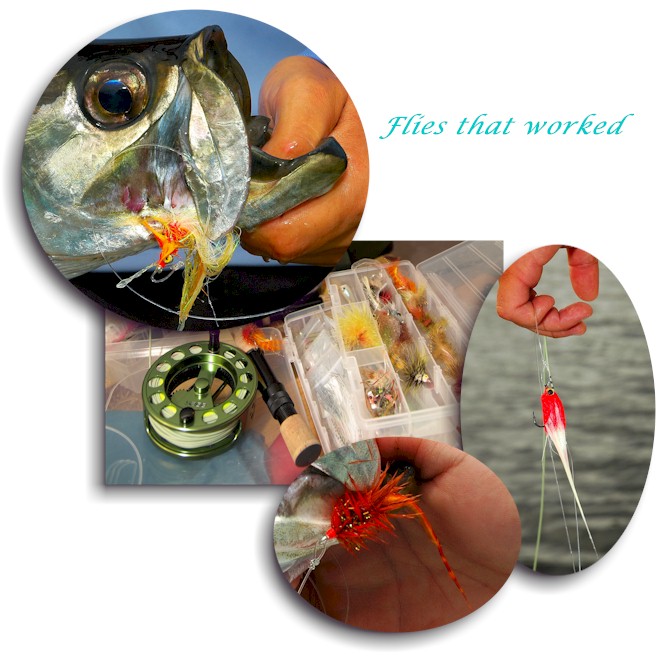 Flies: I did extremely well with mini FT Whistlers in yellow/orange; white/red and red/black tied on 1/0 to 2/0 Tiemco 600SP hooks.  I also did well on a red/white rabbit strip fly tied with a SeaDucer collar of white/red/grizzly with lots of silver flash and a red head of two turns of large Krystal Flash chenille, similar to the productive Campeche Special Tarpon Fly.  A black/red Clouser tied on a Gamakatsu jig hook, sort of EP style also proved effective for the larger migratory poons.  Keith and Ryan also scored well on similar patterns, including shrimp styles in oranges and tans.  Ryan took several, including his largest tarpon on a red/white/griz FT Whistler on a 2/0 hook.  I also scored well with several of Lee Haskin's patterns such as his Tarpon Neutralizer,  Shrimp Neutralizer, Slide Ball Slider and Deep Cover Shrimp.  Flies with mono snag guards are highly recommended especially when fishing deep in the sticks.
Leaders: Leaders needn't be too complicated.  I used both furled and mono leaders.  The furled leaders were about 7 feet long with a steel ring in the tippet end to make attaching a 20-pound class tippet easier. To the class, a 15- to 20-inch bite leader of 50-pound mono was added using a 3-through Surgeon's knot.  A standard, tapered mono leader started with a butt section of 50-pound soft mono about 5 feet long, to which I added 3-feet of 40-pound, followed by a class tippet using the standard Bimini Twist leader with a 50-pound bite of Berkley Big Game.  I kept my overall leader length to around 10 feet.  Leaders were looped to a 50-pound braided mono loop on the fly line end.  Flies were attached using a 3-turn Kreh Non-Slip Mono Loop.
Tarpon Tour – Getting There – Booking a trip – Rates
Keith Kaneko – Angling on the Fly travel service has come up with a combo trip plan for 2009.  The basic price for the trip, double occupancy, is $3,595.00 – 8 nights, 6 days of fishing – three days at Tarpon Cay Lodge and three days at Isla Del Sabalo Lodge.  You will need to fly into Merida, Mexico a day early.  For complete itinerary details, costs and options, contact Angling on the Fly – contact information below.
Fly-fishing the Yucatan for tarpon is as good as it gets and I can't wait for a return trip, hopefully in 2009 or 2010 – the sooner the better!  Maybe I'll see you there!
Dan Blanton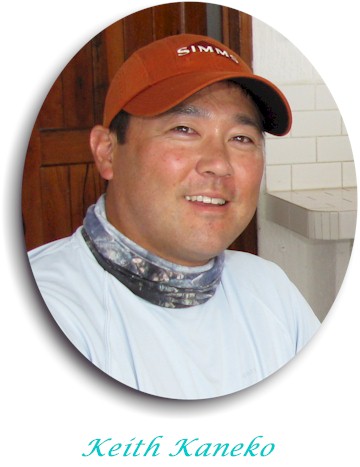 For more information and to book a trip click on the hot link banner above
More photos
| | |
| --- | --- |
| | |
| Blanton fights a baby tarpon at dusk | Blanton displays a nice baby tarpon |
| | |
| Blanton fights a migratory tarpon | A nice migratory tarpon taken by casting to rollers |
| | |
| Tarpon are master leapers | Excitement at its best! |
| | |
| Keith Kaneko jumps a migratory tarpon | Keith casts to mangroves at Isla Del Sabalo |
| | |
| Keith jumps another mangrove brawler | Keith displays a beaut |
| | |
| --- | --- |
| | |
| Dan Blanton and Ryan Miller – nothing like a cool one… | Jesciel, Dan, Pedro and Ryan |
| | |
| Going through the gear | Fish eye view of the bedroom |
| | |
| A room with an ocean view | Major blowup! |
| | |
| Tarpon Cay Guide Pedro with one he caught | Lots of birds |
| | |
| Sunrise on the lagoon | Another great sunrise |