Home of Dan Blanton's Fly Fishing Forum and
Bulletin Board/Message Board
Welcome to the home of Dan Blanton's popular fly fishing forum and bulletin board/message board - Fly Fishing Panfish to Billfish with Dan Blanton. This international fishing resource has been going strong since 1994 and has become one of the most popular fly fishing forums world wide! Check out

the forum's most popular bulletin board posts below.
There are numerous features to this forum and you are encouraged to take a look at all of those which interest you. Take your time and browse the site, there is a tremendous amount of great fly fishing information just waiting for the click of your mouse.
Fly Fishing Forum and Bulletin Board/Message Board
Dan Blanton's internationally known fly fishing forum and bulletin board/message board is one of the most popular and well respected of all the fly fishing forums and has had more than six million visitors to date and averages more than three thousand visits a day. Luminaries like Lefty Kreh, Bob Clouser, Bob Popovics, Grant Hartman, Rod Harrison, Peter Morse and many others frequently visit Dan's Bulletin Board because they know it is one of the best not only in terms of content but because it is also well-moderated. You won't find flaming or other bad manners exhibited on Dan's Bulletin Board. Folks respect each other and are always willing to share information, give solid advice and suggestions. Dan participates daily unless he is away on a fishing trip. Please join the thousands of others who have made this site their home page.
The Bulletin Board's Top 10 Posts This Month
California Fly Shop Has Moved!

- Karen Carbonnet (11129)
Re: Garmin Combo - Tony P (10688)
Re: California Fly Shop Has Moved! - Dan Blanton (10613)
Re: Garmin Combo - Dan Blanton (10555)
Re: T-8 head length for 6 wt rod? - Phil Ewanicki (10510)
Any fishing for stripers on fly close t… - RandyR (10480)
A Question re: Golden Dorado near Bueno… - Dan (10443)
Re: T-8 head length for 6 wt rod? - GES (10383)
This sport we all love is way too compl… - Howard Brown (805)
Carpapaloza on the Big C today...

- Dan Blanton (723)

The Bulletin Board's Most Viewed Posts of All Time
Two new articles on trout stocking issu… - JerryInLodi (630490)
NOAA to Create Saltwater Angler Registr… - Walt Temming (137562)
The Third Time's the Charm - Peaco…

- Dan Blanton (82096)
Custom Boat fun

- Marcus S (31583)
Dans on the cover

- Chris Beech (30109)
Just to be fair... - Steve P. (29510)
Friday Evening Striperfest Welcome Rece… - Tracy-Sugar Barge (24846)
Len Bearden's death - Michael McNutt (23784)
TFO BVK rod review - Ben L. (23460)
One-piece rods: Biscayne, Loomis, Hardy

- Bill Blanton (20776)
Korker Chrome Wading Boot w/Simms Alumi…

- Greg Mau (20340)
Re: Search Feature Link - Bulletin Boar… - Dan Blanton (19951)
Pyramid Lake – Renewing an Old Acquai…

- Dan Blanton (18325)
Testing the soloskiff

- Serge (16189)
Delta Fishing has been tough...

- Dan Blanton (16161)
Christmas Came Early This Year - Fly Fi…

- Steve P. (16149)
Loreto Loreto Loreto

- Carl Blackledge (13422)
Flats skiff bow casting stool - Steve S (13112)
5 weight distance - Max Garth (12902)
The "Best" Reel? - Joel N Rosenthal (12251)

Not enough? Here are

the top 100 bulletin board posts of all time.
Fly Fishing Resources
Dan Blanton's fly fishing forum is not just a bulletin board. It has a wealth of valuable fly fishing resources, covering all the bases, from A to Z.
Fly Fishing Tackle and Techniques
Be sure to check out Dan's Tackle and Techniques Magazine page which is loaded with great articles and stories dealing with fly fishing on all levels from rigging to destination travel pieces. New articles written by Dan and his associates are added regularly and all are well-illustrated with great fishing images.
Fly Tying and Hot Flies
If you're a fly tier you'll want to drop by Dan's Hot Flies page. There are some outstanding fly patterns listed there, complete with tying instructions and the fly's history. If you have a fly you consider hot, contact Dan Blanton and let him know about it. Join famous fly tiers by participating in discussions regarding innovative flies in this fly fishing forum.
Fly Fishing Gear and Reviews
Dan's What's Hot and New page has been completely revised and updated and there are lots of very hot and new items of interest ranging from rods, reels, lines and accessories to the best in luggage and travel destinations. If you want to keep on top of what's hot in our fly-fishing world, check out this page.
If you know of a hot gear or great new items not listed on the page, contact Dan Blanton. Hot or new items will constantly be added and removed from the page, so check back often.
Fly Fishing Destinations and Travel Services Directory
If you like to travel to great fly fishing destinations, if you are interested in joining a hosted group lead by Dan Blanton and his friends, or are just interested in reading about some of the best angling destinations, then you need to tune into the Fly Fishing Destinations page. There you will find all the details on how to book into one of these great fly fishing trips. And if you're looking for fly fishing reports, you can find them in the bulletin board.
Fly Fishing Guides and Charters
Looking for a good guide service? Check out Dan Blanton's Coast to Coast Guides Page. You'll find plenty of listings from coast to coast and all across the Nation and overseas as well. Those listed are some of the best in the industry and many are personally endorsed by Dan.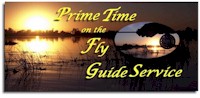 You should also check out Dan Blanton's Prime Time on the Fly Guide Service page. Dan is one of the leading pioneers of fly fishing for West Coast striped bass on San Francisco bay and the California delta.
More About Dan Blanton
Want to know more about Dan Blanton, a member of the Fly Fishing Hall of Fame, then click on the About Dan Blanton link.
Fly Fishing Slide Shows for clubs and other organizations are always in demand, and Dan Blanton has more than a dozen superb slide presentations available upon request. For more information about Dan's slide shows, please contact Dan Blanton.
Want to learn how to fly cast? You already know but want to refine your technique or you want to learn how to cast special lines like shooting heads but you don't want to participate in a group lesson. In either case, certified casting instructor, Dan Blanton can teach you the basics or help you improve your casting and presentation skills. For more information about booking private fly casting lessons from Dan, go to the Fly Casting Lessons page.
If you're an editor of a fly fishing magazine and want an article written or need some good stock fly fishing photography from panfish to billfish, please feel free to contact Dan Blanton.