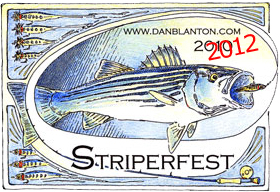 Sugar Barge Resort
1440 Sugar Barge Road
P.O. Box 1440
Bethel Island, CA 94511
(925) 684-9075
www.sugarbarge.com
Saturday November 3, 2012
4:00pm BBQ
6:00pm Raffle
Buy tickets at the event or if you want to buy raffle tickets in advance of the raffle:
1. Contact by e-mail Dan Blanton danblanton@danblanton.com or send Dan a check for the amount of "Off-site" tickets you wish to purchase:
$20 – single ticket
$100 – 6 tickets
$200 – 15 tickets
$500 – 40 tickets
$1000 – 100 tickets
Send your checks made out to the N.C.C.F.F.F. (Striperfest raffle tickets) to:
Dan Blanton
14720 Amberwood Lane
Morgan Hill, CA 95037
You name will be written on each ticket you purchase and a record of the purchase will be kept, along with your shipping address (be sure to include it).  We have many off-site winners each year.
2. Purchase tickets over the counter at the California Fly Shop (985 Industrial Road, Suite 106, San Carlos, California)
3. Make a credit card purchase over the phone via the California Fly Shop (800.470.0002)
Contacts:
Chairman – Dan Blanton
BBQ/Event/RSVPs – Matt Havelock
Grants Chair – Dave Sellers
Raffle Donations – Noel de Guzman
Raffle MC– Jay Remley
Raffle Ticket Sales– Marcus Schroers
Member – Mike McKenzie