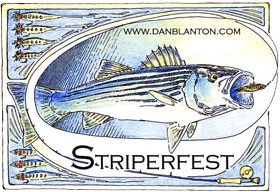 Striperfest 2021
Saturday, November 6, 2021
Off-site Raffle Fundraiser Only
Details below
DanBlanton.Com's Striperfest Returns in 2021
2021 Donor list: http://danblanton.com/striperfest-2021-donor-list
2021 Prize list: http://danblanton.com/striperfest-2021-prize-list
2021 Raffle participation form: http://danblanton.com/striperfest-2021-donation-form
After a year off, Striperfest will resume its fundraising effort on November
6, 2021, marking DanBlanton.com's 24th event since 1997. However, please note this year's format will be an off-site raffle fundraiser extravaganza only.
In 1997, the initial purpose of Striperfest was to acknowledge Dan Blanton for his contributions to fly fishing as well as to recognize the folks who participated in the fun and educational bulletin board that Dan established.  Subsequently, a fundraising component, the famous Striperfest Raffle was added to the event in order to support the conservation and youth fly fishing efforts that was important to the bulletin board community.
Striperfest is committed to its philanthropic mission, even in this new era; and our raffle fundraising event plays an important role. Striperfest has granted well over $200,000 to protect California's Sacramento-San Joaquin River Delta ('the California Delta'), to protect its fisheries and to promote youth fly fishing programs (see background). And despite
postponing last year because of the pandemic, Striperfest
still managed to donate funds to further its goals.
So, while there will not be a physical BBQ event at our beloved Sugar Barge RV Resort & Marina this year, we will still have the booming-est, macMega, creme-de-la-creme, fly-fishing-centric, raffle-o-rama-rama-ding-dong that we have all come to love. We will just conduct the raffle remotely and mail out the prizes.
A couple of months ago, in July 2021, we began soliciting prize donations from our faithful donors, and even after a year hiatus, the response has been fantastic. Top shelf fly fishing reels, rods, custom flies, guided trips and more have already been committed to the raffle. It's gonna be gooood!
2021 Donor list: http://danblanton.com/striperfest-2021-donor-list
2021 Prize list: http://danblanton.com/striperfest-2021-prize-list
Here's the skinny:
-Everyone is welcome to participate in the raffle fundraising event.
-The amount you donate equates to the number of raffle tickets you get (see below)
-All raffle prizes are donated
-Ticket numbers will be drawn and announced on November  6, 2021
-Prizes will be mailed to winners.
-Go to: http://danblanton.com/striperfest-2021-donation-form to download a raffle participation form
-We need your contact info for raffle ticket e-delivery and prize mailing.
-Raffle ticket numbers will be provided by email, text, DM
-Raffle ticket purchase ends at 11:59pm on Thursday, November 4, 2021.
–Raffle Tickets:
–$20 donation – 1 ticket
–$100 donation – 5 tickets
–$200 donation – 10 tickets plus 2 extra tickets
–1 extra ticket for each $100 donation over $200
–*This is a tax deductible charitable donation*
-Pay by check:
—Write check out to: California Sportfishing Protection Alliance or CSPA
–Memo: Striperfest 2021 Fundraiser
–Mail check and participation form to:
–Noel de Guzman, Striperfest
—PO Box 896
–Capitola, CA 95010
-Call Noel de Guzman, 510-579-2859 for alternate payment methods
If you would like to donate a prize for the raffle, please let us know.
Raffle prize donations should be shipped to:
Noel de Guzman, Striperfest
826 Bay Ave, #896
Capitola, CA 95010
With all the best wishes,
Noel de Guzman, Chairman
DanBlanton.com's Striperfest
(510) 579-2859