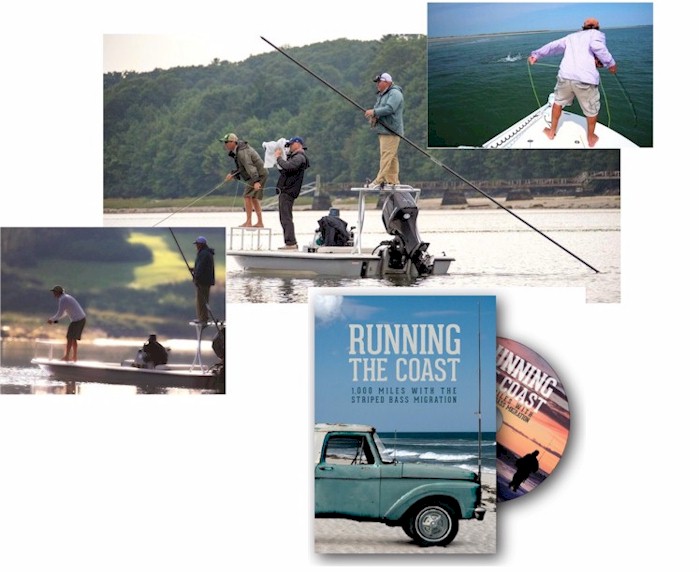 "If you are a striped bass devotee and love to fish for them with gear or fly, salt or fresh, impoundment or river – East Coast or West Coast – you'll want to get the DVD – "Running the Coast" by one of today's most renowned fishing film makers  – Jamie Howard – HowardFilms.  I don't have my copy yet but I'm anxiously waiting for it after watching the trailer.  I know this new striped bass film which chronicles the striper coastal run from Maine to the Chesapeake, chasing them down afoot or afloat with both conventional and fly-rod tackle, will be a hit with striped bass anglers no matter where you pursue them."
Dan Blanton 
FOR IMMEDIATE RELEASE
Contact: HowardFilms
Jamie Howard
206 East Jefferson St. Charlottesville, Va
Phone: 646 526 0669
Email: info@howardfilms.com
Website: www.HowardFilms.com
Movie site: http://www.howardfilms.com/runningthecoast
Premiere of Running the Coast: 1,000 miles with the striped bass. 3-part mini-series.
Cape Charles Virginia, November 7, 2016 – Running the Coast is the first film to follow
the striped bass migration from the home waters of the Chesapeake Bay to Casco Bay,
Maine.
The film series was created over 5 years of filming and editing along the Atlantic coast.
Jamie Howard, the director and producer, captured anglers intercepting the migration at
every major point – by air, land and sea. The subplot is the documented decline in the
striped bass population since 2006. While this has been the subject of books and articles
during this time, also speculating on both the decline and the magnetic draw of the fish
that show up in such a vast number of locations, the idea of filming all the anglers had
not been undertaken. According to Howard, "no fish has drawn so many people out to the
water's edge in history. We owed it a chance at a curtain call and hopefully an encore
after so many years in decline." World Record holder and inventor Greg Myerson (his
"rattle sinker" landed him a deal with Mark Cuban and more national exposure on Shark
Tank), enters the film at various locations. Just as the cast of characters in the entire
series, his eccentricities are as much a part of his angling as his strategy. Says Howard,
"he did some amazing things off the point of Montauk, showing that big cows don't
always need to feed at night. And had a hell of a lot of fun doing it." It combines humor
and tension on a 1,200+ mile journey that starts in the angling community, but carries the
conservation beyond.
The 3-part mini-series is divided by seasons: spring, summer and fall. The series has
taken steps to follow both conventional and fly anglers on the journey. "The idea was that
whatever was the best and most interesting way to catch a fish in each location is what
we pursued. It actually ended up being about 50/50."
The film is a mix of fishing and geographical history, anchored by the feverish pursuit of
the striped bass. In the words of an exultant and sleepless Montauk, NY Captain Bill
Wetzel after he found the fish "blitzing" (churning bass pack on bait) at dawn: "It's a
special day, right?!"
Howard has won awards for In Search of a Rising Tide, Chasing Silver, and Location X
among other outdoor projects and is considered a pioneer in fishing films, being honored
with placement in the IGFA Hall of Fame Theater for his work on Chasing Silver.