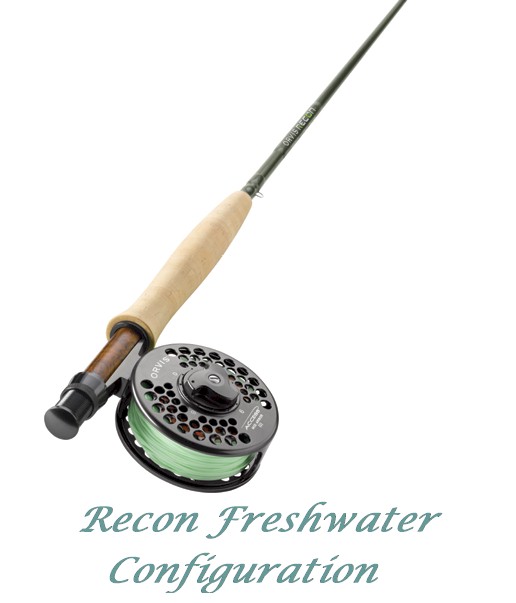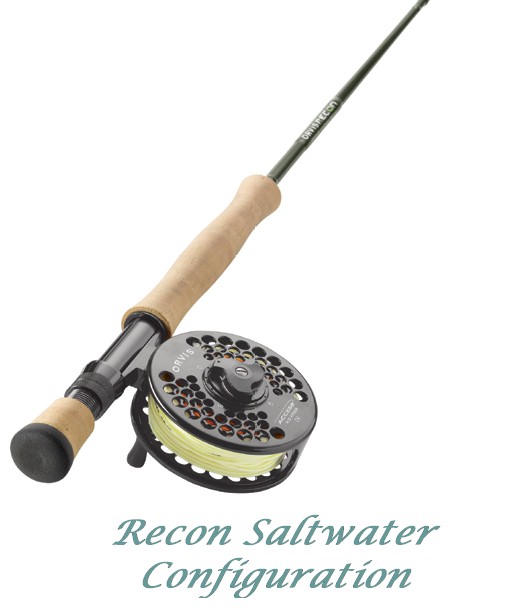 New Orvis Recon Rods
Mid-priced, award-winning rods are 100% made in USA
Manchester, VT (January 2015)—
Recon fly rods are a mid-priced fly rod ($425 for freshwater models, $450 for saltwater versions) and offer a big improvement in cosmetics, swing weight, tracking, and overall performance. The tapers are entirely new and are based on the Award winning design protocol used to develop the Helios 2.
"You reach that little extra point in the line length to get a little more load and BAM you just start feeling everything and casting extremely well, like having an epiphany." ~ Captain Tuck Scott, Bay Street Outfitters.
They do not use the same blanks as Helios rods—Recon rods use a blend of intermediate and high-modulus graphite raw material with standard resins, and do not utilize the thermoplastic resins that used in Helios 2 rods. Recon rods use an improved un-sanded ferrule design, which provides better ferrule engagement and fewer issues with the occasional twisting or dis-engagement of ferrules during fishing. Reel seats are subtle black nickel anodized aluminum with a dark burl wood spacer (in the freshwater models) and a plain aluminum spacer in the saltwater models.
"Honestly this is an incredible price for an incredible fly rod. I think about how great this rod fishes and then I think about the MSRP and know that folks will be getting an incredible deal. I won't be surprised it this is the best seller for the next 3 years." ~ Colby Trow, Mossy Creek Fly shop.
Blanks of the Recon rods are made in Orvis' Vermont rod shop, and the rods are also finished and assembled entirely in their shop.
Even the classic aluminum rod tube is 100% made in USA.
Of special and timely interest are the nine new models that will be released in May of 2015 (see models listed with an asterisk in the rod chart). These models include three 7-foot 11-inch "brush rods" in line sizes 8, 9, and 10, for freshwater bass fishing and for back country fishing for snook and baby tarpon in tight mangrove lagoons. The shorter rods make casts in tight cover easier, and are also superb at fighting fish in close quarters.
FOR IMMEDIATE RELEASE | CONTACT: TOM ROSENBAUER |
802.362.8521 | ROSENBAUERT@ORVIS.COM
Rod Item # Rod Name Length Line size Rod Retail Price
14ST RECON 843-4 8'4″ 3 $425.00
14SX RECON 864-4* 8'6″ 4 $425.00
14SZ RECON 904-4 9′ 4 $425.00
14S0 RECON 104-4* 10′ 4 $425.00
14S1 RECON 865-4 8'6″ 5 $425.00
14S3 RECON 905-4 9′ 5 $425.00
14S4 RECON 105-4* 10′ 5 $425.00
14S5 RECON 906-4 9′ 6 $425.00
14S7 RECON 966-4* 9'6″ 6 $450.00
14S8 RECON 907-4 9′ 7 $450.00
14S9 RECON 107-4* 10′ 7 $450.00
14TJ RECON 908-4 9′ 8 $450.00
14TM RECON 108-4* 10′ 8 $450.00
14TB RECON 7118-4* 7'11" 8 $450.00
14TN RECON 7119-4* 7'11" 9 $450.00
14TS RECON 909-4 9′ 9 $450.00
14TZ RECON 71110-4* 7'11" 10 $450.00
14T4 RECON 910-4 9′ 10 $450.00
* available May 2015