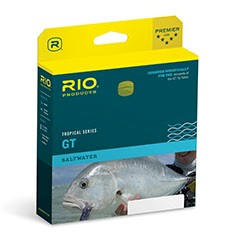 Idaho Falls, Idaho (February 2, 2015) – RIO Products, industry-leading manufacturer of fly lines, leaders and tippet material, adds the GT Line to its tropical saltwater series of lines to easily throw big flies to these notoriously strong fish.
The GT line is built on an ultra strong core and is designed with a short, heavy head to carry big flies on powerful fly rods. Anglers chasing giant trevally often face demanding conditions, so the powerful front taper casts very large flies with ease, but the biggest benefit of this line is the core strength. The extremely tough core has a breaking strength in excess of 50 pounds to easily battle large fish and to resist cuts from coral and rock structures.
The GT line features a hard, tropical coating to prevent wilting in the heat and welded loops on both ends for fast rigging. It is available in 400 grains, 475 grains and 550 grains in kelp and orange color. Find this line at any RIO dealer for $89.95.
About RIO Products:
RIO is a pioneer in developing fly lines, leaders and tippet material to enhance fly fishing experiences across the globe. Offering premium fly lines for both freshwater and saltwater fishing applications, RIO consistently utilizes field experience and scientific testing to create the best products on the market for anglers. Founded 20 years ago in the mountains of Idaho, RIO continues to develop innovative products, design revolutionary tapers and refine performance-driven fly line technologies. For more information about RIO Products, please visit www.rioproducts.com. Connect with us through Facebook, Instagram, Twitter, Google+ and Vimeo.