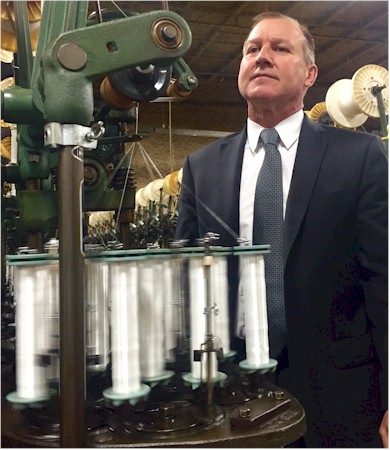 Cortland introduces John Wilson as new president
Proven executive and internationally recognized fly fisherman to lead legendary line company.
June 22, 2015 — Cortland, N.Y. — For more than two decades John Wilson successfully led a split existence. By day, he captained operations and guided change at construction, sustainable energy and consulting companies. Outside the office, he earned a reputation as one of the most knowledgeable and skilled fly fishermen and guides in America. Now Wilson is marrying his passion and his profession as the new president of Cortland Line Company.
Wilson, who joined Cortland earlier this year as the company's executive manager, promises renewed focus and energized innovation for the company as it celebrates its 100th anniversary in 2015.
"The fly fishing industry has changed dramatically in recent years," Wilson said, "but ultimately we have to focus on the basics — providing customers with products they want at competitive prices, and providing retailers with reliable delivery of lines they can sell easily and profitably. That's where my focus will be as Cortland moves into its second century as America's most recognizable fly line brand."
A 52-year-old Arkansas native who first wet a Cortland 333TM line as a teenager fishing the White River, Wilson earned international recognition when he was named coach of the U.S. youth fly fishing team in 1996. In his first year he led the team to a silver medal at the World Fly Fishing Championships in Wales.
Wilson himself later earned first place in the U.S. national fly casting competition at the ESPN Great Outdoor Games.
Meantime, Wilson was also building a reputation as a business leader with diverse management and industry experience in large-scale construction, sustainable energy production and recycling, venture capital investment, and energy consulting for the U.S. government.
"All of us at Cortland are excited to work for someone who is passionate about fly fishing and who respects the deep tradition and culture of the sport," said Brooks Robinson, PR and social media manager at Cortland.
Wilson said he is excited to bring his diverse experience to bear for a company he has known for decades.
"When I first began fly fishing, the Cortland name was synonymous with fly fishing," he said. "Cortland is still uniquely situated to be the first brand that new fly anglers revere and embrace. It's my mission as Cortland's president to make sure that future generations continue to recognize our company as a leader in quality, innovation and value."
About Cortland Line Company
Cortland Line Company, Cortland, New York, is a leading manufacturer of fly lines and braided fishing lines. By utilizing the latest materials and its proprietary innovative techniques, Cortland Line assures its consumers they are getting the finest products available. cortlandline.com