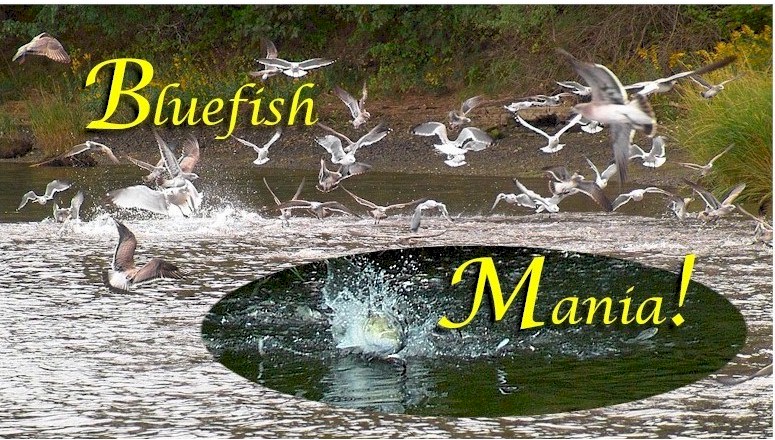 by Dan Blanton
And that's what it was! Brutal! Heart-stopping! Hilarious fun!
I'd dreamt of fly fishing for northeast bluefish, hitting them during a classic blitz for as long as I've been reading about them, starting with Saltwater Sportsman magazine back in the early 60s. Finally my dream was about to come true.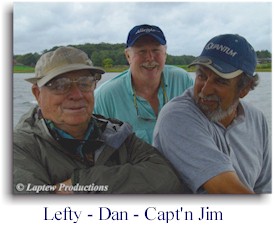 My long time pal, Lefty Kreh and I have been trying to hook up with a fishing trip somewhere at least once a year. The last few years it has been up at Ganglers Lodge in northern Manitoba for pike and lakers. For our 2005 adventure, Lefty arranged a 3-day trip in September with Captain Jim White, of White Ghost Charters, out of Providence, Rhode Island to hit the peak of the bluefish season.
I flew into Providence on Sunday, September 25th, getting there late night. Jim picked me up at the airport which is only about 5 minutes from his house and took me to the Hampton Inn, a very nicely appointed hotel, where he quarters his clients; at $89 a night with a great complimentary, Continental breakfast it's tough to beat! Lefty was already in bed.
We were joined on this trip by a local friend of both Jim and Lefty's, Mike Laptew, at top-notch underwater photographer (he's no slouch above the surface either) and great all-round good guy fisherman. Mike was there to photograph Lefty and me having a blast fishing some of the prettiest waters I've ever sampled, and of course, our pulling on big bluefish and stripers.  (the photos used to illustrate this article were taken by Mike Laptew, of Laptew Productions.)
Because of a prior commitment, Captain Jim couldn't get us on the water until late morning that first day, and when he did, it was overcast and windy. To me, conditions didn't look that promising; and casting in the open areas of the bay was tough. Since the water was only about six to eight feet deep we began with floating heads and after about 20 minutes of more work than I wanted to put into it, I switched to a T-14 shooting head with an intermediate shooting line.  This line-combo cut the wind like like the proverbial hot knife and it got the fly down even with a drift-speed of around 4 or 5 knots. We wind-drifted over a previously torrid area for considerable time without a strike and Captain Jim started looking for other options. He scanned the horizon in all directions with binoculars looking for signs of bluefish action and almost instantly spotted some serious bird activity way back inside a protected river mouth. The tide was rushing in and so were we!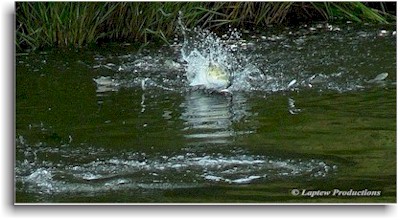 When we got to where the birds were, the sight we saw was classic – a huge school of bluefish had pushed unbelievable numbers of frantic peanut bunker against a shallow, grassy bank and had them pinned there in a little cove. You could almost have walked across the bait on the surface and they where jammed so tight many were dying from lack of oxygen. The birds where screaming, wheeling and diving, all the swans got out of the water for fear of having their feet chewed off by ravaging blues. The surface was a cauldron of boiling water, once clear but now turbid from broad tails and bodies churning it up like a Cusinart. Bluefish were busting everywhere in 2 to 3 feet of water, some so tight to the shoreline that frantic bait fish were forced to leap onto the bank.
There were a couple of small boat docks and the bait was pushed up under them and you could hear bluefish bonking themselves on the underside of the dock planks as they blasted into the bait. From the sound of those loud bonks, thunks and bangs, some of those blues had to have knocked themselves out cold. It was carnage – bluefish mania!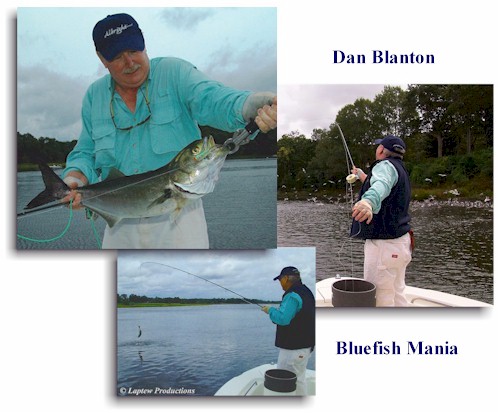 I know Lefty had witnessed this kind of action many times before but I hadn't and I have to tell you I was like a kid locked over night in Toys `R Us. I started out with an intermediate, Streamer Express clear tip line and a big White/chart FT Whistler. First cast, a big blue inhaled it on the sink and my backing was melting as fast as ice in gin. Lefty cast a floating line with a loop so tight it would have gone through a screen door.  His big Deceiver hit the water and it was an instant double. The best part is that we were all alone – not another boat in sight – and, we were surrounded by ravaging bluefish.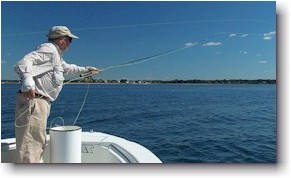 After catching a few on Whistlers and FT Clousers I switched to one of Ron Dong's versions of Joe Blados' Crease fly and I stuck with that fly for the rest of the trip. Those big blues just couldn't stand that thing popping, gurgling, spitting and darting from left to right. THEY HAD TO BLAST IT! If I missed a strike I had another almost instantly. I swear if there was just one fish within a 100 feet, it would find that Crease Fly.  Once Captain Jim cast a hook-less surface plug to tease 'em and got 9 slams before he got it back. Wild!  That plug of his looked like it had been through a wood chipper – more than once!  There wasn't a speck of paint left on it…
This action lasted for almost 3 hours non-stop, until the tide topped out. The action slowed at standing high water but there were still plenty of eaters around. One big fish I landed had a wad of chewed up bait in its mouth the size of a soft ball. They would puke up bait as they were being fought and other blues would sweep in to eat the ABC bait. It was, indeed, a dream come true and I can say without reserve that I can't recall having a more hilarious time in my entire career as a fly angler, which spans more than 4 decades.  Of Course the old Left Hand was enjoying the action every bit as much as I, scoring fish after fish from just about any direction he'd cast.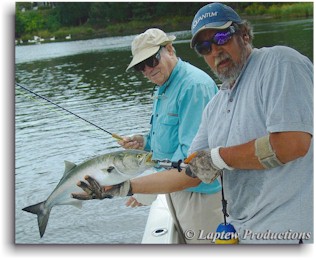 Next day, like it happens lots with fishing, things changed. Those ravaging blues weren't back inside the river mouth in the same numbers but there were still enough to provide plenty of action, plus we got into a number of small, scrappy stripers.
When that action died, Capt'n Jim decided to try a big flat outside in the bay for stripers. Good call! In two feet of gin we found a nice school of Moe stripers. My first cast with the big Crease fly produced an instantaneous explosion, an eruption that scattered water skyward in all directions. A piss-your-pants strike!  I don't care how seasoned an angler becomes, unexpected grabs of that magnitude almost always catches he or she off-guard and unable to respond properly.  Of course I missed the strike!  The best part though, was that I didn't pull the fly too far away from the huge toilet flush that bass made and either it or another slammed the popper on the next pull.  I had her! When the long run across the flat was over, followed by a few shorter ones and some serious head-shaking, I managed to bring a 40-incher to Captain Jim's hand. I can't recall a more exciting top-water, striper grab and what a beautiful fish she was.  Indelible!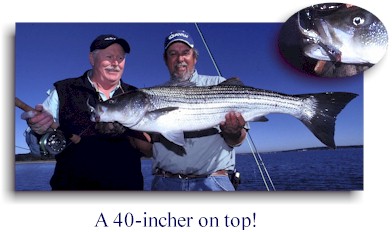 After the flats striper action died Captain Jim headed across the bay to a beautiful wooded and rocky shoreline to probe a little deeper water for more stripers.  Talk about fishy looking habitat! I just knew that during June and July, those big underwater boulders would be the dining room for a swarm of trophy-sized stripers.  As indicated earlier, September is not prime time for stripers and while not unusual, catching those we did was a bonus, according to Jim. Lefty had timed this trip in September because it is the pinnacle of the bluefish season and they are what I wanted to catch..  We caught a few schoolie bass in an hour or so before they wised up and left. Captain Jim decided to look for more bluefish.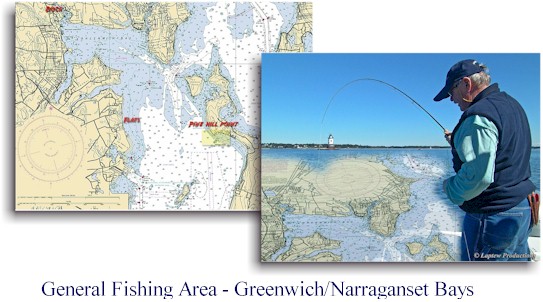 From there it was a short ride north to a shoal with a light house on it.  One of the great aspects of fishing Narragansett and Greenwich bays is that long, time-wasting runs aren't required.  I don't think we ran anywhere that took longer than 20 minutes. When we arrived several other anglers in skiffs were engaged in multiple bluefish battles, most using light spinning or plug-casting gear and top-water plugs.  It didn't take long for us to get in on some of it and my Crease fly found them ready and willing.  Explosive!  Lefty was into them too, using his indomitable, Lefty's Deceiver.  This wasn't what one would call "blitz" action but they came steady and we caught and released all we wanted.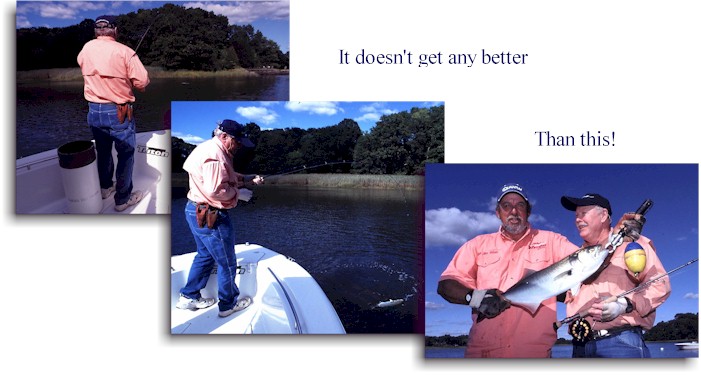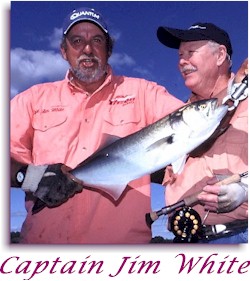 When it comes to competent and enjoyable guides we couldn't have had a better one. Captain Jim White really knows his water and how to fish it with both fly and light tackle. He couldn't have been a nicer guy and his endless stories and jokes almost rivaled Lefty's. Rest assured you'll have fun fishing with Captain Jim White.  Here's a little more about him:
He is a Licensed U.S.C.G. Captain with 40 years of fishing experience.  Jim is a certified IGFA captain and is sponsored by Triton Boat Company.  A professional outdoor writer/photographer, Jim's work has appeared in Saltwater Sportsman, Outdoor Life, Saltwater Fly Fishing and in many other national and regional publications.
Jim is a tireless advocate for fisheries and conservation issues and was recently honored by the Connecticut Outdoor Recreational Coalition as with of the four "Men of the Year Awards. He is also a member of the Rhode Island Charter and Party Boat Association, IGFA, American Littoral Society, Outdoor Writers Association of America, N.E. Outdoor Writers Association and a Board Director for the Connecticut/Rhode Island Fly Fishing Association.  Talk about credentials!
We didn't have an opportunity to fish with Jim's son, Captain Justin White who is also a very competent guide, who also happens runs trips for White Ghost Guide Service.  Justin Caught his first 40-pound striper when he was 10.  He has fished for just about everything that swims from stripers and blues to barracuda and all in between.  At age 21, he has logged 16 years of fishing experience.  He was taught to fly cast by Lefty, himself and has finely-honed his fly-fishing skills.  Justin is also a highly qualified OMC and Honda mechanic.  Hey, it never hurts to have a good boat engine mechanic on board, especially if he's the captain.
Well, we really couldn't have asked for better fishing.  It was all I expected and more.  Despite a little surly weather one day out of three, we caught a ton of fish, all on flies (not counting those Captain Jim nailed on spin or casting gear used to locate action).   Actually we only spent about three half-days on the water because we didn't get out early the first two days and Lefty had to head for home early on the last day.  The tally for the time spent actually fishing was around 190 bluefish and 40 or so stripers.  Lefty and I didn't count them (I lost count after the first hour), but Captain Jim did.   Those are pretty impressive numbers in anyone's book.

Oh, did I mention the great seafood restaurant a short walk from where Capt'n Jim berths his boat? The food was as good as the fishing we experienced! Having dinner there, was a perfect way to cap off a brilliant day's fishing.
We did, indeed, experience bluefish mania and I can't wait to do it again.  Here's What Lefty had to say about our trip: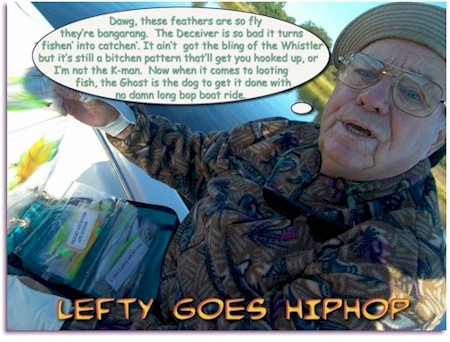 Bluefish boils – wild!
Great striper habitat
In June/July this bank is crawling with stripers
What a beautiful shoreline – bluefish heaven!
Lefty casts to working birds
The grab – Clearing line!
Part one of a double…
Lefty puts the heat on
Lefty with another blue
Dan Blanton displays a big
blue
Blues busting bait, birds diving, one on!
Typical Narragansett bay blue
Lefty – the Sunburst of fly fishing…
Captain Jim Boga's another one

The end…