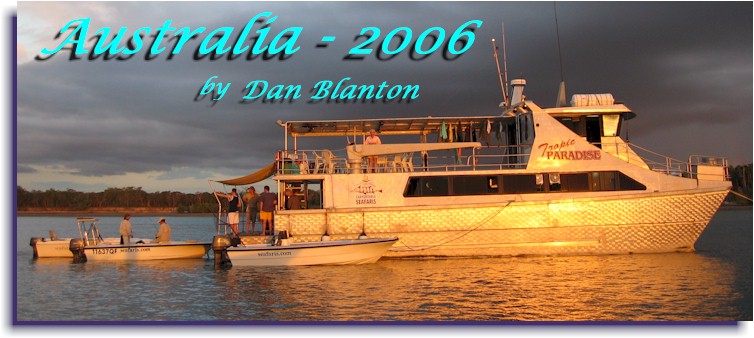 Game One – Carpentaria Seafaris
| | |
| --- | --- |
| | |
| Dan Blanton | Mike Matica |
Well, round trip, door-to-door, took 22 days.  Mike Matica and I departed San Francisco airport late evening on May 26th and Returned home late morning on June 16th.  Great trip notwithstanding, I'm sure glad to be home – there's just no place like it!
We both were pushing the envelope with regard to baggage weight but we had a contingency plan for the transfer flights to our fishing destinations which were far more stringent than the primary flight over. With only minor glitches, none worth detailing, our plan worked brilliantly and the flights to and from and within country went without a hitch.  Mike and I even had an empty seat between us on the flight over.  How great was that!
What we did for the transfer flights, was bring along a large, soft, non-rolling duffle that weighed about 12 to 14 pounds less than the big, Loomis rolling bags we used for our primary flight.  I actually checked two of the Loomis bags, splitting clothes and gear, some of it backup gear.  Once at the Holiday Inn in Cairns, we repacked into the non-rolling duffle just those items we needed for each fishing week, keeping the weight to 50 pounds for the Carpentaria Seafaris adventure and 40 pounds for the Weipa stint.  Qantas was stingier with weight limits on the Weipa leg than on the Horn Island/Bamaga leg.  What gear and extra clothes we didn't need for one or the other venue, we left checked at the Holiday Inn, re-packing for the next trip when we returned to Cairns for a between trip recoup.  By the way, the folks at the Cairns Holiday Inn were terrific and it still remains my favorite hotel when in Cairns.
And, yes, we both took our Pleskunas travel VLMDs and they were a blessing, especially when the wind was up and when we were chasing breezing longtail tuna on choppy seas.  Those on our trip without such a device couldn't help but notice the incredible advantage Mike and I had by using the tubs.  And, no – no cheap collapsible trash or laundry basket would have been a 10th as good, for reasons mentioned many times on this board and in my articles on the subject.  Like has been said, I'd rather fish naked than leave my VLMD at home!
Upon our arrival at Cairns International Airport, after clearing customs and immigrations and picking up our baggage, we were delighted to be met by my good mate Lauri O'Sullivan and his lovely wife, Margaret.  The next evening we got together at a favorite restaurant for dinner and a catch up with Laurie, Margaret, Jon Snell (Snellie) and other Ozo mates.  Laurie, Marge and Jon were departing for Los Roques, Venezuela a few days following, wishing for lots of bonefish action and hopefully to land their first giant tarpon.  I pray they had a wonderful trip with all the action they could stand.
Snellie gave me a few of his favorite weighted, hook-up shrimp patterns to try in Weipa for the "Blue Bastard", a very wary flats species that is almost as hard to feed as a permit, just as wary and every bit as coveted by Ozo fishos. These are a "Sweet Lips" species and look sort of snapper-like but without the large mouth and teeth.  Well, Snellie, I did get a nice Blue Bastard on your shrimp fly and also a large Coral or Estuary cod (can't recall which is which) on the flats using your shrimp fly.  What a great pattern!  But man, was that BB and cod hard to turn from the "bricks"!  I almost got rocked off by each one. It was instantly clear why the Aussies call those gorgeous sweet lips, bastards – for sure, it has nothing to do with the way they look…
The first week of fishing was with Carpentaria Seafaris aboard the Mother ship, Tropic Paradise, one of the best of its type for extended excursions down the coast of the Cape York Peninsula.  This trip still remains one of my favorites and I plan to return in 2008.  The Tropic Paradise can accommodate up to 12 anglers but this trip we only had nine rods aboard which gave us more room and less competition.  For more details on this adventure and how to book it, check out the articles detailing previous trips on the Tackle and Techniques page – link above.  Also check there later for this article complete with photos.
The ship's crew of six consisted of skipper Phil Edwards, #1 guide Al Simpson, guide Peter Hernden, guide George Price, Chef Brian Route and hostess Allison Toynton.  The entire crew was splendid in every way and Mike and I, and I'm sure the other guests too, very much appreciated their good will, superb service and all they did to make our trip the best it could be.  Chef Brian with the help of Allison served lunches and dinners to die for.  Breakfast was the usual do-it-yourself, Continental fare and a bowl of cereal and fruit did it for me.
The fishing crew consisted of Wilson (Bogie) Bogan, his lifelong pal, Wallace (Bud) Brown, both of California, board regular Eddie Bossomworth (it was great to meet and fish with you mate!) and his mate John Campbell, both Kiwis, Aussies John O'Conner and mate Rob Edwren, David Sims of Perth and my partner Mike Matica and me. It was a pleasure to share the boat and the waters with these guys.  All were great company and good fun.  David Sims was the youngster of the group and he treated us "old farts" with respect and dignity although he saw fit to out-fish us on more than one occasion.  Seems like every time I looked around I'd see David with a bucking rod and a Cheshire grin on his face – or, was that a grimace?
The first full day's fishing for Mike and me began with chasing breezing schools of longtail tuna.  There weren't massive schools chasing bait but rather small schools and pods and they wouldn't stay up long.  I'd have to anticipate the direction they were heading, set up and we'd try to get a cast off into or ahead of them.  At first Mike had a little trouble making the cast from a rocking, sliding boat but after a few tips he was able to make the toss and hooked his first long tail tuna which proceeded to promptly bust him off.  Mike had never before had to clear line so fast and the jumping tangles got him.  But with a little tutoring, he soon was slugging it out with LTs to around 14 or so pounds.  He broke off the first two hooked on FT Clousers but landed the next two without a hitch but they nearly wore him out.  After a little fish-fighting advice, he began to whip them without even breathing hard.
As for me, I swear I must have pissed off the Fishing Gods somehow, someplace before I arrived.  I decided that after having had so much success catching Black skipjack with the Ron Dong version of the Crease Fly, down in Loreto last year, I was going to give it a try on the longtails Down Under.  Well, I made 12 casts into frothing schools of LTs, had 12 instant blowups and eats, had 12 fish running into my backing and had all 12 of them drop off.  Can you believe it?  I dropped all 12!  Talk about bad luck and developing a severe case of frustration.  Well, the only thing I could figure is that since Longtail tuna have a row of conical teeth, both uppers and lowers, they must have been gripping the large bug so tight in their teeth I couldn't get the hook set no matter how hard I reefed on it.
To make matter worse, when I stuck number 13 and thought I had it solid for sure, a big, nasty smilie ate it off, fish, leader and all.  Crap!  I reeled up, stuffed that rod back into its soft bag and pulled out another rigged with a sinking line with a FT Clouser tied to the leader.  Cast 14, a solid hookup and a long run and then a thud as I felt something hit the fish or the leader.  My first thought was another shark-off.  Upon reeling in I found that a mackerel had chomped off my braided loop, a loop I had forgotten to color black, which helps prevent such happenings.  Well by that time I was a raving lunatic and the day was getting long so we headed back to the Doughboy River where the mother ship was anchored.  I needed a stiff drink and a Valium… Whew!  The opportunity was there all day but Lady Luck had divorced me.  Oh, well – tomorrow…
Day two found the offshore waters a bit grumpy and the schools of tuna even more scattered so I decided it might be a good idea to head south of the Doughboy and scout the flats down to the Mac Donald River.  The tide was just over the top and hopefully some golden trevally, queenies or permit would be on the flats feeding with the ebb.  Mike was up for some of that so we abandoned the tuna and headed inshore and south.
The flats were calm and clear and I ran our skiff, "Mr. Pink" standing on the back seat, leaning against the poling tower so I could get a better view of the bottom and of any fish that might be cruising the flats in less than 3 feet of water. And no, there was no push-pole in the boat and I wouldn't have gotten up on that rickety tower to pole the boat if I had one!  I could just see myself falling off the platform and a big croc having me for lunch…
About half way between the Doughboy and the Mac Donald I spotted a large school of goldens in two feet of water beating the hell out of a bait ball.  I ran the boat to a point just wide of the caldron of working fish, cut the motor and yelled at Mike to cast into the school.  Mike didn't anticipate the "slide" and the dipping of the bow which threw him off balance and his crab fly dropped 20 feet short and to the right of the school.  I grabbed my rod from the VLMD, unhooked my Merkin from the keeper and made a toss, bulls-eying the school of trevally.  Instant hookup!  As my golden was ripping backing off my reel, heading for the deep, I yelled at Mike to re-cast.  Before he could retrieve his line and fly enough to make another cast, a fat golden charged out of the school, chased down his fly, which was then about 25 feet from the school, and ate it like it was the last crab in the world.  Doubles!  What a hoot!  We landed them both and I had Mike hold them up for a photo.  It seemed like my luck had changed.  Thank God!   We ended up with a total of 4 or 5 doubles on goldens and a few singles before the tide bottomed out at noon and the fish left. We ran back to the Mother ship for lunch.
What a morning!
We finished up the afternoon fishing the river mouth, catching a variety of critters along a rip line on the making tide.  I have to tell you it was a treat to see the smiles of success on Mike's face.  This was his first true salt water fly-fishing adventure and things were coming together brilliantly!
Day Three found us working a flat just south of the Jackson River.  At first there were just us and Bogie and Bud in guide, Peter's boat.  The flat was alive with big, maniac queenfish.  I went back to tossing the big RD Crease Fly and I'm telling you the blowups on that bug were astonishing!  These were big, mean fish and they ran and jumped like the Devil himself was on there tail.  Well, a form of devil was – the kind with a cavernous mouth full of big teeth.  We lost a few of them to smilies.  Eventually all the boats showed up and everyone got into the fast queenie bite.  Bent rods and sky-rocketing queenies could be seen everywhere.  It was hilarious!  I rate queenfish, large and small, one of the finest light tackle game fish to be had and I would travel to Australia and the gulf just to catch queenies if nothing else.
Well, the week went on pretty well with some kind of action either outside for tuna, on the flats for queenies, goldens or permit (the only permit taken on fly was by John Campbell – his first – congrats to John!), or inside the rivers and estuaries. Everyone had different stories to tell and flashcards were beginning to fill.
Take Bogie Bogan and his pal Bud Wallace, both gear anglers, for example.  They decided one afternoon to go out to a shallow reef guided by Al and burly (chum) up some critters.  Well, they game back later with glazed eyes and stories of dozens of hookups with monsters and of some getting eaten off by hammerheads the size of their boat and losing more lures and plugs than Jack Erskine's Bait and Tackle shop has in stock.
Of the 54 possible species to take on fly there, I managed to capture 17 of them and Mike scored 18 species.  Not all were monsters but they all were fun. I think I've managed 26 species all toll after three trips there and the list keeps growing.  Some of the best for both of us were: mac tuna, queenfish, golden trevally, barramundi, GTs, tea leaf trevally, tarpon, longtail tuna, great barracuda, blue bastard, coral trout, estuary cod, coral cod and blue salmon.  Again, my favorite is the giant queenfish – there are four species of queenfish.
We did get a couple of days of wrong-way wind, from the southwest which really stuffs both the flats and offshore fishing.  We lost at least one full day of good fishing because of it.  Reality is, however, if you get three or four days of good fishing out of a week, it's been a successful trip.  I know I certainly feel our week with Carpentaria Seafaris was excellent on all counts and I know Mike feels that way too.  I certainly can't speak for everyone, but I can't help but believe the others felt the same.
Oh, did I mention that Mike took it upon himself to model a new style of men's earring.  Yes, it's called the "Pink Thing Earring", AKA the pink Jig Hook FT Whistler.  Don't miss seeing the photo of it – close up – later when this article is published with photos on the T&T page.  You'll absolutely have to have one just like it!
I want to express a hearty thanks and "good on ya mates" to Greg Bethune and the entire crew of the Tropic Paradise. I can't wait to do it again in 2008!
Game two – Fish's Fly & Sport Fishing – Weipa
The Weipa report is going to be down and dirty. The fishing the week Mike and I were there was about as poor as it could get. The first day we arrived (a non-fishing day) the wind was calm and the skies were clear.  When Alan (Fish) Philliskirk met us at the hotel that evening, after dropping off his clients, he reported action for tuna and mackerel the past two days had been blistering.  Well, you know how it goes.  Things change and they did.  The weather changed from brilliant to gloom; the wind blew 15 to 35 almost every day from the southeast, the lights went out which killed the flats fishing and the rivers turned even more turbid than they normally are.
Southeast wind or worse, southwest, means surly seas and dirty flats.  Suffice it to say fishing the entire week was tough.  We ran 25 miles a couple of days to the south in order to find clear water.  One day I've already mentioned is when I scored the blue bastard and the nice cod. We got into a few tuna another day and we also stuck a few small reef fish and queenies around flats rock reefs.  The boat rides were long and rough and not much fun.  Thank God Fish and Duane, our guides, had superb boats and were equally superb skippers.  My knuckles were white during the ride home more than once.
No one feels more badly about poor fishing than the guide.  Good guides work harder and drive farther to try to get clients into action.  I can't say enough about how hard Fish and Duane worked for us.  They busted their asses and then some.  A couple of days, I was the one who called it quits when it became obvious we were just jack'n our jaws for the sake of casting practice.
There were a couple of highlights like my scoring the blue bastard and cod and when Mike finally nailed his first barra. The best action came on the last day fishing with Duane.  He parked us on a big flat up-river on a falling tide and we had about 2 hours of non-stop action with goldens and queenies.  We had frequent doubles and I took almost all of my queenies on top with a small Gurgler.  The fish ran from 5 to around 10 pounds. Mike scored several nice goldens.  If we were going to get into limited fast action I would have rather had it on the last day than on the first.  It was a great way to end an extremely slow week.
Another factor which contributed hugely to poor conditions was that a large dredger was working the Weipa harbor channel and had been for weeks.  The piles of spoil, loose and silty, just ruined the fishing on the outside flats and just about all the flats to the north.  Every incoming tide brought muddy waters from the outside into the estuary.  What a mess!
On a high note, the Heritage Hotel did a superb job for us.  The chef was outstanding and while it is trite to say the food was 5-star, comparing with any big city restaurant, it non-the-less was true.  Man did we eat well.  The service was also stellar on every count and I can highly recommend the Heritage if you're ever in Weipa.  Oh, I almost forgot about Barry, the hotel mascot cockatoo – he kept Mike and everyone else sitting around the courtyard, well entertained.  A bribe of BBQ'd potato chips made Barry your instant friend.
One decent week out of two isn't bad I suppose, but I sure would have liked to have had good action and weather back-to-back. It just wasn't meant to be.
I don't think I'll be visiting Weipa again for awhile.  I'll do the Carpentaria Seafaris trip again because it's one of the best and because I just love the fact you can move to where the best fishing is, or, stay put if it's red hot where you are.  And of course there is no beating the boat or her crew. And, I like the clear, sandy rivers much better than the muddy ones in Weipa.  I'll be back for another Carpentaria Seafaris adventure in September of 2008.
Tackle, Gear and Fly Summation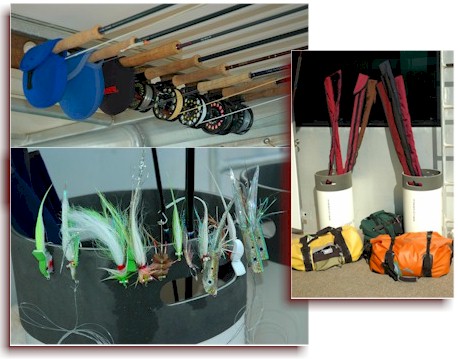 Rods
I took a total of nine rods with me to Australia; a couple were backups for my primary use rods. Four of the rods were TFO TiCr-X, two 8s, one 9, one 10 and the Bluewater Light.  Also included were a Sage Xi2 9 and 10 and an Albright XX 10 with a fighting grip.  The Albright XX saw some use and I really never had an opportunity to use the TFO Bluewater Light.  I had planned on using this rod for leveraging critters from reef rocks and channel markers.  As it turned out we never really got into any of that action.
The rods I used most were the TFO X-8 and the X-10.  I had one 8 rigged with a 350, SA Streamer Express, Clear Tip and the other was setup with a SA Custom Tip (T-14) cut to 28 feet.  The clear tip was used primarily for shallower river and estuary fishing and for 100 percent of my flats fishing with crab and shrimp patterns.  I used the X-10 rigged with a Rio Floating shooting head and a Rio floating shooting line for all my top-water applications the entire trip.  The X-8 rigged with the Custom Tip was used for all deep water applications – anything over about 8 feet deep.  The Albright 10 XX was my primary sinking head tuna rod.  I had used the Albright in Loreto last year and knew it was a great stick for the smaller tuna species up to around 25 or so pounds.  Most of the longtails we took were under 15 pounds.  Some may ask why didn't you use your Sages?  Well, because I knew they would work flawlessly and I wanted to put more testing time on the TFOs and the Albright.  My Sage rods, in this case, were my backup sticks because I knew if all else failed, they'd not let me down.  I would have liked to have taken a few more test rods but because of stringent airline weight limits, I had to minimize my tackle selection.
The X-8 rods performed brilliantly and cast both the clear tip and T-14 lines superbly, easily handling flies ranging in size from 2 to 3/0. They handily whipped a variety of critters ranging in size from 2-pounds to 15 or more.  I often had to turn fish from mangroves and they took the big bend and give-no-line contest without a problem.  You've heard me say it before and I'll say it again – the TFO TiCr-X 8-weight is one of my favorite rods for light to medium saltwater use.
I fished the X-10  for the first time on this trip.  I wanted a rod with a very fast tip and a strong butt.  I needed the fast tip for tossing a big, floating head and that 4/0 Ron Don Crease Fly (RDCF) and other air-resistant poppers and Gurglers.  I needed the strong butt for putting the heat on tuna, queenies and other mean fish.  The X-10 met all my needs and then some.  It delivered the RDCF as well or better than any rod I've ever used and when I dropped down in fly size to a more normal pattern, like a Gurgler, I could cast loops tight enough to pierce ears with.  As for it's fish-fighting ability – they didn't have a chance!  Brilliant!  By the way, I cast this rod some days, the entire day for six to eight hours or more and I never became fatigued – but then I'm a strong caster.  Some may find this rod a bit hard on the wrist and forearm since you've really got to work the tip.  However, with smaller bugs, casting the X-10 seemed effortless to me.
Reels
My arsenal of primary reels consisted on two Redington Breakwater 7/8s, one 9/10, one 11/12, one Redington CD 8/9 and one Albright Tempest II.  My backup reel for general all-round use was a Tibor Riptide and like the Sage rods, I knew the Tibor would never let me down.  I wanted to put more hard core time on the Redingtons although I've been using them since 2002 and have never had a single problem with the Breakwaters.  The BW is a true large arbor reel with a cork disk drag and the 7/8 size is perfect for the X-8 and is large enough to handle some pretty big critters.  I used the 9/10 on the X-10 and too, performed fabulously on the tuna and big queenies.  I also took several large queenies on the Redington CD 8/9 and it handled these brawlers just fine, although I wouldn't consider the CD as a heavy-duty marine reel.  I just wanted to see what it could do and it doe's it pretty well.
The Albright Tempest II is another of my favorite reels and I just can't say enough about this one.  I've used it now for two seasons of hard fishing and it's performed flawlessly.  I plan to purchase another one. I feel even more confident now, that I can continue to recommend the Redington Breakwater and the Albright Tempest II as top choices for hard core saltwater action without concern that I might have to crawfish on the high praise I have for them.  They are among the best at any cost.
Lines
I've already mentioned the primary lines I used on the trip but I'll summarize: my number one sinking line for shallows and flats was the 350 SA Streamer Express Clear Tip; for delivering poppers and Gurglers, a RIOMax floating shooting head for a 10 (already uplined for you by two sizes) with a Rio floating shooting line, was the only floating line I used.  For offshore tuna and deep dredging, I primarily used an SA T-14 Custom tip cut to 28 feet.  I also brought along plenty of T-14 shooting heads and a couple of intermediate shooting lines in .030 diameter.  These shooting lines were both SA and Rio.  I did have a reel loaded with a WF-9 Rio Quick Shooter floating line just in case I needed it for flats fishing.  I never broke it out the entire trip.
Leaders
My leader systems were simple:  a straight, 8-foot piece of 20-pound Berkley Big Game with a Bimini loop at one end which looped to the line loop and a Kreh/Byford loop knot for attaching the fly was my basic sinking line leader. If I needed a wire bite, I just tied a small black barrel swivel to the end of the 20 with a Palomar knot and figure-8'd on a length of 30- to 50-pound TYGer wire.  Sometime when in a hurry, I'd use a Surgeons' knot to connect the wire bite to the class.  Both ways worked fine.  I used a 3-turn Kreh Non-slip loop to tie on the fly.
The non-tapered leader worked very well for tossing weighted shrimp and crab flies with the 350 clear tip.  I never found the fish to be leader shy and I did use some 30- to 40-pound mono bite leaders when fishing the mangrove banks where a big barra was possible.
I used a size 7/8 Harro Knotted Dog furled leader on my floating head and just added a short, 20-pound tippet using a single Bimini loop to loop it to the end of the furled leader.  This leader turned over the big RDCF beautifully. Tossing size 2 to 3/0 Gurglers with this leader system was like tossing dry flies – too easy!
Flies
While I brought 10 pounds of flies which included a multiplicity of sizes, styles and colors, I actually used just a few of them.  Top producers were the FT Clousers, FT Whistlers in white/chart and white/pink in size 1/0 to 3/0, Ron Dong Crease Fly (RDCF) and Gurglers, especially the small gurglers I tied on the new Umpqua Tiemco #2 600SP "Owner" style hook.  I used the second to the smallest Lee Haskins Gurgler foam to tie these mini-Gurglers, which were no longer than 2-1/2 inches including the tail.  The longtail tuna loved them and I never missed a strike or dropped a fish using the #2 600 SP hook. The over-all top surface fly was the RDCF despite the fact that I dropped 12 tuna in a row using it.  Everything else loved it – that is – if they were large enough to eat it.  For smaller queenies, I found that the same small Gurgler I used for tuna, worked wonders.
Top flats flies for goldens and permit were Merkin crab flies or similar patterns ranging in size from 1/0 to 3/0.  Weighted shrimp patterns like the one's Jon Snell gave me were also incredibly productive.  I don't think the majority of the fly anglers on or trip with Carpentaria Seafaris used anything else when chasing flats species, although Clousers did account for a good number of golden trevally and queenies on the flats.  Mike also did very well using FT Whistlers on the big, flats queenies.  The long tail tuna seemed to prefer smaller Clousers on strong, 1/0 to 2/0 hooks.  If you got refusals, dropping down in size seemed to always work.  In this case smaller and sparser was better.
I also experimented a little with Lee Haskin's new "Slide Ball Slider" and with a new Charlie Bisharat fly tied with Craft Fur that looks a lot like a Sea Habit. Both worked but I really didn't get a chance to fish them the way I would have liked to.  Like most of us, I stuck with what I know works, especially when the fishing slowed down.  However, I did have a visit and a chat with Nat Bromhead who guides both at Hervey Bay and at Weipa and he reported having huge barra success with a Lee Haskin's Neutralizer – like catching three or four to one over other patterns fish right along side it.
---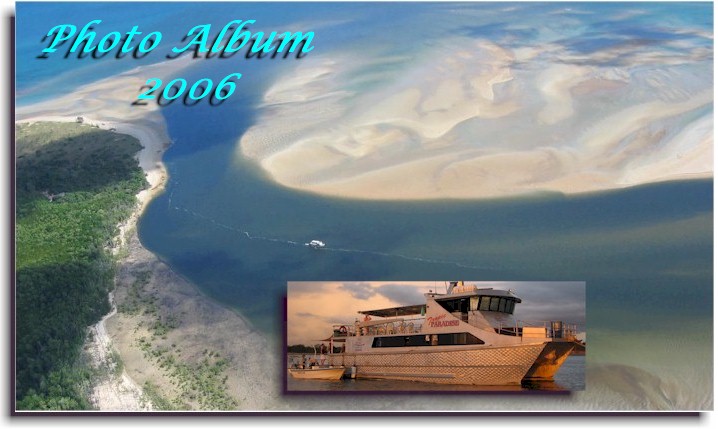 The following album consists of lots of "braggin" and "other stuff" shots.  The above aerial photo of the Doughboy river with the Tropic Paradise at anchor was taken by Greg Bethune who recently got his pilots license.  Great shot Greg! Fly safely!
| | |
| --- | --- |
| | |
| Dave and Eddie at Horn Island airport | Greg Bethune meets the group at Bamaga |

"Bogie" Bogan jumps another big queenie on the flats.
| | |
| --- | --- |
| | |
| Bogie Bogan with a nice golden trevally | Bogie Bogan and a big cod |
| | |
| Bud Brown with a nice golden trevally | Bud Brown with a longtail tuna |
| | |
| Eddie B. and John Campbell rigging | Eddie wishing he had some of my rod bags… |
| | |
| Eddie Bossomworth with small barra | Eddie Bossomworth with nice golden |
| | |
| John Campbell with his first permit on fly | John Campbell with a nice flats golden |
| | |
| John's permit ate a Merkin crab fly | John Campbell & nice coral trout |
| | |
| We towed the fishing skiffs on short runs | VLMDs gave Mike and I a huge advantage |
| | |
| Loading gear for another day's fishing | Dave Simms with longtail tuna |
| | |
| Dave Simms with a tarpon | Dave Simms and a nice golden |
| | |
| John and Dave – part one of a tuna double | Al nets part two of the double |
| | |
| Al & Dave with part two of the double | Dave with a big queenie |
| | |
| Dave and another nice queenie | Dave scores another nice queenie |
| | |
| Dave Simms and Rob Edwren with a queenie double | Aussie, Rob Edwren with a nice queenie |
| | |
| Mike Matica at the ready even while cruising | Duane Finds Mike another golden |
| | |
| Mike Matica working the Weipa flats | Mike Matica with a nice golden |
| | |
| Mike Matica with one of many golden doubles | Mike with medium all purpose queenie |
| | |
| Mike fights a nice flats queenie | Mike Matica with a big queenie |
| | |
| Mike battles a river queenie | He lands it after a tough battle |
| | |
| Mike Matica with a nice longtail tuna | Mike Matica with a juvie GT |
| | |
| Mike Matica lands a longtom needlefish | Mike Matica nails a small cuda |
| | |
| Mike Matica and his first barra on fly | Mike Matica lands a colorful stripey |
| | |
| Dan Blanton having fun… | Dan Blanton with a nice mac tuna |
| | |
| Dan Blanton with a longtail | Dan Blanton scored an LT on a Gurgler |
| | |
| Dan Blanton with a nice queenie on a RDCF | We took many nice sized queenies |
| | |
| Dan Blanton and a "blue bastard" from the flats | Dan Blanton and a coral cod from the flats |
| | |
| Dan Blanton and a cuda | Dan Blanton and a tarpon |
| | |
| Dan Blanton and tea leaf trevally | Dan Blanton and barra |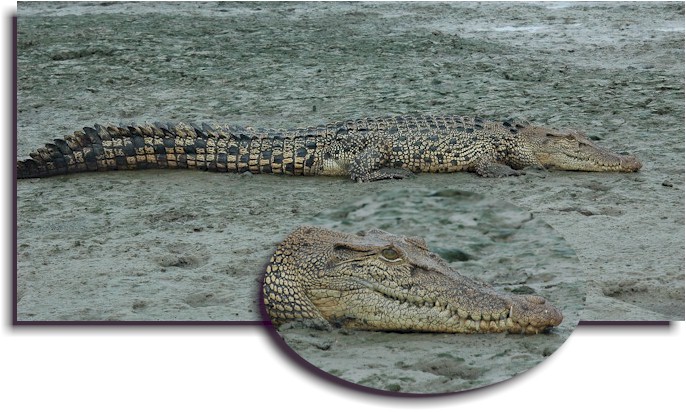 We saw many of these guys along the banks of rivers in Weipa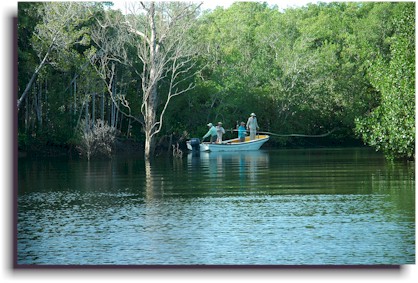 Casting up a creek looking for barra and other critters…

We encountered a few rain squalls during our trip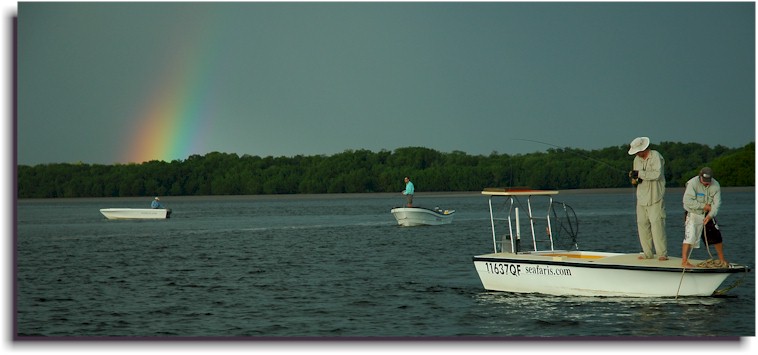 Fishing the rainbow rip line for queenies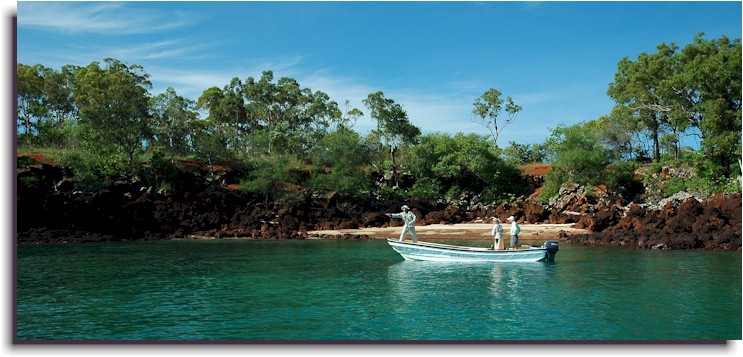 John Campbell and Dave Sims with guide Al Simpson cast over a rocky bottom looking for variety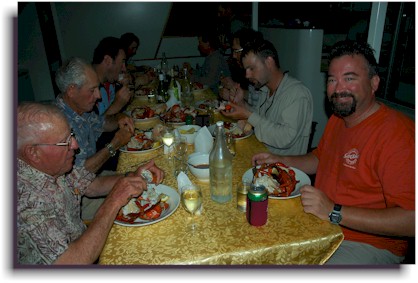 Another great feed of mud crabs…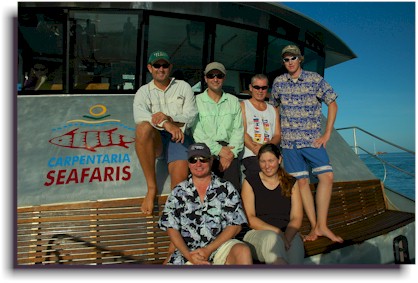 The incredible crew of the Tropic Paradise – top row from
the left: Captain Phil Edwads; 1st guide Al Simpson; chef Brian Route; guide George Price.  Bottom row from left: guide Peter Hernden; hostess Allison Toynton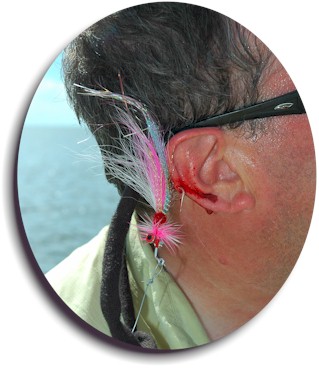 Mike Matica models the latest style of men's earrings – self pierced of course! Ouch!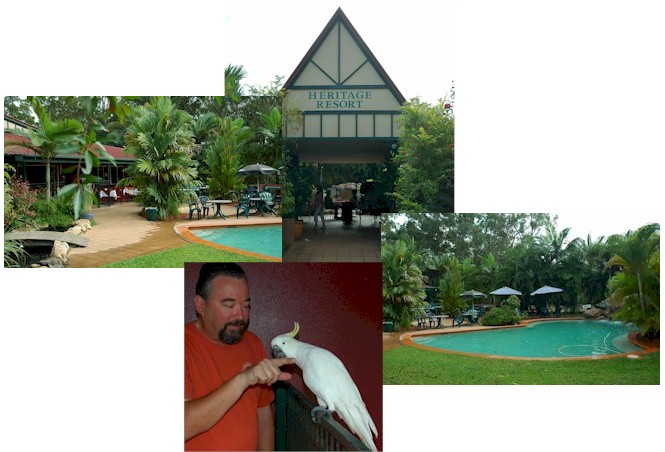 The Heritage Resort in Weipa was even better this trip – the service and food was extraordinary!