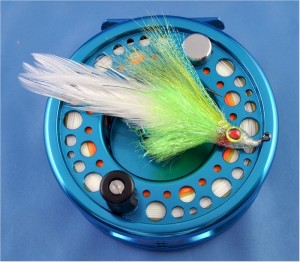 Materials
Hook: Targus 2/0 TAR9413 jig hook or equivalent.
Eyes: Just Add H2O 8mm Frantic Eye, chartreuse or favorite 3-D eyes.
Thread: White Danville's 210 waxed Flymaster Plus.
 Keel weight: Wrapped-lead wire over mono or Cascade Crest Tools' Channel Lead, medium.
 Tail: Six white saddle hackles, 3-each side.
 Side Flash: Silver Flashabou.
 Body: Baitfish Emulator Flash syn hackle, chartreuse.
 Collar: large, red Cactus chenille.
 Wing: Chartreuse Flash `N Slinky syn hair; chartreuse bucktail.
 Topping: Light Blue Crystal Flash.
 Head: Large Diamond Braid coated with epoxy or UV cure coating.
Tying Steps for the Blanton Darting Jig Hook Sea Habit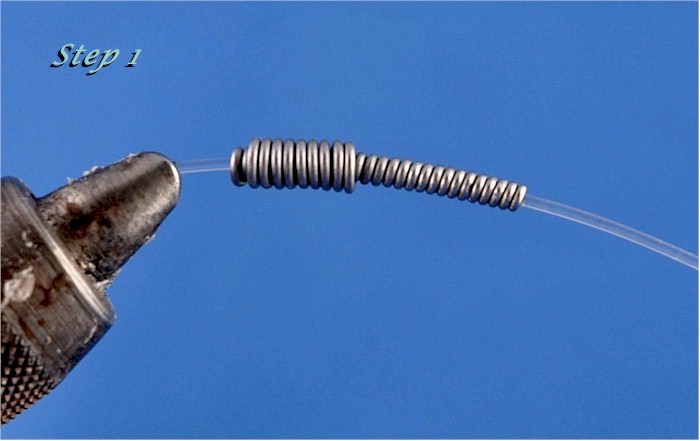 Step 1: Make the keel weight by winding .030 diameter lead wire around a length of 4- to 50-pound mono, length, just short of hook-length, double-wrapped half way back.  Double wrap goes to rear of hook shank, almost to bend. [Note: if using Channel Lead, keep it the length of the hook shank placing it so it extends past the hook bend a little, but not too far or it will break off after landing a few fish; tie it on first followed by the tail.]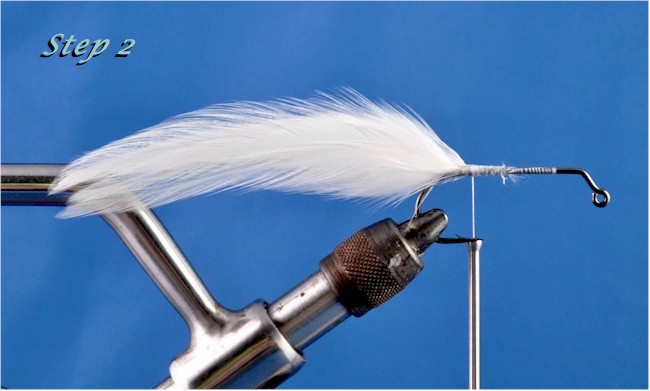 Step 2: If using the wrapped-lead keel-weight, tie in six white, saddle hackles, curved sides together at bend of hook Deceiver style.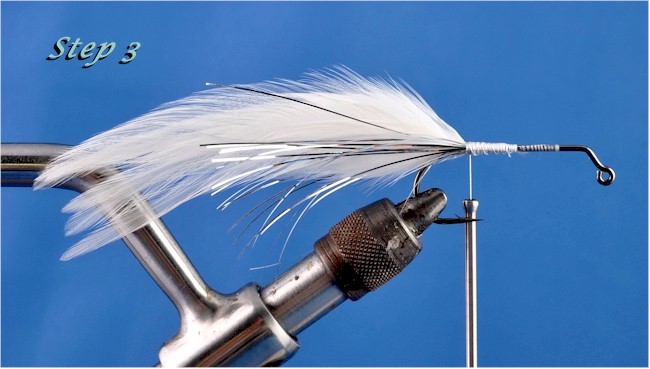 Step 3: Tie a few strands of silver Flashabou along each side of the tail hackles, about half the length of the tail.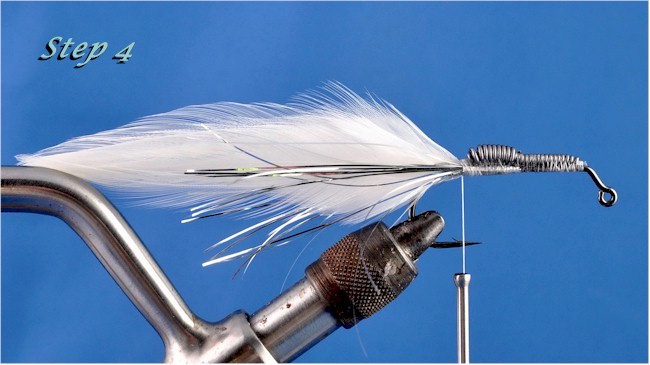 Step 4: Tie the wrapped-lead keel-weight on top of the hook shank, double wraps toward the tail, leaving just a slight gap at the hook bend so the body material can be tied on.  Wrap the lead down tightly with several wraps of thread, cement.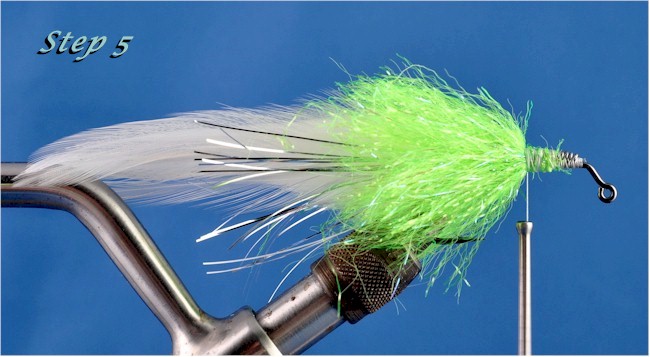 Step 5: Several different types of synthetic hackle can be used to wrap the body.  In this case it's chartreuse "Baitfish Emulator Flash".  I tapper the hackle first, tying it in by the tapered end, wrapping it edge-to-edge wet fly style forward forming a broad Deceiver-style body.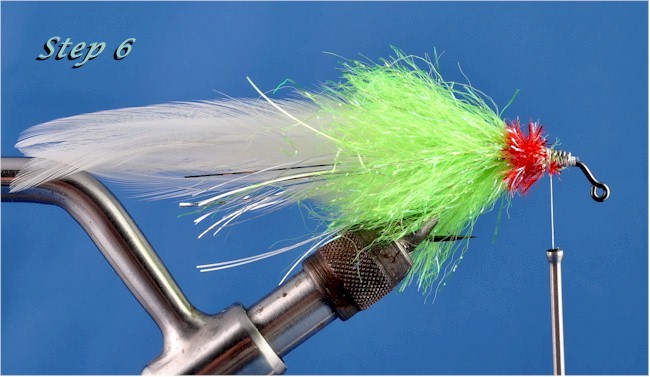 Step 6: Take two turns of large, red Cactus Chenille which will form red gills upon completion.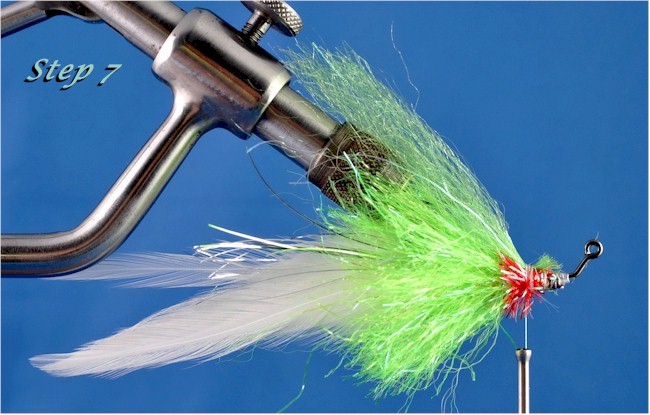 Step 7: Rotate the vise so the hook point is up (or place the hook point up); tie on a medium bunch of chartreuse Flash `N Slinky syn hair over the hook point extending to about half the length of the tail.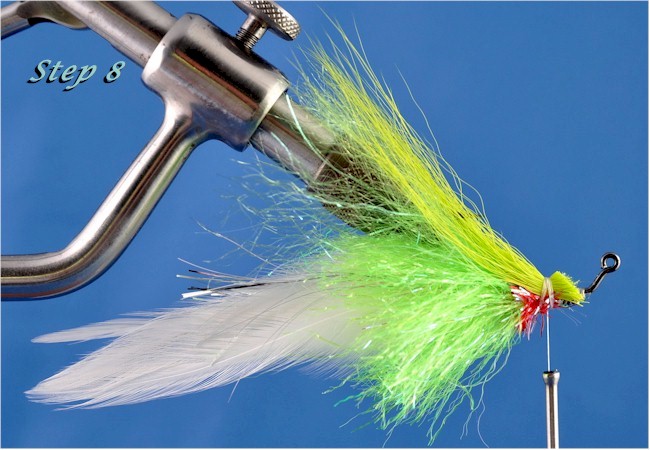 Step 8: On top of the syn hair, tie on a medium bunch of chartreuse bucktail the same length as the syn hair.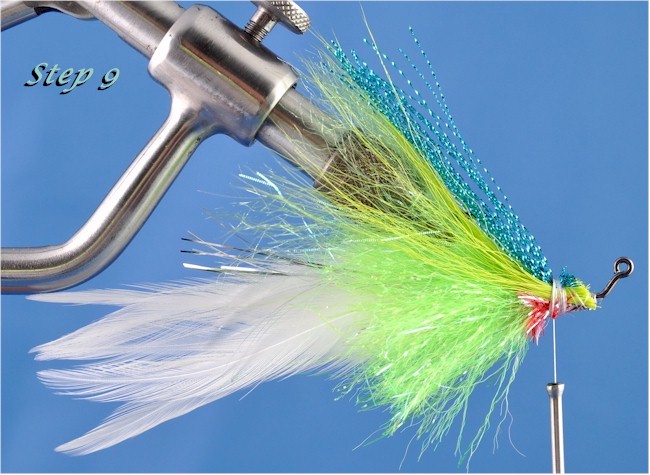 Step 9: Top the wing with 50 or so strands of light blue Crystal Flash.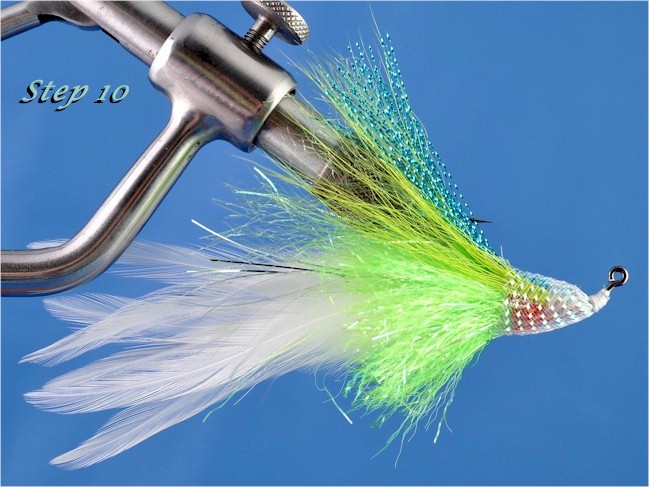 Step 10: Push a piece of large Diamond Braid over the head so it just covers the Cactus Chenille, tie of the braid and glue.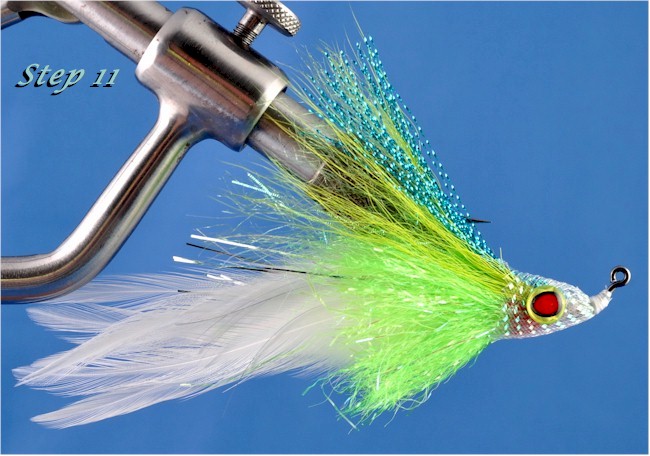 Step 11: Place 3-D sticky eyes on the head as shown.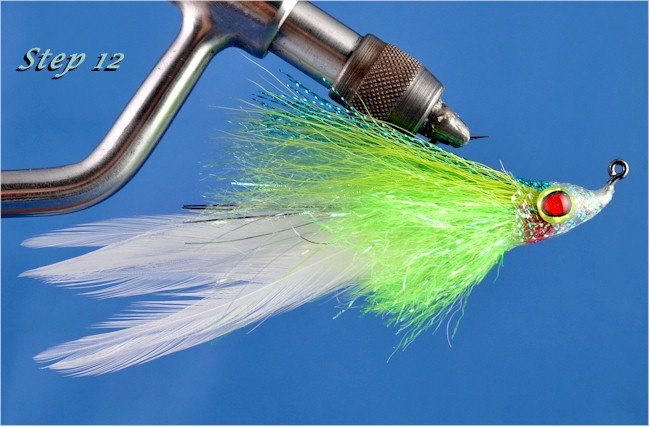 Step 12: Coat the Diamond Braid and eyes with 5-minute epoxy or your favorite head coating.  I still prefer epoxy over the UV cure coatings. Be sure to place the fly on the rotator perpendicular and not in line so you'll get a flatter head rather than a round one.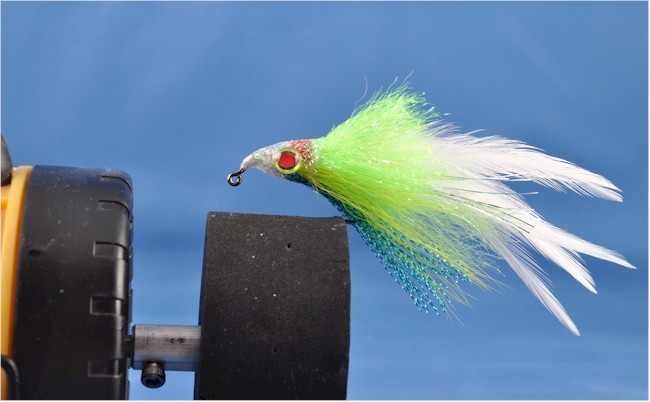 Proper positioning of fly on rotating dryer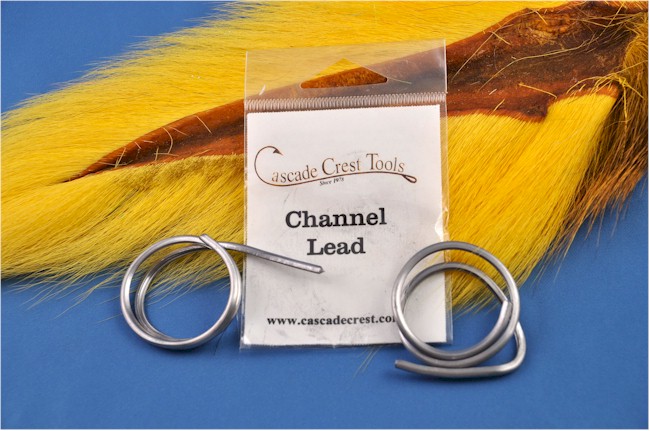 Channel Lead is a good keel-weighting option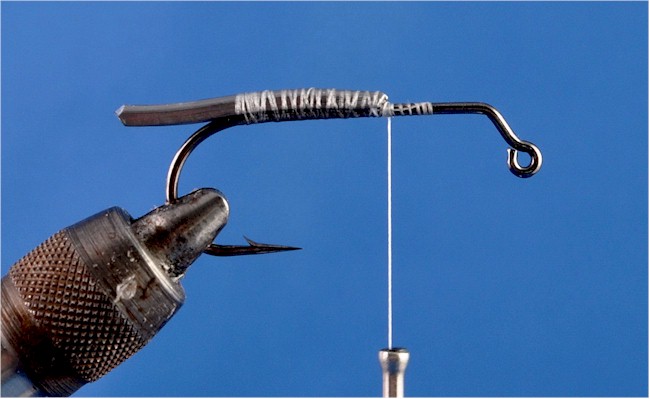 Channel Lead for keel-weighting – do not extend too far past bend