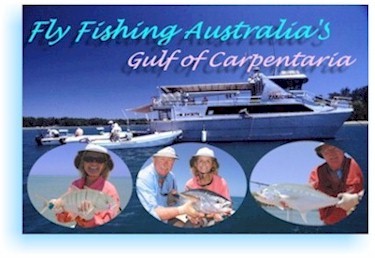 A Double Header in the Land Down Under

by Dan Blanton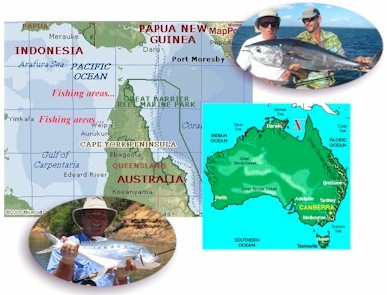 Australia's Cape York Peninsula and the Gulf of Capentaria offers the marine fly-angler one of the last unspoiled angling frontiers in the world. Its waters teem with an enormous variety of fly-eating species – 54 of them that can be taken on fly from relatively calm waters that range from rivers, clear sandy flats and shallow reefs, to calm offshore/nearshore waters, targeting pelagic species roaming in vast, marauding schools, busting bait under birds, blowing holes in the surface large
enough to give any angler the shakes.
| | | |
| --- | --- | --- |
| | | |
| Bill Nash – longtail tuna | Dan Blanton – longtail tuna | Terry Schultz – mac tuna |
The Gulf of Carpentaria has not been over-exploited by commercial fishing, ravaged by pollution or gone the many other negative ways a fishery can. It is still remote and wild with very little access except by boat. Un-crowded is an understatement. It's beaches are devoid of litter, home only to birds, animals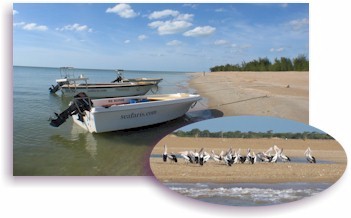 and saltwater crocodiles. Its waters teem with fish. However, while remote and pristine, the Gulf of Carpentaria is relatively easy to get to and it, as is all of Australia, is one of the safest places on earth. Of course you've heard about the wonderful hospitality and good nature of the folks from Down Under – it simply can't be beaten. And, it's great to travel to an exotic angling destination where the locals speak English – their delightful version of it, anyhow.
If there is a negative to visiting Ozland, it's that it's a long, tiring flight – about 15 hours from Los Angles to Sydney for us Yanks and another 2-1/2 hours to Cairns where I suggest you spend a day or two just to re-coup from the arduous flight over before continuing on to your angling destination.
The fact that it is a long and costly flight getting there means one profound thing to me: ONE WEEK OF FISHING IS NOT ENOUGH! Go for two and even three if you possibly can. The Gulf and its brilliant fly fishing is more than enough to justify it. With this mindset and because it was the first time I'd be visiting Australia, I booked a double header in 2002 – a week each with two different operators who had impeccable reputations, both on the Gulf of Capentaria but each offering two distinctly different venues, fishing two different areas of the Gulf. This was also like hedging my bet – if poor weather/water conditions one week hampered my fishing, I could make up for it the second – or I could easily have two blistering weeks of ripping lips. How could I lose!
Game one – Carpentaria Seafaris – 2002
Game one of my double header was with Carpentaria Seafaris. Family owned and operated by Greg Bethune, his father, Joseph Bethune and Greg's partner in life and business, Jennie Fuller, it is a live-aboard "Mother Ship" operation. I rate it as the best of its type I've ever experienced or have heard about.
I first learned about Carpentaria Seafaris from long time friend and fishing travel agent, Howard McKinney. He'd urged me to make the trip for years. I also got first-hand reports from other's who I knew and trusted.  All the positive accolades encouraged me even more to go. The clincher, though, was meeting Greg Bethune in person at the San Mateo, International Sportsmens Exposition. He just exuded professionalism and excitement about his operation and the diverse Gulf of Carpentaria fishery. Of course the action video he showed with many of my friends, men and women, hunkered over bucking fly rods and whooping it up played a major role in the decision-making process. During one of the weeks, a fly-rod group landed 52 different species – all on flies. Made me drool…
A little history and other pertinent information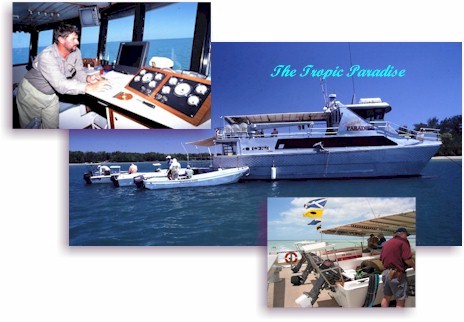 The 65-foot Tropic Paradise comfortably accommodates 12 guests.  On the run down to the start of the fishing area, about a 100 miles, skiffs are transported on the upper deck.  Once launched, the upper deck serves as evening lounging area and crew sleeping quarters.
Greg and Jennie bought their first boat, the Capricorn Mist and started Carpentaria Seafaris in 1991. They towed skiffs behind her and could handle up to six anglers and crew. The operation proved a huge success and Greg soon knew he'd have to build a bigger, faster and better all-round boat. In April of 2002, Greg and Jennie launched they're new 65-foot mother ship, Tropic Paradise. The new boat's a beauty, she's fast, seaworthy, comfortable and now handles up to 12 anglers and a larger crew. The fishing skiffs are now stowed on top which elevates having to towing them down the Gulf to the starting point and back again, saving considerable time. Since the boat was first built, Greg has made further improvements to the Tropic Paradise by adding bulbous bows and extending the hulls out under the fantail to increase speed and weight carrying capacity.  She's an absolute beauty!
Capentaria Seafaris encourages women and couples to sign on and offers two special cabins just for couples. All the remaining cabins sleep two (bunk beds), are comfortable with AC or fan. The trip is not based on "double occupancy" but it's best to have a partner, although not absolutely required. I didn't have one until I arrived – but I was lucky and drew a great partner, Richard Wright of Fairfax Station, Virginia. There's a large galley, dinning and recreational salon, plus a marvelous top-side deck (when not occupied by skiffs). The Tropic Star carries plenty of fresh water and with minimal conservation everyone aboard can take a good shower each day.
The crew of the Tropic Star consists of Greg Bethune and Jennie Fuller – owner, skipper guide and hostess; head guide Phil Edwards, one or two additional guides and Emily (Em) – head cook and guide. Em, Jennie and the guides provide sumptuous meals that rival those severed at the finest restaurants. It's a tough call since all the meals were superb but I have to claim my favorite was the dinner of fresh Mud crabs served at least once during he trip. Thanks Greg and Em, they were luscious!
| | |
| --- | --- |
| | |
| Greg with some dandy mud crabs | It's worth the trip just for a feed of these |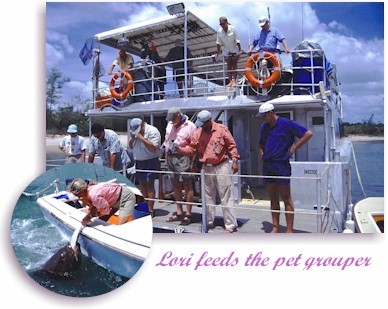 There is also a full bar with hard liquor, beer, wine and soft drinks purchased at competitive prices and you're on the scorecard honor system. All meals are served aboard including lunch. Coming in for lunch each day provides an often needed break from rigorous slugfests and to get an update briefing from Greg who constantly keeps all apprised of what's going on and suggests where you might want to fish in the afternoon.  If you're lucky you might also get to feed the pet groupers (gropers in Ozo lingo).
The fishing program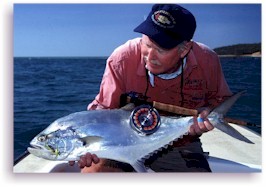 The primary benefit of booking a trip with a Mother ship operation is the amount of water that can be fished and extra time spent doing it. You are living right on top of it. We were awakened every morning with queenfish and others busting bait all around the boat. Suffice it to say, breakfast, though splendid, was of secondary importance…
Carpentaria Seafaris has 100 nautical miles of coast and nine rivers that can be fished. The starting point and rivers visited are based on the results of the previous trips. The boat runs to its most southern starting point and then works it way back. It is a self-guided trip. Anglers drive their own skiffs (two to a boat), although guides are available for one or two days for those who might not feel comfortable enough with their boating or fish-locating skills at first to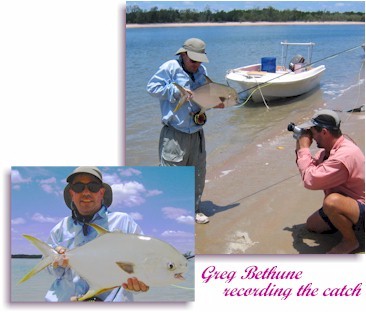 guide themselves. On the way down, large, white buoys are dropped on key rubble structure, located off the river mouths in which the mother ship will be anchored. These buoys are a great aid to the self-guided anglers. Greg also tries to spend at least one day with each pair of anglers, guiding and video taping their experiences. Greg provides a personalized video for each angler at trip's end, a very classy extra which is much appreciated by all. The skiffs are very seaworthy and fish well. Southeast sea breezes are normally light and flow offshore, meaning you'll usually have calm seas.
During my 2002 trip, which was typical, we anchored the mother ship in the Skardon,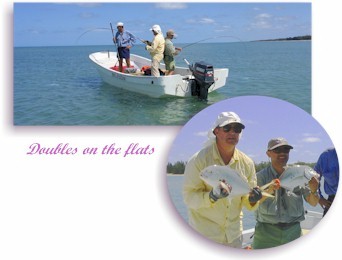 Jackson and Doughboy rivers and on Kerr Reef offshore of the Skardon. We fished these rivers, adjacent flats, near-by reef structure and the flats adjacent to  other nearby rivers such as the Macdonald, Cotteral, River #2, Crystal Creek, and the Jardine. The normal game plan is to anchor in two or three locations during the week and fish at least three rivers, covering others as we ran back up the coast, skiffs leading the Mother ship or visa-versa.
A lot of what happens depends upon what the anglers want to do. After a couple of days of blistering fishing in one area, Greg often asks if the group wants to stay or try somewhere else. Usually the choice is to try something new. It's rare the move proves a bad choice. Greg strives to put clients into a variety of species and some locations hold more varieties than others. Some anglers
opt to fish the rivers looking for barramundi, jacks, snappers, queenfish and others. Flats permit and trevally are the focus of others and for many, like me, the quest was to catch as many different species as possible on fly and that meant plying the nearshore reef structure and chasing offshore pelagics. Of course you could do all three, including wading the flats for permit and others – always keeping a vigilant eye peeled for saltwater crocs. On the last day of the trip, day eight, the boat is back at Seisia (about 12 Kilometers form the airport at Bamaga) and happy anglers fly back to Cairns and hopefully on to game two of their double header.
Some trip highlights
Wow! Which ones, there were so many, not only for me and pard, Richard Wright, but for everyone else in our group. Each day provided new and exciting piscatorial adventures and highlights were shared by all at lunch and dinner. Here are a few fishing highlights that stand out for me: There was the day when Richard and I fished a rubble pile a little north of the Jackson River, one that Greg had dropped a buoy on. It was warm, sunny and flat and using LC-13 lead core heads, FT Whistlers and FT Clousers, Richard and I pounded the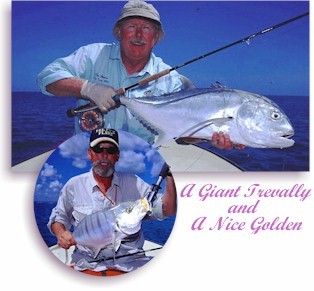 trevally and other species. We landed GTs, golden trevally, tea leaf trevally, bludger trevally, queenfish, cobia, snappers and several mackerel species. The action was non-stop the entire morning and many of the trevally ranged into the teens and larger. I blew up my 10-weight rod on one GT that I guessed went 35 to 40 pounds. I hadn't blown a rod on a fish in 30 years and when this one went, it exploded like a bomb, shattering into several pieces. Steve Starling and Mike Felton (Felty) were fishing very close by and Steve said he'd never seen or heard any rod go like that one did. I Couldn't find a couple of its pieces.
Another highlight for me was getting into the offshore pelagic action for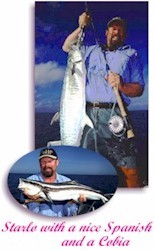 the first time buddy-boating with Steve and Felty. Steve Starling (AKA Starlo) is a leading Australian angler, outdoor writer and television fishing personality whose been on Greg's trip several times. He was a great help to me and others by offering generous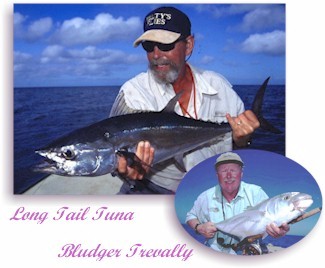 advice and much from his bag of tricks. That morning Richard got his first longtail tuna and I nailed my first bludger trevally which I believe fight even harder than the tuna. Chasing those breezing and busting longtails and bludgers was exhilarating fun. Running and gunning at top speed across a mild chop made me glad I had brought one of Pro-Trim's Fly Line Tamers along. It was an immense advantage.
Another Magic moment was when I hooked a big, hard running fish over a shallow reef offshore of the Skardon River. This fish got hugely into my backing and I just knew I'd hooked a big Spanish mackerel (king mackerel to us). Turned out to be the largest barracuda I've ever hooked on a fly without the use of chum. It pulled the Boga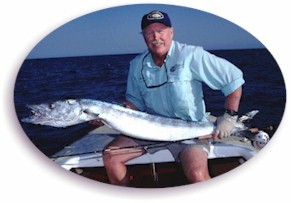 to 30 pounds. Shortly after landing that fish and on another drift over the reef top, I spotted a big fish surfing toward us. At first I thought it was a huge cobia but it turned out to be a black marlin of around 175 pounds. It swam right under the skiff, turned and swam right back under it again, heading back the way it came. I think it was just checking us out. You bet we made some casts to it!
Another neat highlight was when Richard spotted a nice cobia surfing down the waves about 80 feet away. Richard wasn't in position to make a cast but I was. It took about a 90-plus-foot toss but when my Sar-Mul-Mac landed six feet ahead and to the side of the big cobia, it rushed the fly and ate it like it was its last meal. What a grab! Too much line, too much stretch – whatever, I
dropped it. It was a great happening, though. Many nice cobia were also taken off the backs of big rays and they especially liked crab flies. Like I said there were so many highlights that trying to list them all here would take entirely too much space. However, of all the highlights the brightest had nothing to do with me.
Richard and I were returning to the Tropic Paradise for lunch when we spotted Steve Starling's and Felty's skiff, with Greg Bethune alongside in his. Greg was video taping Felty fighting a big permit. It was Felty's dream-quest to land his first permit on fly, particularly on one of his own great crab patterns, and he had it on. We rushed over to watch the event. What a moment when Steve netted the big permit and the deed was done. The smile on Felty's face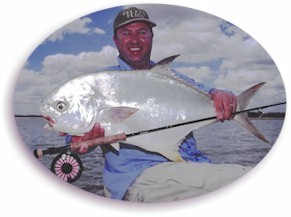 would have illuminated the blackest night. That was the highlight of the trip for me and I was so pleased to witness the event.
Game one with Carpentaria Seafaris was all I hoped for and expected and then some; and, I believe I can safely say everyone in the group would agree – It's one of the best angling excursions available today at an incredible price. As a mothership operation, it may well be the best there is for fly fishers and light tackle gear anglers alike.
I Played the double header in the Land Down Under again in 2004, leading a group of 11 anglers, including my wife Cindy.  Some of the photos of the action that took place in September of 2004 have been used to illustrate this article, as well as those taken during the 2002 adventure.  For a report/summation of the 2004 trip, click on the link below.  I've scheduled a return trip for early June of 2006 – Can't wait!
Carpentaria Seafaris Photo Album