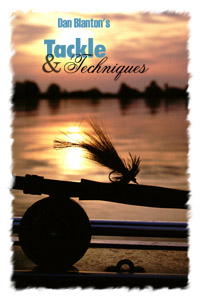 ---
The following sponsors make this site possible. Please support their products or services.

---
---
Check out these hot links for great fly fishing articles by Dan Blanton and Others.
Bill Nash's website pages

The late Bill Nash was one of the most loved and respected West Coast fly fishers with decades of hard core experience in all aspects of fly-fishing. He was particularly well known for his expertise in knots and rigging and earned the handle "Mr. Knots". Because of popular demand and with permission from his family, I am proud to host Bill's website - a wealth of fly-fishing information. Read Bill's pages by clicking on the link above.
Tarpon Yucatan

By Dan Blanton

Some of the most exciting and productive fly-fishing for tarpon is found on Mexico's Yucatan Peninsula - at Tarpon Cay Loge and at the New Isla Del Sabalo Lodge - to read more about it click on the hot link above.
In Pursuit of Permit
By Dan Blanton

The late Del Brown is considered to be the best permit fly-fisherman history has known. If you want to read his advice on how to catch flats permit on the fly - the techniques he used to land 513 permit - then click on the link above.
The Mix & Match Tip Shooting Head System
By Dan Blanton

If you want to know more about one of the most versatile shooting head systems ever devised and how to build one for yourself, then this article is a must read...
Sheefish by Lee Haskin

Lee Haskin has always dreamed of catching Alaska's mysterious sheefish on the fly. He finally learned where they were and did a do-it-yourself trip to catch them. Check out Lee's article for an interesting read on catching sheefish on the fly. It sounds like a hoot to me...
Eddie Bossomworth's GSP 12-turn Bimini break tests

After much discussion on the bulletin board about the article Doug Olander, Editor of Sport Fishing Magazine wrote about the surprising results he had with a 12-turn Bimini in GSP for attaching a mono leader, Eddie just had to find out for himself if Doug's results were as good as they sounded.
Australia Report - 2006 & Photo Album

Read about Dan Blanton and Mike Matica's trip to the Land Down Under this Past June 2006. It was another double header - a week's fishing aboard the mother ship Tropic Paradise with Carpentaria Seafaris and a week with Fish's Fly & Sport fishing in Weipa. Be sure to check out all the photos of fish Dan, Mike and their pals caught.
Bluefish Mania

Want to read about some of the best bluefish and striper fly fishing to be found along the entire eastern seaboard? Click on Bluefish Mania and read about Lefty Kreh and Dan Blanton's incredible trip to Rhode Island, fishing with Captain Jim White of White Ghost Guide Service.
Bob Nauheim 1934 - 2005

Bob Nauheim one the major contributors to the wonderful world of fly fishing passed away on September 9, 2005. He will be missed by so many...
Dan Blanton's New Book - Fly Fishing California's Great Waters
Dan Blanton's Coast to Coast Guides Page | Photo Album |
Auction Shack

Writing | Slide Shows | Stock Photography | Fly Casting Lessons | Angling Destinations - Clinics | Tackle and Techniques | What's Hot - Tackle to Fishing | Blanton's Original Flies | HOT Flies | Bulletin Board | Email | Back Home