Slide Presentations
by
Dan Blanton
"Fly Fishing California's Backcountry Stripers"
"Fly Fishing For San Luis Reservoir- O'Neil Forebay Stripers"
"Marvelous Monterey Bay"
"Panfish and Bass On the Fly - Dan Blanton Style"
"Pacific Salmon ON The Fly"
"California Stripers On A Fly"
"The Wonderful World of Fly Fishing - Panfish to Billfish"
"Salt Water Primer - Flats to Blue Water"
Fly Fishing with shooting Heads - Broadening Your Angling Horizons
"Fly Fishing The Lower Keys"
"Fly Fishing For Pike and Lake Trout In Northern Saskatchewan"
Loreto, Baja - Fly Fishing the Sea of Cortez
Customized slide presentations, seminars and clinics
Dan Blanton has been photographing both the outdoors and fly fishing action for everything from panfish to billfish for more than 20 years. His slide presentations contain some of the most beautiful and action-packed images to be found in any show, world-wide. In addition to great photography, Dan's shows are expertly assembled to provide the viewer with easily assimilated information, information obtained and presented by one of the world's most diverse and experienced fly fishermen. The following are the details of each of Dan's superb slide presentations.

"Fly Fishing California's Backcountry Stripers"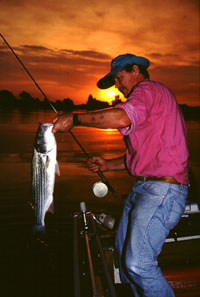 Dan refers to the California Delta as "California Backcountry". To him it engenders nostalgic recollections of other wonderful fly fishing places he's had the good fortune to fish. This vast area, encompassing more than 1,000 miles of navigable water-ways, sitting right smack in the middle of the din and urban sprawl of San Francisco, Sacramento, and Stockton, has miraculously sustained its wildness, beauty and country charm. It is a combination of the jungle rivers of Costa Rica, the bayous of Louisiana, and the backcountry of the Florida Everglades. This presentation will take you to the Delta - California backcountry - put you into Dan's boat and take you striper and largemouth bass fly fishing. It will show you how, when and where to fish- and with what - all the right flies and gear. You'll learn how to do your own house boat trip; where to camp, and where to launch your boat, rent a boat, or hire a guide. You'll see lots of outstanding wildlife photography, fly-rod action - the works! California's Backcountry is a place that will become embedded in both your mind and heart as a very special fly angler's destination; and not just because it is possible to catch and release from 10 to more than 20 stripers and largemouth bass a day on fly. It will capture your heart because this is truly a marvelous place - a place frozen in time... for now. Don't miss this one.

"Fly Fishing For San Luis Reservoir- O'Neil Forebay Stripers"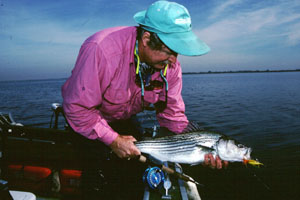 San Luis Reservoir and its equalizing basin, the O'neil Forebay, located on the western rim of California's Central Valley, not far from the rural community of Los Banos, combine to make one of the finest fly fisheries for fresh water striped bass in the world. Fish exceeding 65 pounds are taken every season on a variety of tackle, and recently a 102-pounder was netted and released back into the lake. The largest striper taken on a fly, to date, pushed the scales to 54-1/2 pounds and was taken by veteran striper angler, Al Whitehurst. Whitehurst and others like Len Bearden, Steve Santuce, and Dan Blanton have all taken stripers weighing more than 30 pounds on fly from these impoundments. In December of 1994, Len Bearden landed his largest striper ever, a 49-pounder. Dan Blanton has been fly fishing these waters since 1968 when San Luis reservoir was at minimum pool. This slide show, takes you from A to Z on how to successfully fly fish these productive waters - when, where and how-to, from both a boat and a float tube. Dan's excellent photography will put you there, right on the deck of his boat; and his professional and entertaining oral delivery will keep your ear glued to the microphone. Most of his techniques will work anywhere fresh water stripers are found.

"Marvelous Monterey Bay"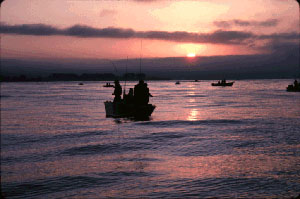 Dan Blanton has been fly fishing Monterey bay since the 1960s for all manner of fly-eating critters from Kelp bass to 150-pound-class blue sharks. His most recent article on this unique, marine fly fishing resource, appeared in Fly Fishing In Salt Waters Magazine, of which he is an Editor-at-Large. This beautifully photographed slide show will give you a keen insight into all of the bay's fly fishing possibilities: Kelp bass; White Sea bass; Blue sharks; Thresher sharks; bonito, mackerel; Pacific halibut; striped bass; King salmon, and others. This area is not only perfect for resident California anglers, but only being a hour from San Francisco, 45 minutes from San Jose or Monterey, makes it a perfect fly fishing destination for visiting anglers on business trips or family vacations. Every nuance of this fishery will be uncovered, from fishing from private craft to rental boats - tackle, flies and techniques.

"Panfish and Bass On the Fly - Dan Blanton Style"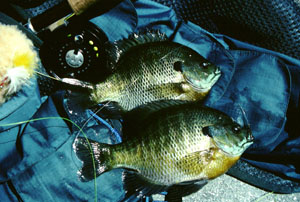 Warm water fisheries are no stranger to Dan Blanton. He grew up fly fishing for bass and panfish in California's Santa Clara Valley, taking his first fish (a bluegill) on a fly at age 11. While most conjure up images of taking these gamey species on top with poppers, there is far more to being a successful warm-water fly-rodder than using well designed surface flies and floating lines. This program will show you techniques for taking bass and panfish year-round, from right on top to dredging old river beds and knocking bark off of submerged deadfall, with all manor of innovative flies - flies fished on a system shooting heads - one of the most versatile approaches to fly fishing ever created. This show features fly fishing for bluegill, crappie, both large and smallmouth bass in habitat ranging from farm ponds to lakes and rivers, including the sprawling California delta.

"Pacific Salmon ON The Fly"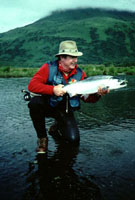 Dan Blanton has been fly fishing for various species of Pacific salmon for more than 25 years. His home turf, the Smith river, the last remaining un-damned river in California, produced his largest King salmon on a fly, a world record class, Field & Stream winning fish of 54-1/2 pounds. Dan took that fish in 1972 on a size two, Gold Comet, using a 10-pound tippet. This program, filled with astoundingly beautiful photography, takes you fly fishing on the Smith, Eel and the Chetco rivers. It also takes you north to Alaska for both silver and sockeye salmon. Everything you need to know, including the secrets of the "legends" of the "Anglers Coast", Pacific fly fishing heroes like the late Bill Schaadt, will be detailed in this informative and entertaining slide show. If you have ever thought about fly fishing for Pacific salmon - this presentation is a must!

"California Stripers On A Fly"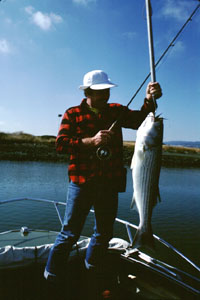 Fly fishing for striped bass is Dan Blanton's forte'. He took his first striper on a fly from the Sacramento delta at age fifteen, 37 years ago. He quickly migrated down to San Francisco bay, the hub of the Western striper fishery, where he spent more than 30 years catching striped bass on a fly. It was there, in 1964, when he created one of the West's foremost striper and general purpose salt water flies, the Whistler, which is still, 32 years later, at the top of the heap. During the late 60s, Dan began fly fishing for freshwater stripers in San Luis reservoir and the O'Neil Forebay, becoming extremely familiar with this great impoundment fishery during the following 27 years. In 1992, Dan returned to the wellspring of his love affair with striped bass - the sprawling Sacramento/San Joaquin delta, the California Backcountry, as he likes to call it. During the last three years he has extensively explored much of the Delta's 1,000 miles of navigable water ways, catching hundreds of stripers on his Whistler fly. His recent article in Fly Fisherman Magazine detailed house-boating the delta, Dan's favorite way to explore this fly fishing wonderland, located only an hour's drive from the greater San Francisco bay area. If you are looking for a program detailing all three of these great striper fly fisheries, then "California Stripers On A Fly" is right up your alley.

"The Wonderful World of Fly Fishing - Panfish to Billfish"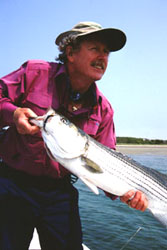 When ever asked just what is Dan's favorite gamefish on a fly, his unequivocal response is "Florida Keys flats tarpon"; but then he quickly adds, "actually, it is whatever I happen to be fly fishing for at the time". Dan is, indeed, one of the most diverse fly fishermen of our time, and will cast a fly to any fish that will eat one. "Panfish To Billfish" is exactly what it intimates: an entertaining presentation, that goes easy on the "how-to", but is long on outstanding photography - a show that takes you fly fishing 'round the world for a huge variety of species, while painting a vivid pictorial of why we fly fish - the fish and their environment that draw us there. This is the perfect show for a mixed audience of hard-core, intermediate and non-fishing viewers; a great show for major conclave dinners, or annual club dinners. In 1994, Dan was the feature speaker at the banquet dinner of the Southeast Council of the F.F.F. - this was the show he presented and the audience loved it.

"Salt Water Primer - Flats to Blue Water"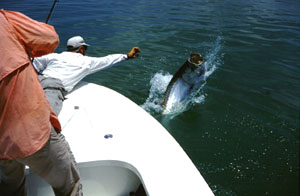 Any club interested in salt water fly fishing will want to have Dan do this one for them. As indicated, the show takes you through all the basics of salt water fly fishing, into the most advanced techniques used for blue water species. It ranges from kelp bass and stripers, to all of the flats species; and then takes you to the Baja for near-shore and off-shore "Panga" techniques; ending up with a long range trip to abysmal blue water, where you will learn how to take Wahoo, tuna, skipjack, dorado and the billfish species. Knots, rigging, casting and teasing techniques will be covered - the best flies, retrieves and approaches to each fishery will be detailed - including the most popular angling destinations, with travel tips. An excellent show for both the beginner and the veteran salt water fly angler, alike.

Fly Fishing with shooting Heads - Broadening Your Angling Horizons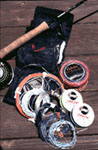 Everything you ever wanted to know about fly fishing with shooting heads from panfish to billfish, including: the best splices and rigging techniques; presentation tactics; casting techniques - the works. Dan has written extensively on the use of shooting heads and is currently writing a book on the subject, hopefully to be completed in late 1995 or early 1996. The program not only deals with the mechanics of assembling a system of heads, but it deals with a variety of the most popular species fly anglers seek, both in cold water and warm water, fresh and salt. An excellent, tactical, but entertaining program.

"Fly Fishing The Lower Keys"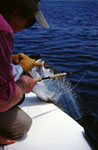 Dan has been fly fishing the lower Florida Keys for more than a decade, spending time in a flats skiff with some of the area's most outstanding guides. During those years, Dan has produced some outstanding photographs that will take you there, fishing with the likes of world class guide, Ray Fecher. Dan has won several catch and release tarpon tournaments, including the Master Angler award at Fishing International's 1987 event. Because he has been privileged to fish with so many outstanding guides, Dan has gained a wealth of knowledge about fly fishing the skinny water of the lower keys, with particular regard to tarpon. If you are interested in fishing the Keys, this program is a must.

"Fly Fishing For Pike and Lake Trout In Northern Saskatchewan"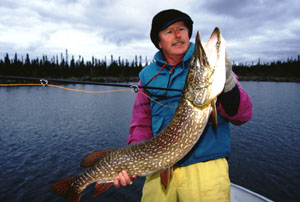 Scott Lake, located in Northern Saskatchewan and spilling into the Northwest Territories is one of the most productive fisheries in the world for huge, voracious pike and lake trout on the fly. Forty by 40 miles, the lake has so many islands, bays, coves, channels and shoals that even the lodge's most experienced guides carry topo maps to keep from getting lost. The amount of fishable water for both Lake trout and pike is mind boggling; and despite the worst weather you always have a place to fish. The lake's waters are so pristine that you drink it without fear of Giardia; so crystalline that granite boulders and shoals are clearly visible in 30 feet of water, as are often, the Lake trout. Pike fishing is better than 60 percent sight fishing... What a rush! Truly one of the most beautiful wilderness areas on earth, you'll rarely see another boat, even when the lodge is hosting a full house. Dan has spent three weeks fishing for Scott Lake pike and Lake trout and was commissioned by Scott Lake Lodge to photograph their new brochure. Dan Has shot hundreds of incredibly beautiful photographs of this marvelous angling destination, putting together one of the most spectacular slide shows ever produced on the subject of fly fishing for pike and Lake trout. If you are interested in this kind of hair raising fly fishing, then this show is a must!

Loreto, Baja - Fly Fishing the Sea of Cortez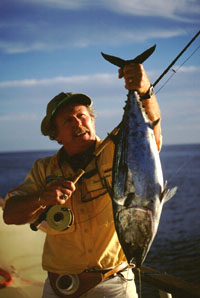 Ray Canon, in his book "The Sea of Cortez", refers to this thousand mile long, funnel shaped sea as a veritable fish trap. He talks of "fish pile-ups" where game fish and baitfish converge in such numbers as to cause the surface of the sea to lift a foot above normal in a cauldron of white water as voracious game fish ravage the hapless millennium of bait, the carnage often frightening to the uninitiated. Indeed, fly fishing on the Cortez can often be that good, particularly in the Loreto region. Dan has been fishing this area for more than 25 years, enjoying some of the fastest fly fishing available for species such as the coveted Dorado, Black skip jack, Yellowfin tuna, and Sailfish, just to name a few. During the past couple of seasons, Dan has put together an excellent slide presentation about fly fishing the Cortez out of Loreto. This beautifully photographed show details everything an angler needs to know about getting there, where to stay, and how to fly fish for the area's wonderful high summer game fish. If you have ever wanted to fly fish the Sea of Cortez, then this show is definitely one to see.

Customized slide presentations, seminars and clinics


Dan regularly works with fly fishing organizations, both fly fishing specialty shops and general purpose tackle shops and sports shows to customize a slide presentation or day-long, or weekend clinics and seminars for special events/fund raisers, for annual club installation dinners, fly fishing fairs, conclaves and other gatherings of fly fishers who are interested in learning from Dan's 40-plus years of fly fishing experience. These shows and clinics can run the gamete from fly fishing for panfish to billfish; from fly tying demos and fish-fighting techniques, to knots, rigging ,casting clinics and much more. If you are interested in a customized program or seminar, contact Dan by E-mail for additional information.



Dan Blanton's Coast to Coast Guides Page

Writing | Slide Shows | Stock Photography | Fly Casting Lessons | Angling Destinations - Clinics

Tackle and Techniques | What's Hot - Tackle to Fishing | Blanton's Original Flies | HOT Flies | Bulletin Board | Email

Back Home