| | |
| --- | --- |
| | Outdoor writing Fields and Areas of Expertise of Dan Blanton |
Dan Blanton has be fishing since the age of nine, fly fishing since the age of 11. He is recognized as one of the most diverse of all fly anglers, fishing for just about anything that will eat a fly in either freshwater or saltwater. He has written about fly fishing with shooting heads and is considered a foremost expert on the subject; he has authored stories about panfish, bass, trout, steelhead, Pacific salmon (California to Alaska), pike, bonefish, permit tarpon, billfish, striped bass, flats fishing to bluewater, popular fly patterns and just about everything else relating to fly fishing. He is particularly knowledgeable of Pacific marine fisheries, including the Baja and all of Central America, both coasts. His home turf waters include: Monterey bay, San Francisco Bay, The California Delta, Sierra trout waters and the north coast steelhead and salmon rivers of California and lower Oregon.
He is also no stranger to the use of conventional tackle and the use of bait and hardware, and has written on such subjects as mooching for salmon and plugging for striped bass.
For more information contact Dan by E-mail or you may write, call or fax at: Dan Blanton Outdoor Ventures, 14720 Amberwood Lane, Morgan Hill, CA 95037 Phone: (408) 778-0602 fax: (408) 778-6903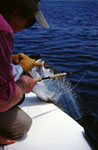 Dan Blanton's Coast to Coast Guides Page
Writing | Slide Shows | Stock Photography | Fly Casting Lessons | Travel/Tackle Consulting | Angling Destinations - Clinics Tackle and Techniques | What's Hot - Tackle to Fishing | Blanton's Original Flies | HOT Flies | Bulletin Board | Email Back Home