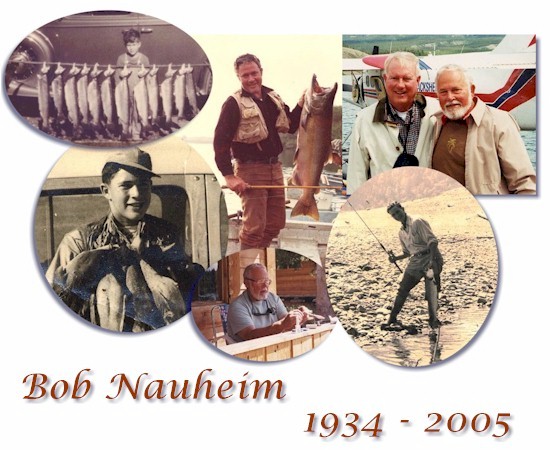 Renowned fly fisherman and long time Santa Rosa resident, Robert Milton Nauheim, 71, died Friday, September 9, 2005 in Coeur d'Alene, Idaho after a valiant fight with prostate cancer.
He was born Feb. 9, 1934 in San Francisco to Milton and Lois Nauheim. His father's business as an executive with Schenley Distilleries moved the family to Scarsdale, New York where he lived with his twin sisters, Gail and Sandy Nauheim, until he was six years old. The family returned to San Francisco in 1942 and settled in the beautiful Sea Cliff district where Bob attended the Town School for Boys. He graduated from Lowell High School in 1952.

Bob inherited his love of fishing, hunting and the natural sciences from his father and by the time he was ten years old, they had fished throughout California, Colorado, Montana, Maine and Canada. Later, following his father's footsteps, Bob frequently fished the Florida Keys and Mexico where he eventually surpassed him on the rod. From his mother, he inherited a hearty love for life and people.

In 1954, Bob married Anne Blunden of San Francisco, California. They had four children and eventually settled in Sonoma, California. Bob was a very funny and loving father and he filled his children's lives with the same love of nature and science that his father had. Bob and Anne divorced in 1965 and he moved to Santa Rosa, California where he became a fireman for the SRFD. In 1966, Bob married Helena Suppmeier of Germany. They traveled the world and built their beautiful home "Oaktop" together. They remained married until Helena's death in 1995. In 1996 Bob married an old friend, Patricia Spencer. After nearly nine years of marriage, they amicably divorced and remained friends.

In 1974, Bob founded Fishing International, a pioneering adventure travel agency specializing in sports fishing. His favorite river was the Russian River in Northern California and he spent many seasons, from the 1950's on, fishing for steelhead and salmon with his great friends Bill Schadt and Russ Chatham. He was a contributing editor to Outdoor Life and Angler magazines, he founded the Russian River Fly Fishing Club, invented the bonefish fly "Crazy Charlie" and help to pioneer the development of Costa Rica, Christmas Island, new Zealand, Venezuela and other countries into ultimate fishing destinations. Bob was a inspiring speaker and story teller. Whether around a camp fire or dinner table or for a sports club or lodge, you were hooked in. Those of you who were privileged to have sat in on these evenings will agree, it was fun. And for those of you that knew his bawdy, cornball sense of humor knew that while the jokes were not always selective, the delivery was always perfect.

Bob was a big hearted man that drew you in with his gregarious nature, and bright intelligence. He knew everyone had untapped possibilities and was an avid supporter of the underdog. Bob was a great source of inspiration and he maintained many wonderful relationships with people from all over, including those he never met. Some very old friends were those he kept contact with
exclusively through telephone calls and letters. He was an excellent writer and historian and, with his children, accumulated a wonderful collection of Pomo artifacts. His home was filled with beautiful hand-made items from his travels all over the world. Bob loved calling birds from his deck and kept the feeders full. He had a constant love and respect for both nature and man.

Bob is survived by his twin sisters, Gail Gandolfi (Geno) of Belmont, Ca. and Sandy Roerden of Alameda, Ca.; cousins Bob Nickel of San Angelo, Texas and Milton Nickel of Kalispell, Mt.; his four children, Robert Nauheim (Beth) of Anchorage, Ak., Penny Nauheim Sbicca (Buddy) of Coeur d'Alene, Id., Victoria Nauheim Golding (Barrett) of Bozeman, Mt., and Mark Nauheim
(Annette) of Fairbanks, Ak; nine beloved grandchildren, Jesse Atkins, Taylor Sbicca, Chase Sbicca, Isen Nauheim, Alison Nauheim, Nicholas Nauheim, Kelan Nauheim, Keana Nauheim and Julia McKay Nauheim; four nephews and nieces, Steve Roerden, Heidi Roerden, Robin Gandolfi and Micheal Gandolfi; foster son, Mark Ludwig (Judy) of Santa Rosa, Ca. and several great nieces and nephews. All will miss his magical presence.

Bob has been cremated and his ashes will be distributed into his home river, The Russian, in a private family gathering at the end of October. Those wishing to donate to the non-profit organization NCCFFF (Northern California Council of the Federation of Fly Fishers) Bay/Delta Conservation Committee in Bob Nauheim's memory may do so by writing them at:

Northern California Council Federation Fly Fishers
PO BOX 8330
Berkeley, Ca. 94707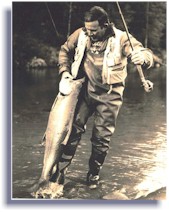 "Today while the blossoms still cling to the vine,
I'll taste your strawberries,
I'll drink your sweet wine.
A million tomorrows will all pass away.
'Ere I forget all the joys that were mine...
today."