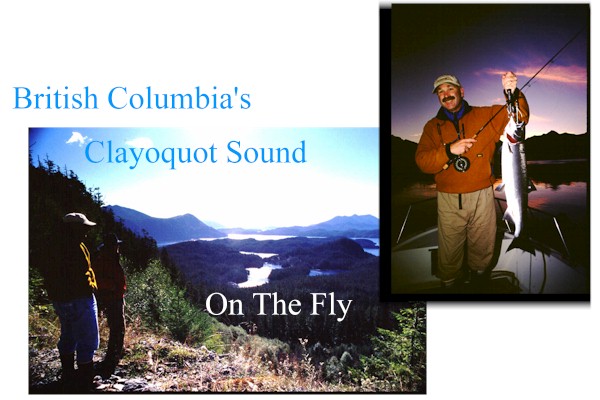 Written by Ken Hanely, Photographed by Dan Blanton
It's a place of pure magic, where bear and otter speak. A Place where the ancient voice of Orca, the cry of Bald eagles and the raven's knowing call, all combine for an eloquent song in celebration of "The Sound." The realm of Clayoquot is simply a great place to be.
Vancouver Island's Pacific waters are a prodigious arena to cast a fly. The region has a rich history of salmon, steelhead, rockfish and more. You might find yourself working the water column amidst kelp beds and crashing surf, or casting flies around quiet inner bay islands or searching sweeping tidal flats. Grass beds and white-sand beaches add to the wonderful mix. Any saltwater angler would revel in the options afforded by this remarkable Pacific coastline.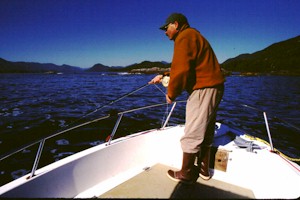 Silver Flashes -- Blue & Green Accents
We'd set the drift to maximize our exploration of the kelp line. The leeward side of Wilf Rock presented a classic salmon feeding zone. The outer swell was tamed by the island itself, yet the ocean broke through a few small surge channels. Distinct current seams existed at both ends of the rock. The setting was a tremendous breaking zone between the outer ocean and the placid inner bay environs.
Coho prowled along the kelp. The vegetation was both a sanctuary and trap for the resident baitfish populations. Held in check by the dynamic eddies around rock's end, herring and needlefish were forced to find shelter among the marine forest. The feeding salmon were in a perfect position to intercept anything that ventured far from the sanctuary of the kelp fronds. To our good fortune that also included the interception of the small, #4 Fatal Attractions we slowly puppeteered at varied levels in the water column, paralleling them along the wide ribbon of kelp fringing Wilf rock.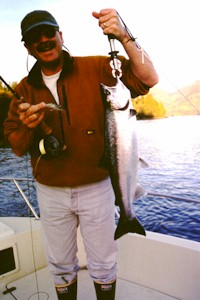 We began the session during low slack tide. We first tried to jump-start the action with fairly large streamers of four to five inches in length, working them with a typical salt chuck retrieve - a spirited tempo - much too fast! The results were sporadic at best, producing few solid hits. Something wasn't quite clicking. We down-sized our flies and began retrieving them much slower. The "cast and catch ratio" shot right through the roof! Once we satisfied the size-conscious silvers with smaller patterns and a slower dance, the action became non-stop for a solid hour and a half. Those Clayoquot silver bullets put on quite a display! All were quickly landed and released unharmed.
Dan was working with a 9-weight outfit. I had opted for an 8-weight. We both had 10-weights as back-up gear in case the conditions warranted a real change in tactics. Our reels were equipped with shooting heads. Our line wallets were swollen with varied densities. As conditions dictated it was a simple mater to quickly change the sink rate of the head to match the level of the feeding fish or to overcome depth and increased currents. Our sinking heads varied from sinking type four density to LC-13 lead core . The terminal system was kept pretty simple with a loop-to-loop connection between leader butt and class tippet. A three-turn Surgeons loop or Bimini loop were used to create the junction loop on the tippet. The butt section consisted of 30-pound mono approximately three to four feet in length. A Surgeon's loop was tied in each end, one for joining the class tippet, the other for looping on to the head. The tippet was typically three to five feet and made from abrasion-resistant, 12-pound mono.
Depending on where we found the salmon: tidal flat, beach rip, kelp line, etc., our fly selection was pretty diverse. The cornerstone patterns imitated small baitfish, yet there were times when shrimp patterns were the key, particularly in staging areas near natal spawning rivers, were Dan and our host, John Cayton, tagged a couple of nice silvers our last day.
---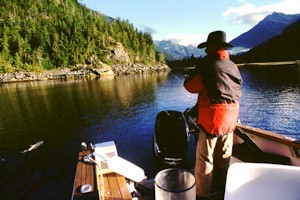 ---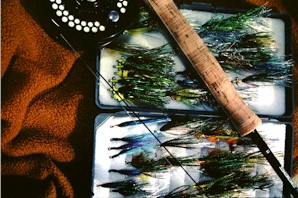 Our collection included Fatal Attractions, Pearl Diamond Shrimp, Horner Deer hair Shrimp, Green Comets, Sea Habits, Sar-Mul-Macs, Popsicles, Squid, and others. Indeed, we did carry far more choices than needed. You may wish to limit your imitations to silver baitfish (2 - 5 inches) with accents of green and blue. Baitfish designs sporting hints of purple can also be quite effective. Throw in a few brown shrimp and a couple of good squid patterns and you're well on your way to a solid collection.
Teeth and Tuggers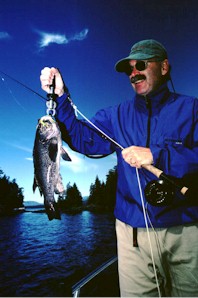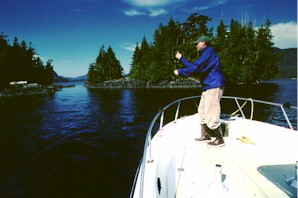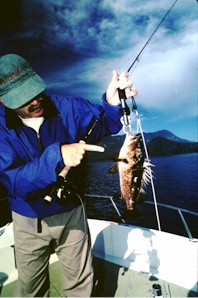 The Sound is literally loaded with concentrations of hearty rockfish (locally referred to as seabass or cod). The protected inner islands offer unlimited opportunities for shallow-water action; and I do mean A-C-T-I-O-N! It was common to button-up a "seabass" on almost every presentation. Once the bite cooled in any given area we'd simply explore a new island. We kept an eye open for areas that featured mildly tapering points or sported shores rimmed with kelp. Though deepwater environs were available, we chose to concentrate our efforts where the bottom structure was 30 feet deep or less.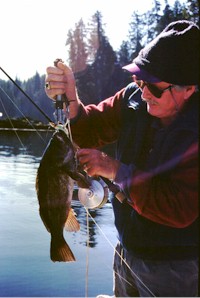 Inside the Clayoquot Sound system, these gamefish ran from one to four pounds. Larger specimens are a common catch in the outer coastal habitat. Both Black and Quillback rockfish seemed to dominate the protected waters, however, lings do lurk among the rocks and shadows! The Clayoquot lingcod that inhaled my fly was a beautiful orange and rust. Its mottled complexion was the perfect camouflage for matching the shallow inside reefs.
Tackle selection for the rock bass was similar to our salmon rigs; 7 and 8-weight outfits armed with shooting heads. The line designs varied from floating heads to lead core of Cortland's LC 13. Leader/tippet combos were again much like our salmon set-up. The addition of 30-pound bite traces made the system pretty much indestructible.
When it came to fly selection, we had opportunities to work designs from surface poppers and slim-profiled streamers, to full-bodied bottom dredgers. Classic patterns such as Alf's, Clousers, Sar-Mul-Macs, and Flashtail Whistlers worked well. No doubt there's a ton of dressings that will work. As long as your collection includes flies that address squid, shrimp, herring, anchovy, and candlefish, you're covered.
Season's and peak windows
Here's a quick guide to the species & seasons of Clayoquot country:
Salmon (saltwater) -- Mid-July through Mid-October
Salmon (freshwater) -- October and November
Steelhead (salt/fresh) -- Mid-March through Mid-May
Cutthroat Trout (saltwater) -- Summer and Fall
Cutthroat Trout (freshwater) -- Spring through Fall
Rockfish -- All year
This partial listing is only intended as a starting point to prepare for your adventure. With tide cycles and dynamic weather patterns dictating conditions, be sure to contact a number of resources to acquaint yourself with the current options.
CLAYOQUOT WILDERNESS RESORT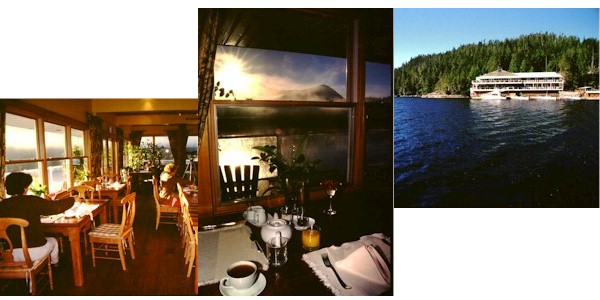 The Clayoquot Wilderness Resort is a perfect homebase for exploring these incredibly fertile and pristine waters. The resort is actually a refined, 6-room floating adventure palace located in wondrous and remote Quait Bay. Their fishing fleet, a full compliment of craft, includes two fly-bridge sport fishers, two 24-foot center consoles, two 26-foot center sonsoles, and there are even sea kayaks and canoes for those who want to explore the splendid remoteness and placid waters of Quait bay on their own.
The lodge and rooms are beautifully appointed, complete with monogrammed terry bathrobes. The meals are "five star experiences", culinary masterpieces created by the hands of chef, Tim May. Clayoquot Wilderness Resort's management and staff are terrific hosts and welcome the fly-fishing community to experience this pristine marine wilderness.
For more detailed information contact them through the following;
Phone... Toll-Free Reservations: 888-335-5405
Phone... local call: (250)725-2688
Fax... (250)725-2689
Website... www.greatfishing.com
Mailing Address... PO Box 728, Tofino, British Columbia, Canada VoR 2Z0
Dan Blanton's Coast to Coast Guides Page
Writing | Slide Shows | Stock Photography | Fly Casting Lessons | Travel/Tackle Consulting | Angling Destinations - Clinics Tackle and Techniques | What's Hot - Tackle to Fishing | Blanton's Original Flies | HOT Flies | Bulletin Board | Email Back Home