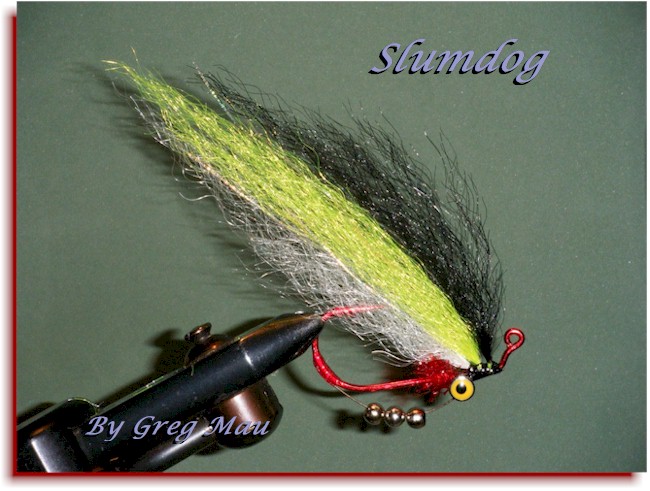 The Slum Dog
By Greg Mau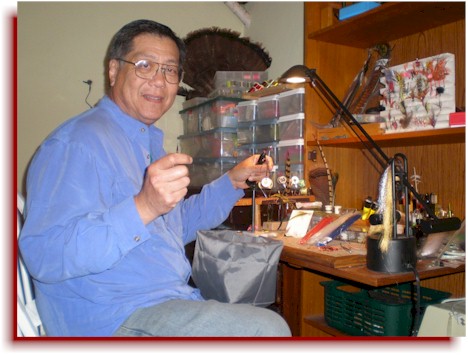 The Slumdog
By Greg Mau
 Motivation
 A decade plus had passed since first reading Dan's "Pushing Strike Buttons" and being motivated to work with rattles in Striper flies.  Sure, there had been spurts of inspiration since then, but serious results were elusive and I remained unconvinced.  Then a little over a year ago Fish (AKA "John Fischer") and I, only two days after his knee surgery, were out after the mother load of Stripers that he had located the day before his surgery. Fish had armed himself with one of his "new" rattle flies and he had tossed me one of the same but with a broken rattle.  I don't recall what the catch ratio was, but it was significant enough to make me want to seriously revisit striper flies with rattles.
 Over the following weeks, Fish's recount of his experience with tying rattle flies were reminders of the same issues that I had encountered with glass rattles breaking; plastics being big and bulky and the metal ones leaking.  Those rattles, all large and unsightly, just begged for a way to be cloaked, secured, and protected.  One solution was to slide the rattle into a length of braided tubing, tie the tubing at the ends to the hook, and then coat the entire assembly with epoxy; but for some reason, that technique just didn't resonate with me.  There had to be a better way…
 I began searching the Internet – what better a source for current information…
 Sum of Parts
 After suffering through what felt like endless pages of commercial rattles and ways to use them, my surfing eventually lead to Kent Edmonds' article "The Bead Rattle Fly" in which he describes evaluating rattles by shaking them next to his ear with his head stuck in a tub of water.  His results, which indicated that the loudest sound came from metal-on-metal was significant; and the thought  of him testing rattles while soaking his head had me in stitches. Kent's work deserved a fly tying effort .
 Around that time there was a lot of discussion on Dan's board regarding ways to keel weight flies which got me thinking of this guy, who I now believe to have been Steve Duckett, that I had seen at the ISE in San Mateo several years prior.  Steve was showing flies with beads strung on a loop of mono below and in line with the shank of an inverted hook.  I remember thinking that it was an incredibly novel way to seriously keel weight a fly. 
Also around then, many of the guys on the board were singing the praises of Flash'N'Slinky, Slinky Fibre, Kinky Fibre, or what is a myriad of other seemingly identical synthetic wing materials.  While the material was durable, it was not very "friendly" since a single fish strike would leave the fly in a frustratingly tangled mess. Then, while on a trip withMike Costello, I saw him calmly and routinely reach into his back pocket, pull out a comb and groom his fly.  Mike was actually the second person I saw take a comb to a fly.  The first was John Ryzanich with one of his Fatheads; and if carrying a comb was something that Mike and John were OK with, then I could be too.
Slummin'
Right off the vise, the fly proved a very worthy opponent to all other flies that I fished it against, including those with rattles.  It is much more durable than those with glass rattles, far less bulky than those with plastic rattles, and there is nothing that can leak as with the metal rattles.  The fly casts well because of a good weight-to-wind-resistance ratio; and snags less with its' jig hook foundation and exaggerated keel weighting.  With the addition of a weed guard, its' thin profile allows it to be thrown past the edge and into a patch of stick-ups to catch those fish cruising the edge for an easy meal.  In addition, after each strike or fish, the wing can be combed out and the colors easily separated to restore the distinct banding.
 The fly did well through the fall, but it wasn't until the fishing got really tough in winter, that friend and fellow fly fisher Angel Lujan, pointed out that the fly had an extremely fast jigging rate. He suggested that the fast drop may be the reason for the fly's productivity and he did so with a hint of frustration and dismay over how such a simple-looking, nothing-of-a-fly could be catching fish on such a regular basis in the dead of winter.  Because of the way it looked, it was laughingly referred to it as the "Cheap ASS Fly" before we agreed and settled on the "G" rated "Slumdog".
 Army of Two?
The Slumdog fished well for me through the following Spring and Summer and continued to do so through this past Fall when it accounted for a 16 lb Salmon and a 12 lb Striper on the same day.  While that accomplishment may not impress most experienced delta anglers, it is something of note within the constraints of the current state of the fishery; and it sure brought a smile to my face.
 Angel has done a fair bit of work with the fly in terms of size and color combinations and has logged good results in terms of fish numbers and consistency. In addition, he has shared the fly with guests on his boat and has reported that they have also done well with the Slumdog.
Back to the Future
 Having tied flies commercially, I understand that a fly needs both eye appeal and a clever name before it can sell well.  There are some that may think the Slumdog has little of either.  Regardless of what your first impressions are, I encourage you to tie a few, fish and experiment with them.  It is a productive fly and who knows… you may find yourself liking it enough for it to earn a space in your fly box along with your "A team".
 Credits
 Andre Puyans:  Mentor and instructor of general fly tying and fishing skills via formal lessons.
 Mike Martinek:  Stacking layers of wing materials to maintain color separation via fly tying demonstration.
 Dan Blanton:
a)     Use of 60 degree jig hook in Striper flies
b)     "Pushing Strike Buttons" http://www.danblanton.com/blog/pushing-strike-buttons/
c)     Bulletin Board/Community http://www.danblanton.com/bulletin.php
 Steve Duckett:  Keel weighting by suspending beads below the shank of the hook on a guideline.  "Bead Belly Bouncers" http://www.bouncerflies.com/home.html
 Kent Edmonds:  Metal on metal for maximum sound in rattles.  "The Bead Rattle Fly" http://kje.home.mindspring.com/bead_rattle/bead-rattle.htm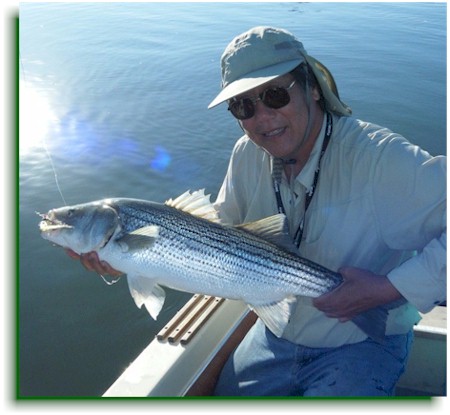 Greg Mau displays a nice delta striper taken on his Slumdog fly 
Dan Blanton with his personal best Amazon Azul peacock bass – a 14-pounder taken on the Slumdog