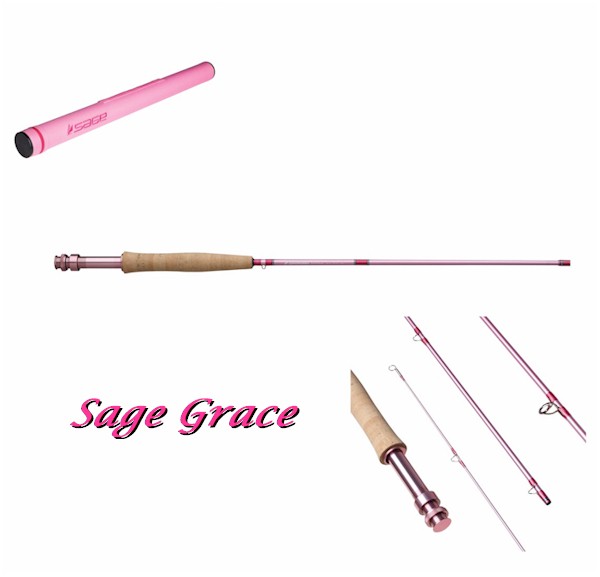 FOR IMMEDIATE RELEASE:
February 12, 2013 (Bainbridge Island, Wash.) – Sage Manufacturing, fly-fishing industry leader, is proud to release the GRACE fly rod. Building on a history of selling a pink rod with proceeds benefitting breast cancer recovery and research, Sage is thrilled to donate a portion of each rod sale to Casting for Recovery (CFR).
"Casting for Recovery is a non-profit organization dedicated to giving women powerful tools to overcome the challenges of breast cancer," notes executive director Lori Simon. "Because the CFR quality of life program is provided to women of all ages and stages of breast cancer at no cost to them, we are grateful for this partnership with Sage. These donations allow us to expand our program to more women in need of support."
The GRACE rod is made using a slender profile rod blank in an iridescent pink color. The pink and black wraps and pink aluminium reel seat round out the rod's beauty and complement its name. GRACE comes in one size, an 8'6", 5-weight in a 4-piece configuration. The rod is fast-action but with a soft feel resulting in a responsive, comfortable-to-cast fly rod. The GRACE rod has hard-chromed snake guides and comes in a pink rod tube. Retailing at $495, Sage is donating $50 of each rod sold to Casting for Recovery.
 "Supporting such a passionate group of women in their fly fishing pursuits while helping to empower them to overcome this terrible disease means a great deal to us at Sage," notes Sage Marketing Manager, Eric Gewiss. "Breast cancer touches many of our lives. My own mother is a breast cancer survivor; many of us have a family member or know someone close to them who has battled the disease. The GRACE rod expresses Sage's enthusiasm to help breast cancer survivors the best way we know how – by building an elegant fly rod that embodies the meaning of GRACE, the beauty of form in motion."
 About Sage:
 Founded in 1980, Sage was created with one idea in mind – to build the world's finest performance fly rods. Passionate about creating fly fishing products that continually exceed expectations, Sage strives to seek performance advantages through new materials and designs based on a foundation of research and innovation. Sage also offers fly reels, fly lines, apparel, accessories and luggage for avid anglers. For more information, please visit http://www.sageflyfish.com