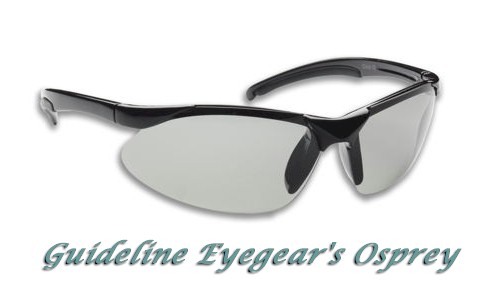 I received a pair of the new Guideline Osprey Sunglasses the other day so that I might give them a test drive.  I have to say that for around $40 they are very nice glasses; very comfortable and very nice looking.  I haven't fished with them yet but I do have lots of experience with Guideline glasses and I've always found them to be great both on and off the water.  Below are more details.
Dan Blanton.
Description: The Osprey combines the lighter-than-air, semi-rimless frame with Polarsensor photochromatic lenses. The result is one of our most comfortable frames equipped with lenses that self-adjust to any light conditions.
Frame Style: Semi-rimless, blade style wrap constructed from a light weight and durable Polycarbonate.
Features: Polarized, durable and 100% UV A and B ray protective TAC lens with a thickness of 1.0 mm. The gray lens is a great all around lens and ideal for both medium and bright sun. Our Polarsensor photochromatic lenses adjust their level of tint in reaction to the changing light conditions. Includes a draw string closing, cotton storage bag festooned with the Fisherman Eyewear logo.
For more information: http://www.glpolarized.com/Fisherman_Store/osprey-90958