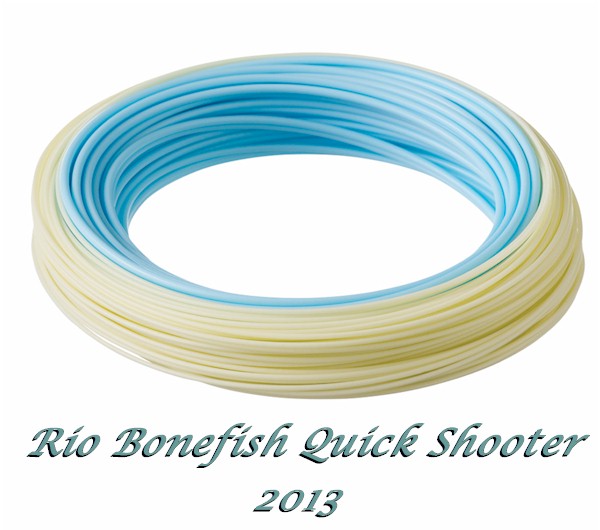 January 2, 2013 (Idaho Falls, Idaho) – RIO Products, manufacturer of fly lines, leaders and tippet material, is excited to introduce an award-winning fly line for bonefish. The new Bonefish QuickShooter won the award for the Best New Saltwater Fly Line for 2013 at the annual International Fly Tackle Dealer Show (IFTD) in Reno.
The Bonefish QuickShooter has a short, easy-casting head that is designed to load rods at close range and is perfect for anglers wading the flats, for fishing in low light conditions and for novice/occasional saltwater anglers. The unique taper design allows for quick, short-range casts when necessary, yet delivers fast, accurate casts and turns over large flies with ease.
The Bonefish QuickShooter features AgentX technology which ensures the line floats high, is easy to pick up and keeps the running line afloat. A medium-stiff core and hard, tropical coating prevents the line from wilting in tropical heat, and welded loops in both ends allow anglers to change leaders and rig with lightning speed and ease. RIO's DualTone color system marks the sweet spot of the line and the aqua blue/sand color helps with stealth presentations. Available in WF7F through WF9F, this line is available from RIO dealers with a MSRP of $79.95.
About RIO Products:
RIO is a pioneer in developing fly lines, leaders and tippet material to enhance fly fishing experiences across the globe. Offering premium fly lines for both freshwater and saltwater fishing applications, RIO consistently utilizes field experience and scientific testing to create the best products on the market for anglers. Founded 20 years ago in the mountains of Idaho, RIO continues to develop innovative products, design revolutionary tapers and refine performance-driven fly line technologies. For more information about RIO Products, please visit www.rioproducts.com.