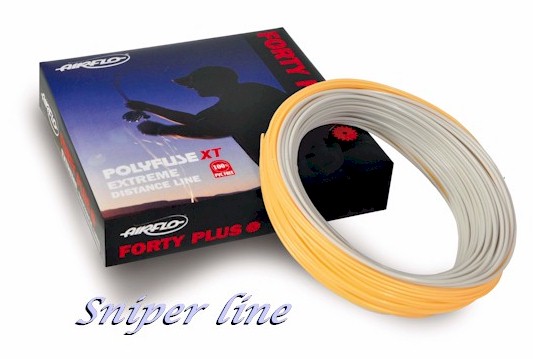 Airflo Sniper Lines 2011
A new aggressive short head Striper line, Airflo took the popular 40+ saltwater series of fly lines and made them better.  Using new production equipment they were able to produce a new family of Striped Bass lines that improve your ability to catch fish.
The new line uses a Dual Head Design which makes the line perform as fantastic for beginner/moderate casters as it does for distance casting freaks.  The Dual Head Design is just that, two heads in one.  The front half of the head is of larger diameter to load the rod for short line casters, but the back half retains enough mass and weight to allow the "Long Bomb" guys to get more head length out the rod tip when casting.  In short this line is designed to make it easy to cast modest distances without sacrificing the ability to cast to the horizon.
New one piece design
Color change at the head junction for easy loading point reference.
Slim profile welded loops at both ends
Available in four densities; float, intermediate sink, type 3 sink, and type 7 sink
Ridged construction to lessen friction while casting
Low tangle design – line won't roll across itself on the boat deck due to the ridges
Low stretch power core for solid hook set at any distance
Low stretch power core helps stabilize the line during casting
All sinking models come with intermediate ridged running line.
| | | | | | | | | |
| --- | --- | --- | --- | --- | --- | --- | --- | --- |
| Model | Sizes | Length | Tip | Front | Belly | Rear | Running | Color |
| Sniper Floating | 8 to 10 | 120′ | 1′ | 13′ | 14′ | 2′ | 90′ | Yellow/Slate |
| Sniper Intermediate | 8 to 10 | 120′ | 1′ | 13′ | 14′ | 2′ | 90′ | Yellow/Clear Blue |
| Sniper Sink 3 | 8 to 10 | 120′ | 1′ | 14′ | 12′ | 2′ | 91′ | Brown/Clear Blue |
| Sniper Sink 7 | 8 to 10 | 120′ | 1′ | 14′ | 12′ | 2′ | 91′ | Black/Clear Blue |
Retail:
$74.99