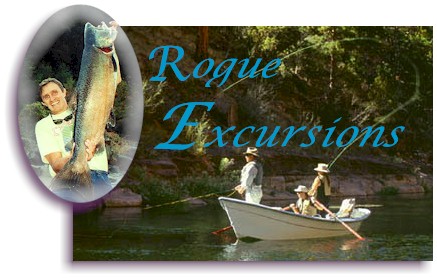 Running deep
and strong through southern Oregon's coastal mountains, the Rogue river features exceptional fishing, abundant wildlife, incredible scenery and rich history. It is this combination of characteristics that inspired Congress in 1967 to include the Rogue as part of the original Wild and Scenic Rivers Act. Nearly forty years later the fishing on the Rogue remains unsurpassed. Long recognized as salmon and steelhead paradise, the Rogue provides fishermen and women with idyllic pools and quiet fishing holes that teem with fish journeying upriver from the nearby Pacific Ocean. This place is fly fishing paradise! Steelhead in the fall range from one to two feet long and weigh up to eight pounds. Chinook (king) salmon up to 40 pounds are also caught. And, the smaller silver (coho) salmon up to 12 pounds ply these waters.
For nearly forty years, Rogue Excursions has outfitted high quality fishing trips on the Rogue river. Our guides have for decades led trips on the Rogue and know that it is truly a world-class fishing river. On all Rogue river fishing trips Rogue Excursions offers drift boat fishing. The drift boats are designed for one or two people and a guide. Under proper guidance, these craft are known for their ability to sit on the water as fly or lure is cast into the rich fishing holes. And, with Rogue Excursions you need not worry about whether or not the boats, and you, are under proper guidance. Our guides are long time Rogue river runners who understand where, when, and how the fishing is best! Owner and lead guide Terry O'Connors is regarded as one of the most knowledgeable and friendly outfitters on the river. He and all of the Rogue Excursions guides are well versed in the ways of successful Rogue river fly fishing trips. Our guides carry a complete set of gear, row comfortable and well-kept drift boats, have a deep knowledge of the river and its fish, and guide with an ongoing dedication to making your Rogue river fishing trip the best possible.
As if the river and Rogue Excursions guides weren't enough, our Rogue river fishing trips also feature first rate overnight accommodations. While you fish and float in the heart of pure wilderness you also spend each night at charming and historic riverside lodges, complete with private rooms for two, showers, and family style dining. We offer three and four-day trips on the Wild and Scenic Rogue river as well as day trips on the Upper Rogue and other southern Oregon coastal rivers.
---