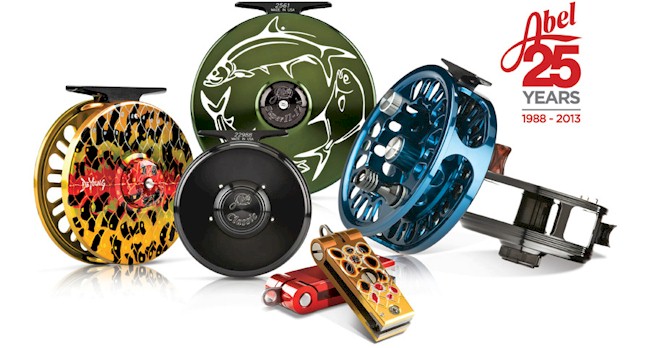 THE MAYFLY GROUP ACQUIRES ABEL AUTOMATICS
Abel poised to continue great tradition of precision made fly fishing reels and accessories
CAMARILLO, Calif. – The Mayfly Group, LLC, a private investment firm, has acquired and will partner with Abel Automatics, announced David Dragoo, Mayfly's spokesperson. The private sale was completed on Dec. 31, 2012.
Mayfly's partnership with Abel has been in the works for over a year, according to Dragoo. "Fundamentally, Abel is a people company first. This is what attracted us to them. We know that finding the best people will ultimately drive the innovation and Abel has been producing the highest quality products and leading in fly reel design for a quarter century. We are excited to be a part of their great tradition and build upon it for the next 25 years."
In the new management structure, Don R. Swanson will continue as Abel's President and Chief Operating Officer while Glen Krapff will be promoted to Vice President and Chief Engineer; Jeff Patterson will remain as Director of Sales.
No financial considerations or terms were made public.
Founded as an independent machine job shop which manufactured precision aerospace computer and medical parts, Abel now produces more than 20 machine-milled models and sizes of reels. Widely known to be "the best in the world," the reels have tolerances to one-ten-thousandth of an inch and use the highest quality aircraft grade aluminum and high grade industrial cork. All anodizing and finishing are done in-house by Abels' manufacturing technicians.
The firm's proprietary artistic or fish graphic process is perhaps its most recognized feature. Each hand-painted reel, knife or pliers is done by in-house artists and then finished with a Type II anodization for strength and longevity. "We are the only reel manufacturer to offer virtually limitless options – open or closed frame, wood or aluminum handle, reel foot and colors," said Krapff.
Abel replicates original fish art by Derek DeYoung, Tim Borski, Jon Osiris and others to illustrate virtually every sportfish from trout to tarpon.
"The key to the success of Abel is the company's name and brand strength. We have a real name that stands for a passionate love of fly-fishing, quality, precision-machining and outstanding customer service. And, of course, our 100% Made in the USA commitment. We've had many dealers tell us that customers often choose an Abel over another brand because of the quality that comes with Made in America," said Swanson.
Over the years, Abel has partnered with several conservation charities by producing reels with special finishes or engravings. These Charity partners include Trout Unlimited, the Atlantic Salmon Federation, Atlantic Salmon Conservation Foundation, California Trout, and The Snook Foundation.
According to its mission statement, The Mayfly Group's intent is to "create, acquire and partner with top consumer outdoor manufacturers, distributors, and brands whose goal is to build the best and most dependable recreational products in the world." The investment group plans to use its "combined resources to help our companies with market penetration and capital investment," said Dragoo. Abel is the first of what the Mayfly Group hopes will be a long list of independently managed partners in the fly-fishing community.
The Mayfly Group was founded in Colorado Springs, Colorado and is headquartered in Nevada.