The Horner Brown Shrimp

By Dan Blanton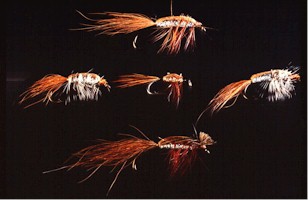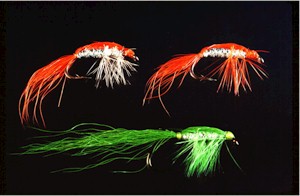 The Horner Brown Shrimp fly, including all of its noted variations, is one of the most deadly patterns ever created for tidal estuary and lower-river salmon and steelhead fly fishing. In fact, a shrimp fly will take all of the salmonoids ranging from King salmon to Arctic char. Why? Because all trout and salmon feed shrimp, or other similar crustaceans during various stages of their life. Fly-fishers armed with a good brown shrimp pattern, plus variations, can hold their own with others deploying patterns of other breeds when seeking sea-bright salmon and steelhead from the lower reaches of our many productive Pacific coast rivers and estuaries – including the waters of Canada and Alaska.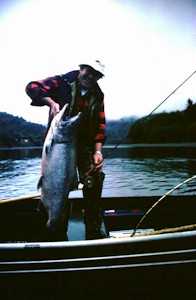 Atwin King displays a big king salmon taken on a Horner Brown Shrimp Fly
In California and lower Oregon, for example, there are many skilled fly-rodders who pursue salmon on rivers like the Eel, Smith, Chetco and Rogue who fish a brown shrimp fly and a few of its variations almost exclusively, taking a lion's share of the largest kings each season. This is not to say these anglers will not have other well-known patterns boxed.
Indeed, they do. However, if you were allowed a peek into those boxes, you'd find the overwhelming majority of flies there would be shrimp simulators – brown being the reigning shade. All shrimp patterns, as far as I am concerned, are a legacy of the late Jack Horner, one of the West's most innovative of all fly-tier/anglers. Many will recall the enlightening fly tying, casting and fishing clinics he conducted at San Francisco's Golden Gate Casting ponds.
Jack originated many extremely productive flies for trout, salmon and steelhead fishing. One of his most famous creations was the "Horner Deer Hair" dry fly, now commonly called the "Humpy". Yes, indeed – Jack originated the Humpy. Horner also tied and refined the first deer hair (he also used elk hair) shrimp pattern, originally called "Horner's Silver Shrimp", of which there were two or three productive variations. Most of us now refer to Horner's shrimp generically as the "Brown Shrimp. All similar shrimp ties, regardless of color, are really Horner patterns because the tying techniques and styles are almost exactly the same today, as they were many decades ago.
Horner's Silver Shrimp had a body of silver tinsel, either flat or oval, a tail and shell back of tan or brown bucktail and the body was palmered with a grizzly hackle. the head was finished with black tying thread and sometimes had painted optics. The shell-back was coated with tying cement for durability. This is still a popular pattern and tying style today, although most drop the eyes.
Jack showed me a variation of his original shrimp many years ago on the Smith's Baily hole. Instead of having a neatly finished (traditional) head, where the bucktail was trimmed close and wrapped down forming a neat, tapered head, Jack trimmed the bucktail stubs which formed the shell-back, so they stuck up and over the hook eye, sort of like a broom-cut pompadour. Not only did Jack like this tie for the Smith's estuary Kings, he especially favored it for steelheading. He had this to say about it:
"The bucktail tuft sticking up over the eye, gives action to the fly, plus it traps air which streams off bubbles as the fly is retrieved, which helps attract the steelies. Using a six-weight rod and floating line, I'll cast the shrimp into the fast, white water at both the top and bottom of the salmon pools, because that is where the steelhead are forced to hold by the aggressive, territorial kings. I retrieve the fly in a series of fast, short strips. The steelies just can't seem to resist my shrimp fished in that manner and they really blast it! Its great sport and I'd almost rather catch these steelhead than the big kings."
Well, the steelies aren't the only critters that relish Jack's burr-headed shrimp fly. The Chinooks love that version too, as well as other varieties of salmon, searuns and char. And since that day many years ago when Jack told me that story, I've always included both styles in my fly box.
Anglers today fish the brown shrimp and others in sizes ranging from #12 through #2, occasionally going as large as 1/0. The average hook size for King salmon is #6 through #2, with size four being a good average. Steelies often prefer smaller versions, particularly if the water is extremely clear.
Just like any other pattern, a shrimp fly must be presented at the level of the salmon for consistent success. That means you must be fishing it on the right density shooting-taper. The right line depends upon the holding depth and current-speed, and line density can range from "intermediate" to "Hi-speed" sink rates, including lead core. Most still find that a slow retrieve with intermediate short, quick strips, produces best. Make the fly act like a swimming shrimp.
The most common theme variations on Horner's original shrimp are color and tail-length. The most common color choices are: various shades of brown with silver, gold or pearl bodies, hackled with brown or grizzly; orange with the same bodies hackled in orange or griz; and bright green or chartreuse with silver or pearl bodies, hackled in hair-matching green. The long-tailed, green shrimp has been a dynamite producer , particularly on the Smith, Chetco and Rouge rivers. As far as tail-length goes, some anglers prefer body-length tails, while others opt for tails several times longer. I include flies with both long and standard length tails in my box. However, I lean heavily toward brown and green bugs, fishing both colors with nearly equal confidence, possibly favoring brown until results, or lack of it, necessitates a change.
At the risk of being redundant, I have to reiterate my feeling that one would be hard-pressed to come up with a more consistent lower pool and estuary salmon fly for California and Oregon hot spots, than the brown shrimp and its cousins. I've taken more Kings, silvers and steelies on the bug than I can recall, including many Kings that topped 40 pounds. But my success with shrimp-caught salmonoids doesn't just stop with California/Oregon water courses. I've done amazingly well with the brown shrimp in Alaskan waters, too.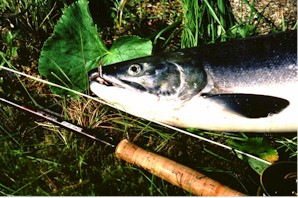 A bright Sockeye Salmon taken on the Brown Shrimp Fly
Once while fishing for Sockeye salmon on Prince Of Whale's Karta river, when the fishing slowed to a stall using the traditional sockeye patterns, I switched to a #4 brown shrimp just to see what would happen. What happened? A grab on every cast! The shrimp fly for the remainder of the week took more than ten-to-one sockeye over any other pattern; and – all the fish were hooked inside the mouth, meaning they had not been "lined". Everything on the Karta went wild for the brown shrimp – silvers, sea-run cutts and dollies. It was incredible! Everyone was tying and fishing brown shrimp flies by week's end. To further illustrate my point: While fishing for silver salmon on several rivers that joined with southeast Prince William sound, a few seasons past, I had another chance to prove the effectiveness of the brown shrimp (I never leave home without them). We had finished slamming big silvers on a hot river for the day and were enjoying a before-dinner cocktail on the fantail of the M.V. Discovery, when Danny Bechtold, our extremely talented guide pulled his skiff up alongside after having checked out a nearby stream to see if any salmon were holding in it. "Dan", he says to me. "There are about 15 bright silvers holding in the mouth of a little stream a few minutes from here". "I know you've been into them all day", he continued, "but do you want to give them a try"? Being a hard-core, fishing addict, you know my response. When we eased quietly up on the tiny pool, its small school of bright silvers looking like chrome-plated torpedoes laying still as stone. We threw every standard, bright and gaudy streamer we had at them, flies that had taken dozens of fish that same day from other rivers. Nothing worked. We couldn't even entice a curious follow. "Looks like we're not going to get them to hit", observed, Danny. "Might as well head back to the boat for dinner". "Wait a minute!" I responded, "Let me try one more thing." "Sometimes a brown shrimp will work on stubborn fish when all else fails!". I tied on a #2 brown shrimp cast it ahead of and beyond the lead fish, let it settle and then started it back. The lead fish moved 15 feet for the fly and nailed it with a jolt that nearly took the rod from me. Before it was over I had hooked most of those silvers on that fly – Danny took the rest; and that's no bull! I know that little episode convinced Danny Bechtold of the Brown shrimps effectiveness. I hope it, along with everything else I've just said, has convinced you too.