Frank Bertaina – April 14, 1944 – March 3, 2010
By Dan Blanton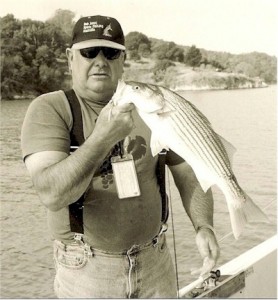 Like many of Frank Bertaina's friends and family, I cried last night at word of his passing. I tried not to but I just couldn't help it when Dana called to tell me he had slipped quietly away. I sought comfort in my wife's arms; and she cried too. Frank was a valued friend to us both and while we weren't in his Rat Pack, so to speak, we both profoundly cared for and admired him for the wonderful person he was.
I didn't sleep well either, pondering for many hours the injustice of so many good, caring and sharing people passing at too young an age – 65 is too young in my book.
We've lost so many of our super stars of fly-fishing during the past decade or so; and it hurts and it leaves a void in our lives that just can't be filled. The sense of loss is profound.
The consoling fact, if there is such a thing when you grieve the loss of a good friend or family member, is that Frank enjoyed an incredibly remarkable and full life. If the average person lived to a hundred and twenty, they still wouldn't have done and experienced what Frank had.
Frank indeed enjoyed a wonderful life, full of robust adventure, long graceful casts and bucking rods. He had a remarkable sense of adventure and it was from this that so many of us benefited. Frank lead so many of us Californians to the Florida Keys for flats tarpon, bonefish and permit. He started, through Fishing International, the first catch-and-release tarpon tournaments held at Sugar Loaf Lodge, which encouraged other Keys fly-fishing tournaments to go C&R.
Many of us would have never fished in so many marvelous, exotic places if it were not for Frank and his insatiable appetite to ferret out new and wonderful fishing destinations. Even after leaving F.I., Frank still pursued his need to explore, to find the next 'bucket' – He was the consummate 'do-it-yourself' angler/traveler; and he had many followers, me included.
I first met Frank back in the late 60's. We fished together on the Smith River, the Eel, the Chetco, the Gualala – on San Francisco bay and so many other places. The one thing I admired and appreciated most about Frank was his generosity. He never hesitated to share what he knew about fishing, about fly-casting, rigging and fly-tying; and he'd tell me where the 'bucket' was and exactly how to fish it if I asked, holding nothing back. Frank hated secretes and he didn't keep too many from his friends (or strangers) when it came to fishing – any kind of fishing.
As many have noted, Frank was one of the most entertaining and intelligent people in our sport – he told stories with incredible animation and intense excitement. He engendered excitement and enthusiasm about fly-fishing. His passion for it was contagious.
Frank was profoundly intuitive, way beyond the average angler. His instincts about fishing and his ability to ferret out every detail and nuance of a fishery were incredible – a natural instinct for Frank. He needed to know and he knew how to find out…
I can go on for pages listing the many adventures Frank and I shared over the years but I consider the last few years fishing the California Delta with Frank, each of us sharing what we knew with the other, some of the best of those times. I'm going to miss Frank on Angler's Row, seeing him on the water with other pals, and enjoying a good cocktail or glass of wine and dinner together – watching him tie another fly in his trailer, knowing it was going to catch him or a friend some nice stripers the next day.
The last time I fished with Frank, he hosted Ray Hutcherson and me on his skiff. Jake was with us, Frank's beloved 'rat terrier'. Jake could scale a fish in 10 seconds. We landed 97 fish that day between the three of us. It was a privilege to have spent time in a skiff with him.
Indeed, I'm going to miss that great man – a man who stood as tall as any of the best in fly-fishing's history.
God bless you Frank. I know you're up there with Bob and Bill and so many other icons of our passion.
Dan
A Few Photos of Frank Doing What He Loved Most
Frank loved fly fishing for king salmon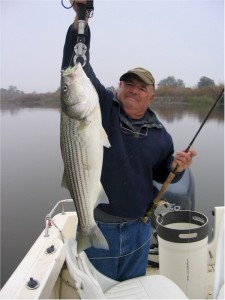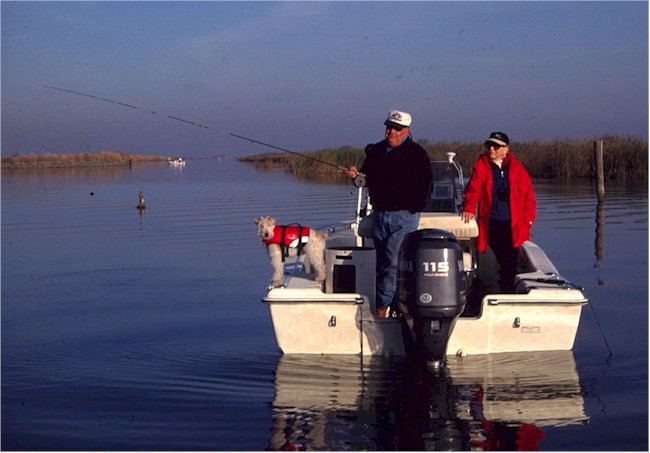 Frank, Anne and Jake on the California Delta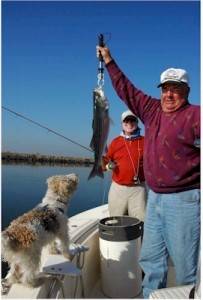 Jake could scale a fish in a heartbeat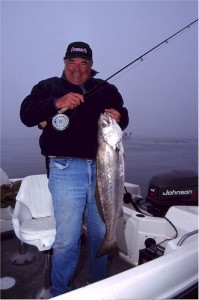 Frank with White sea bass
Frank Bertaina – More than a Fly Fisherman…
From Wikipedia, the free encyclopedia
Frank Louis Bertaina (April 14, 1944 – March 3, 2010) was an American pitcher in Major League Baseball who played from 1964 through 1970 for the Baltimore Orioles (1964–67, 1969), Washington Senators (1967–69), and St. Louis Cardinals (1970). Listed at 5′ 11″, 177 lb., Bertaina batted and threw left-handed. He was born in San Francisco, California.
Bertaina made his major league debut on August 1, 1964 against the Kansas City Athletics at Municipal Stadium. He started and gave up two earned runs in seven innings pitched, but did not receive a decision in the 5-2 Orioles victory.
Bertaina's best year in the majors was 1967 (with Baltimore and Washington) when he went 7–6 with a 2.99 ERA and a career-high 86 strikeouts, while tying for ninth in the American League with four shutouts.
In a seven-year career, Bertaina posted a 19-29 record with 3.84 ERA in 100 pitching appearances, including 66 starts, five shutouts, six complete games and 10 games finished, giving up 208 runs (176 earned) on 399 hits, while striking out 280 and walking 214 in 413.0 innings of work.
During his minor league career, Bertaina led the Eastern League in winning percentage (.733) in 1964 while pitching for the Elmira Pioneers, topped the International League in strikeouts (188) with the Rochester Red Wings in 1965, and won the International League winning percentage title (.800) with the 1970 Red Wings.
Bertaina died in Santa Rosa, California at the age of 65, following of complications from a heart attack.