FLYLIFE DIGITAL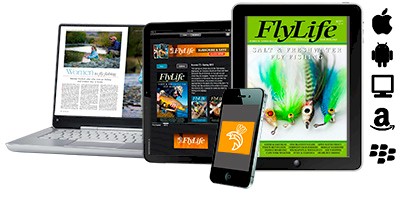 We are very excited to announce that FlyLife magazine is now available in both print AND digital formats!
Any Device
Anywhere
Anytime
Since 1995 FlyLife has been considered one of the finest fly fishing magazines available, with a loyal following and widespread international readership.
The print magazine will continue to bring you the best fly fishing in Australia, New Zealand and beyond, but you now have the option to also download it to your tablet or phone. Take it with you to read anywhere, anytime. 
 For international readers this represents a considerable saving with the added benefit of instant delivery on release date.
The digital version features enhanced content like additional photo galleries, video clips, and even 360-degree rotatable views of flies!
The FREE FlyLife App is available for Apple, Android, Blackberry and Kindle Fire. Simply search 'FlyLife' in your device's App Store (or equivalent). 
 The App allows you to browse contents and view previews of each issue before purchase, and to buy single issues, subscriptions and back issue bundles.
For more information visit http://www.flylife.com.au/emag
 FlyLife Publishing
Richmond, TAS 7025
+61 (0)3 6260 2409
http://www.flylife.com.au