Bill Peak 1932 – 2014
By
Craig Gittings and Dean Lewis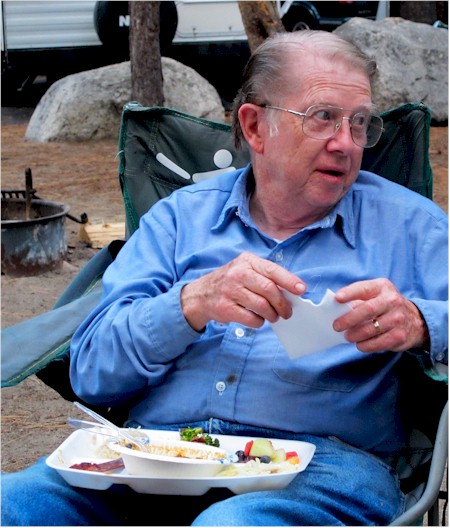 Bill Peak enjoying a meal at his fly fishing club outting
No one announces his or her own departure from this earth.
 By the time I met BillPeak, he had already retired from the Oakland Fire Department a long, long time ago.  It was so long ago that no one knew or heard of him at the firehouse when he would visit.  His Forestry degree from UC Berkeley was useful when he was hired on, in his youth, as Oaklandwas still considered country space.  I could never envision him, with his slight stature, carrying fire hoses and such.  Then I heard he was the firehouse cook.  Back in the 90's, Bill went to Alaska with a group of us. Bill remarked the last time he was in a plane was toFairbanks for a winter while in the service. It took days to get there, Bill had to help push the plane out of the hanger, and turn it around before boarding. Then Bill pointed out it was a prop cargo plane.
When Bill joined Mission Peak Fly Anglers in February 1984, he was newly retired and his garage was full of a narrow gauge model train layout.  Like his beautiful fly plates, it was a sight to see.  Bill soon dismantled the layout, sold his equipment and turned his attention to fishing.   Growing up, his father had fished and had used a bamboo rod.  Bill remembers his father completely rebuilding the rod after it became delaminated in the case. Years later, Bill rebuilt it again.
 Bill developed a fondness for bamboo rods and for the next 30 years he collected and restored them to their original condition.  He became a master at exactly matching the rod to the original specs of the maker.  If he needed a ferrule, he made it.  If he needed a reel seat, he made it to match the original.  He matched the original thread and the exact number of wraps on the rod.  The rod had to be original in every way.  No new style reel seat, no new style guides, and the right color of thread.  He used a simple wrapping stand and turned out amazing work.
He was most happy fishing a small stream (Clark's Fork was his favorite) with one of his bamboo rods, his personally designed indicator (made from a rubber "flip flop") and a nymph he tied himself. Over the years he came to know all the holding lies and could find and catch fish the rest of us would miss. 
 Bill was soft spoken, as he patiently and methodically taught and shared his knowledge from rod building to tying traditional fly patterns to framing fly plates. Bill taught others his craft to build their first fly rods in his garage that many fondly referred to as "The Museum".  The Museum could easily have been the earliest form of a man cave.  Bill had a knack of tying his flies without use of a bobbin- the old way in which he learned.  If you were ever at any of the NCCFFF dinners, Striperfest, numerous fly club dinners in the area, and even at Mike Lawson's Henry's Fork Anglers fly shop inIslandPark; Bill's fly plates could easily be spotted with his signature style.  Mostly he would just ask for material costs as compensation for his work.  Long before it became popular, Bill use to write fly tiers asking for their flies, which he framed for his own personal fly plate collection.  Mission Peak Fly Anglers use to rotate their board meetings at board members' homes. It became a real temptation to completely disengage from the meetings at Bills house and just walk around the room admiring Bill's collection of flies, which included a signature card with each tier's set of flies.  His collection even included hand tied flies from the Dettes, famed for the Catskill style flies. Bill highlighted the tier's work over his own as the "Fly Framer".  This ran parallel to the way Bill carried on his life.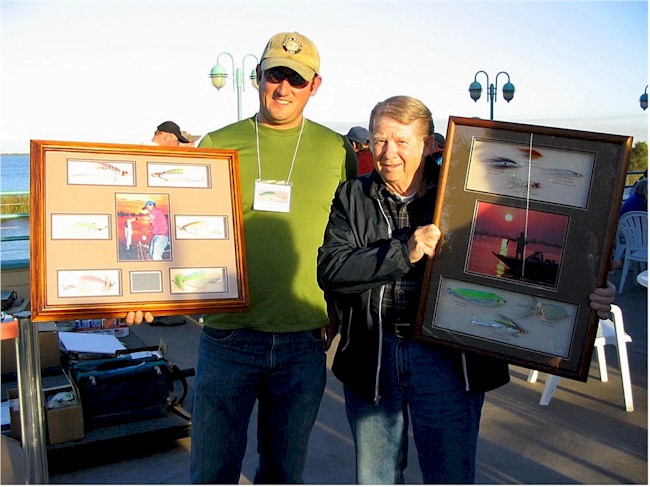 Two beautiful fly plates Bill made for "Striperfest" Raffle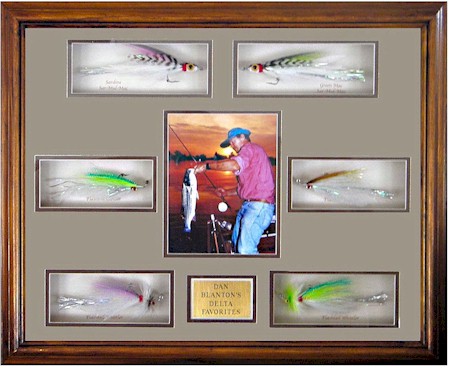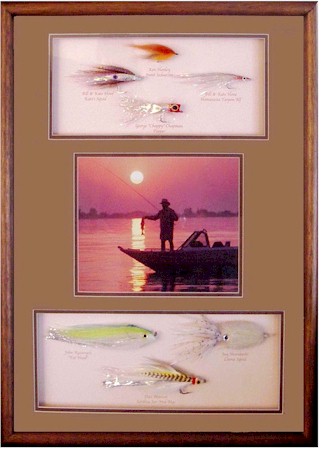 Bill was also the club treasurer longer than I have been a member. He carried a handwritten ledger for the club records. Resistant to change, board members would try to bring him into the twenty first century by getting him to switch to a computer for his bookkeeping. When those savvier tried to establish a budget for the year, Bill pointed out the holes in their budgets.  Bill would then open his ledger and make suggestions based on his records.  That was the last time anyone tried to get Bill to switch over to QuickBooks. The funniest part is when it was determined that the club's books needed to be audited by those with accounting backgrounds.  After thorough scrutiny, everyone was satisfied when the audit reported Bill's records were off by a couple of pennies.  Bill was so fiscally responsible with the club's funds, that I always referenced the Treasurer's report at both board and club meetings by asking Bill if he had bought the one way tickets for Bonnie and himself to Tahiti with the club funds.
 A creature of habit, Bill always had his annual fish out to Clark's Fork, a week atCastleCragState Park, as well asManzanitaLakeover the Father's Day weekend with his bride, Bonnie.  Bill would fish and Bonnie was more than happy to read and enjoy the serenity of the area from the comfort of their trailer.  One year, Bill hauled his trailer up to Castle Crag, unhitched the trailer and left Bonnie on her own while he attended the first Redding Conclave.  It rained cats and dogs that weekend with lightning and wind. During dinner, I asked about Bonnie. Bill told me Bonnie would be just fine. Before Doug Fear got Bill up and running with a computer and connected to the Internet, one could expect a phone call from Bill reminding every member of the club breakfast. Once he figured out how do email, Bill was off to the races. Resistant to change, Bill feared that the Internet would take up all of his available time. To say that Bill was computer savvy would be a stretch, as many calls to Doug and Dean regarding computer questions bear that out. He had two personal IT guys who could walk him through anything, given enough time and patience.
 Bill had a large music collection on cassette tapes. He wanted to get them onto CD's so that he could play them on his newer machines. After Doug set him up with the computer, Dean Lewis introduced him to the process of converting the cassettes to mp3s and .wav files.  It took many months and numerous phone calls and visits with him, but ultimately he became very proficient with a structured process, and converted all of them plus a large record collection. Bill's only regret was he could not get every song from a cassette onto a CD, so the CD would exactly like his cassette.
 After this project, Dean introduced Bill to eBay.  Now here was a whole new world.  You could find bamboo rods and other fishing equipment.  There were tools, collectables and all sorts of stuff right there on the screen.  If you knew Bill's eBay id, "Fly Framer", you could even track Bill's eBay purchases.  His last bamboo rod (a Heddon to restore) was purchased in mid November as his Christmas present.  His last eBay purchase, on January 1, was a collectable glass paperweight for Bonnie's collection.  
Bill and Bonnie would have celebrated their 60-year wedding anniversary on February 6.  Bill is survived by Bonnie and their son, Michael. Bill left a lasting impression on all whom he met, whether it was intended or not, whether positioned at the front desk next to the club president at meetings, in his garage, or on the water. Bill was 81.