SPS FLASHTAIL WHISTLER
an original by Dan Blanton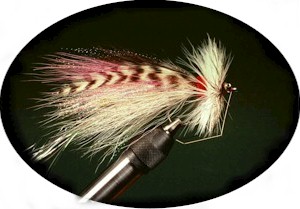 Materials List

Hook:

Tiemco 800S or Wright & McGill 254 plated 2/0 to 4/0(use short-shank hooks only!

Thread:

Danville's Fly-Master Plus or equivalent, red.

Snag guard:

Size 6 or 7 doubled single strand leader wire, coffee colored.

Optics:

Large to extra-large silver chain-beads.

Under-body:

Ten turns of .030 lead wire.

Tail/wing:

Two to three medium bunches of white bucktail, soft and crinkly.

Flashtail:

40 to 50 strands of a 50:50 mix of silver and pearl Flashabou, regular, not saltwater.

Tail/wing topping:

Hot pink (cerise) bucktail, medium bunch over white; small bunch of purple bucktail

Shoulder flash:

Ten strands of pink or hot pink Crystal Flash.

Side flash:

Ten strands of multi-colored (rainbow) Crystal Flash.

Side hackle:

One large grizzly neck hackle centered on each side just short length of tail.

Body/collar:

Two turns of medium red chenille.

Hackle/collar:

Wide collar, two wide, webby white saddle or neck hackle, faced with a large, webby grizzly neck hackle.

Head:

Red tying tread, several turns in front and in back of bead-chain optics.