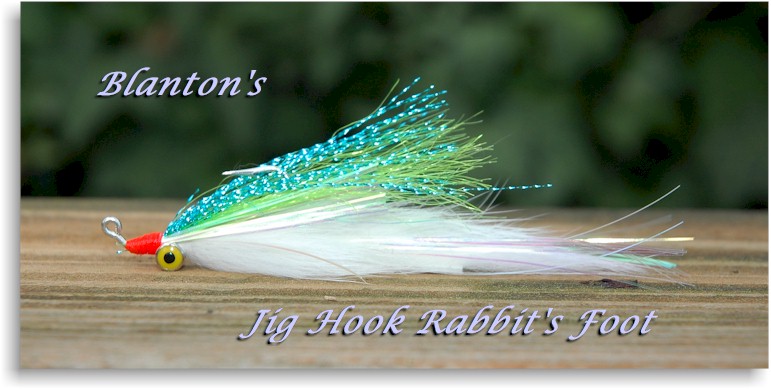 Blanton's Jig Hook Rabbit's Foot
           Back in the 80s Bob Clouser, top guide for smallmouth bass on the Susquehanna River, came up with the "Clouser Deep Minnow".  I doubt back then that Bob had any idea just how profound an influence that little baitfish fly, tied with lead eyes and synthetic hair, would have on fly tiers for the following decades – nearly three decades now.  Since then, Clouser-style flies have hatched like mosquitoes on a hot Everglades night following a summer squall.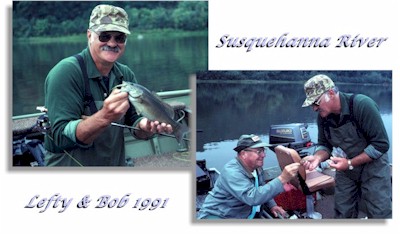 My Jig Hook Rabbit's Foot is, for all practical purposes, a "Clouser" style of fly, if for nothing else because the hook point rides up and it can be tied with lead, bead-chain or any other dumbbell eyes, although it looks nothing like the original Clouser Deep Minnow.  But there's no denying that the Clouser influence is there despite it being tied with rabbit strips on a 60 degree bend jig hook.  It's different enough though that giving it my name is justified.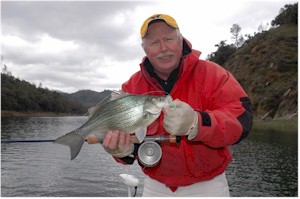 I came up with the first Rabbit's foot shortly after returning from a visit and a few days of fishing for stripers with George Glazener and Grady Cashin on Lake Texoma for striped bass.  It was George who introduced me to the 60 degree-bend jig hook for tying streamer and bucktail flies on.
        I wanted something simple, down and dirty to use for white bass, large, and smallmouth bass, spotted bass and other minnow-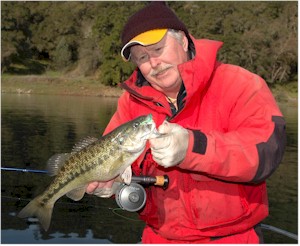 eating bass and panfish; a fly that would also work for lots of saltwater critters too.  Flies tied using rabbit strips for a tail and body had been around for awhile but none where tied on the jig hook quite the way I tied the Rabbit's Foot.

        Anyhow, I tie the Rabbits Foots in a gaggle of colors and use various dumbbell eyes (but not lead) depending upon my mood.  But I like Spirit River Real Eyes best though.  I've caught dozens of species of fish, both in fresh water and in the salt chuck on them in sizes ranging from 4 to 1/0 – all tied on a jig hook.  Give a Rabbit's Foot a try in your favorite color.  I guarantee you won't be disappointed.