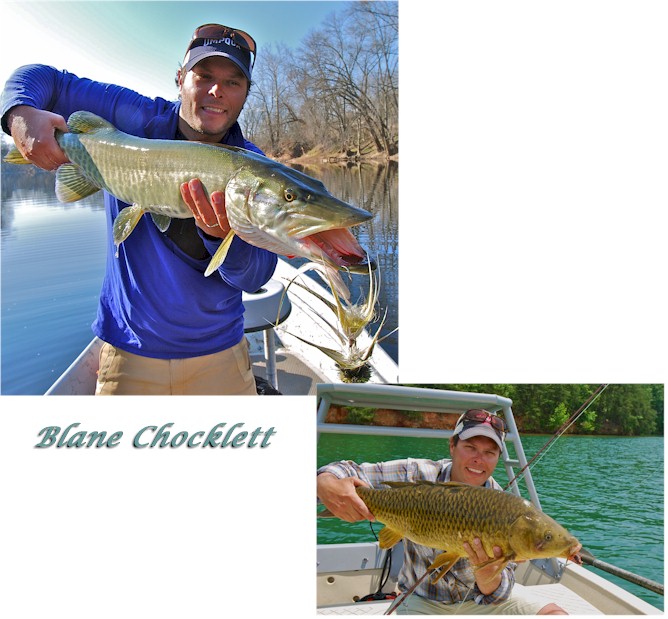 June 7, 2013
 Please join us in welcoming the newest member of the Temple Fork Outfitters advisory staff, Blane Chocklett.
 For the past 30 years, Blane has lived his passion.  He grew up fishing the small mountain streams in Virginia's Blue Ridge Mountains, starting a guide service as a youngster.  In the late 90s, Blane opened Blue Ridge Fly Fishers in Richmond, Virginia– one of the most respected full service fly shops in the region.  About a decade ago, he returned to his river roots as owner/operator of the New Angle Fishing Company, specializing in float trips targeting the regions predatory fish from Musky to stripers and smallmouth bass. 
 One the most enthusiastic and cutting-edge fly tiers in our sport, many of Blane's inventive fly patterns are produced through UMPQUA Feather Merchants.   He has served on the board of the American Fly Tackle Trade Association (AFFTA) and has worked as a consultant to several fly fishing companies.
 Blane is creating a series of patterns that has all the subtlety of flies and the strike-generating action of conventional lures.  We believe that his new patterns combined with our commitment to make the right "Affordable – High Performance" delivery tools will compel many conventional tackle anglers to try fly fishing.
 "We welcome Blane Chocklett to the TFO team. He is one of the most innovative fly tiers and wonderfully creative fly fisherman I know. Blane will be an excellent member of the TFO family."  Lefty Kreh
 Blane represents the best of young stars in fly fishing, and working with the likes of Lefty Kreh, Ed Jaworowski, Bob Clouser, Nick Curcione, Flip Pallot and Gary Loomis, will help us lead the next generation of anglers into our sport.
 Thanks so much and enjoy the weekend.
 Jim
Jim Shulin
Temple Fork Outfitters
8105 Sovereign Row
Dallas, TX 75247
(800) 638-9052 Office
(214) 638-9053 Fax
(817) 937-1870 Cell
www.tforods.com
www.templeforkflyrods.com
}<(((°≥