The Shoe Lace Dragon Fly nymph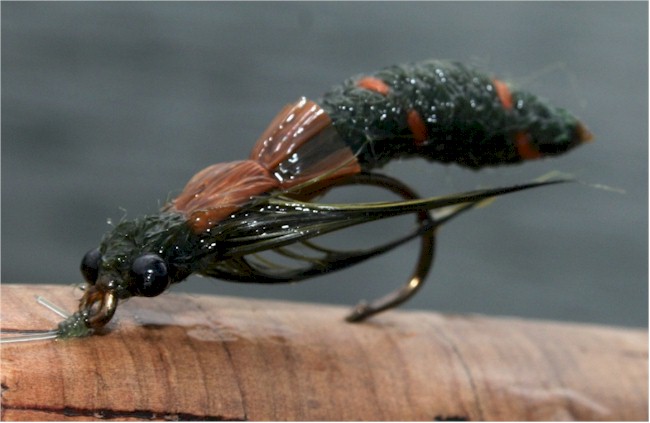 By Armando Giraldo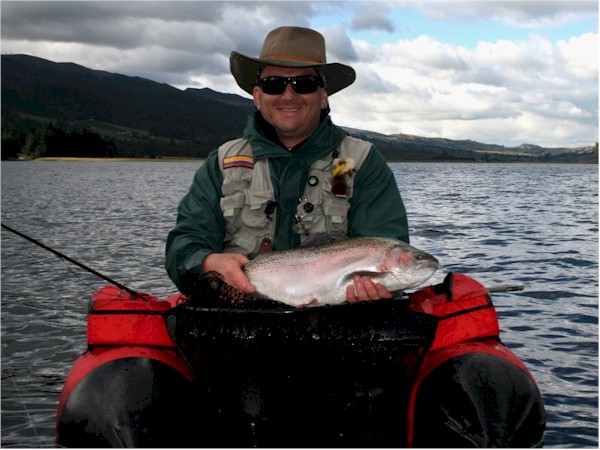 As dragon fly nymphs are present in each and every body of water and are such an important protein for several fish species. I've been working on several ties of them that resemble the actual nymph with its big abdomen and long, webby hackles which give a lot of movement to it.
I always prefer to tie them without any weight which helps me work them right on top and thru weedbeds without too much fouling. I basically use them for trout fishing in stillwaters, where trout are often weary and patient, having a lot of time to examine their prey. This pattern has a lot of shape characteristics of the dragon nymph with the plus of movement!
One difficult thing for me when tying this nymph was how to tie a big abdomen while keeping proper balance of the entire fly so it wouldnt swim or hang vertically.  One thing that came to my mind that might solve the problem was using old shoe laces. They form the abdomen perfectly and give the fly a handsome and tasty look while letting it swim in a horizontal position regardless of the fly line type used.
I fish this fly on a floating or an intermediate line using both long and slow strips.  If I snag any weed I'll strip harder so to break the fly loose while imitating their butt water-jet propulsión. If I feel or even snag weeds with the fly, then I know I'm fishing it right!
Following are the materials list and tying instructions for the Shoe Lace Dragon Fly Nymph.
Materials
Hook – Any 8 to 4 short-shanked hook with a wide gap.
Abdomen – Green  shoe lace
Pre thorax – Olive antron dubbing.
Wingcase – Brown swiss Straw or raphia
Legs – Olive weaby long hackle
Thorax – Yellow antron dubbing
Eyes – plastic black
Head – Olive antron dubbing
Of course you can tie it in brown as well!!
Step 1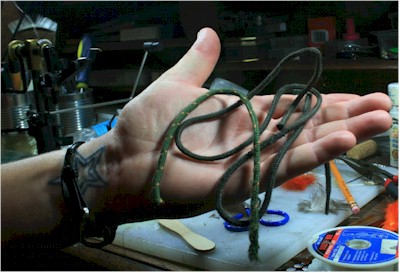 Grab some old shoe laces with some nice nymph color on them.
Step 2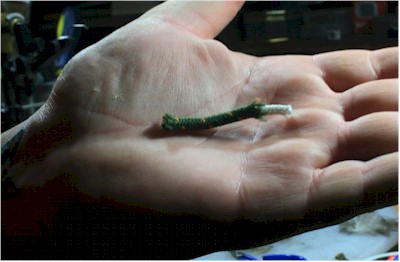 Cut an inch and a half of the shoe lace and take out the inner rope.
Step 3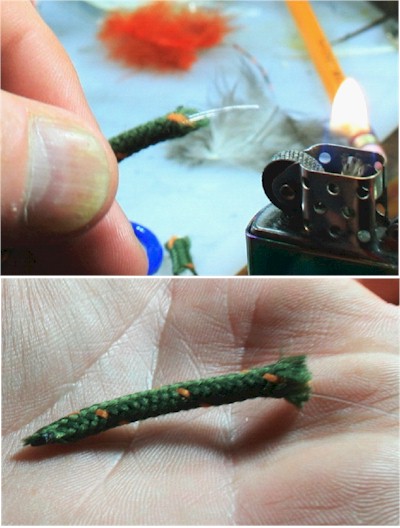 Take 3 to 4 inches of heavy mono, 30 to 50 pounds and pass it thru the piece of shoe lace. Burn the mono just like when you are burning eyes. Let it melt all the way to the shoe lace and let it burn as well. Do not over burn!  Soak your fingers wet and shape the whole thing into a nice pointy looking tail.
Step 4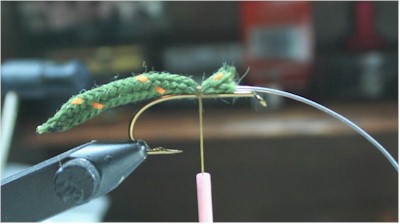 Tie the abdomen to the middle of the hook.
Step 5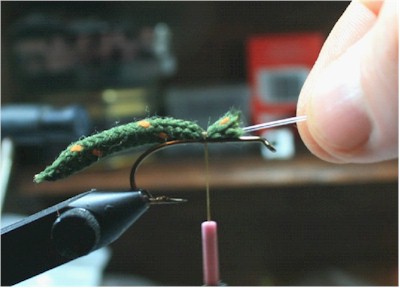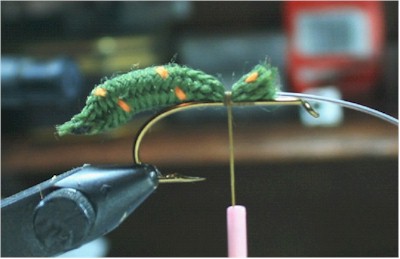 Take the mono that hangs out of the abdomen and pull towards the eye of the hook in order to shape the abdomen into a thicker more dragon nymph like tail.
Dont worry if the point of the tail looks weird or like a grasshoper's abdomen. You can always shape it with your fingers lately, burn a Little more and even apply some zap a gap. That depends on the size of the shoe lace.
 Step 6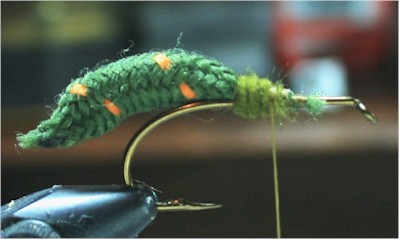 Dub the pre-thorax
Step 7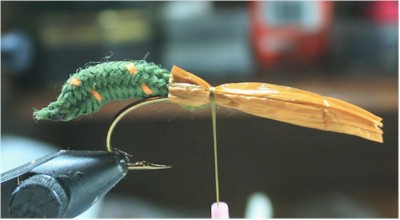 Tie the swiss Straw on top of the pre thorax and on top of the first part of the abdomen.
Step 8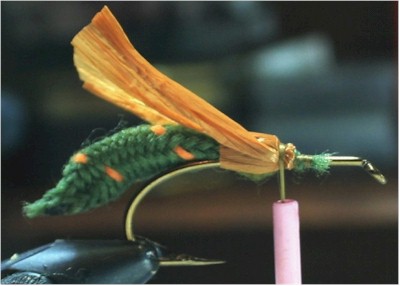 Pull the swiss straw backwards and tie the thread on top of it to create a better looking wing case.
Step 9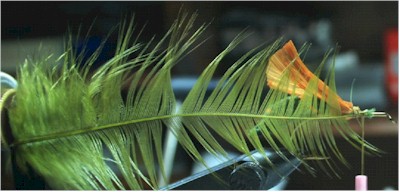 Tie in the hackle and prepare the tying thread with yellow dubbing to créate the thorax.
Step 10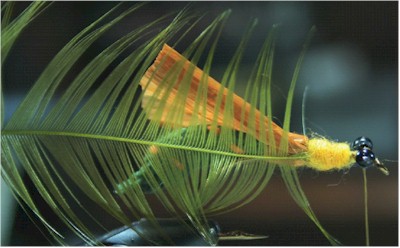 Dub the thorax and tie the eyes on.
Step 11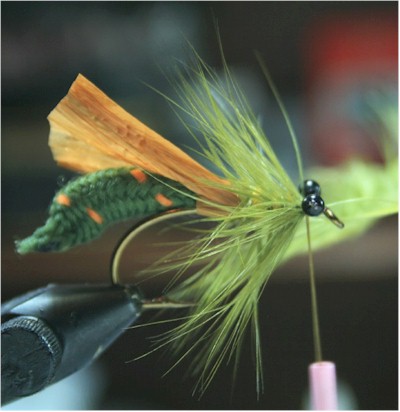 Palmer the hackle forward and secure before the eyes.
 Step 11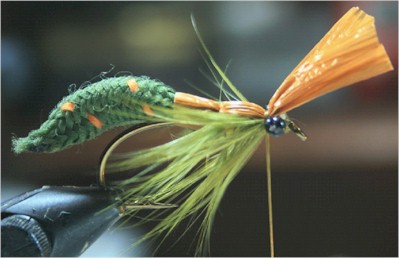 Take the swiss straw forward and on top of the thorax and hackle and secure bofore the eyes. You can re tie the swiss straw into another layer of the wing on top of the head or simply cut the excess.
Step 12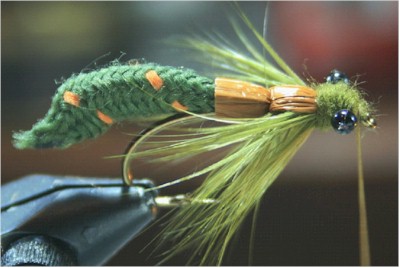 Dub the head with antron, try to form a proportionate head to the size of the whole fly. Whip finish.
Step 13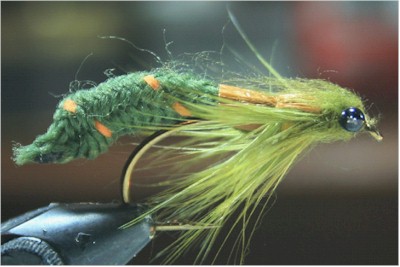 Use a brush to tangle a Little the head dubbing.
Another look at the completed fly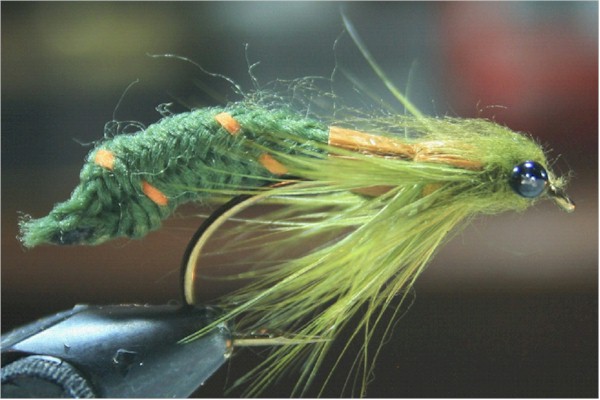 Post Script
"Armando is one of my friends on Facebook and when I ran across his dragon fly photo on his page I was totally impressed by it and asked him if he'd send me the tying details – he certainly did more than  that – he photographed and wrote the story and tying instructions to share with my website community.  He did a fabulous job and I am grateful to have his fly, his photography and words on my website.  I also asked him to give me some details about himself since there wasn't a great deal of personal information about Armand on his Face Book page.  Here's what he told me ~ Dan Blanton"
About Armando Giraldo 
"Im a 38 year old fly fisherman and fly tier from Colombia, actually living in Bogotá.
Colombia is not a country whith a lot of outdoor tradition, which is ironic since we have so much of it to enjoy; basically every body here still thinks fishing involves nothing else but a worm a hook and some stick with a string, go figure… You wont believe what explaining to someone what fly-fishing on a float tube is..
My father, a non fisherman, gave me my first spinning rod and reel with some spinnerbaits when I was six and my love of fishing evolved by tself into flyfishing just because I saw it and read about it in books and mags. No one around that I knew did it, so I had to learn by myself – I was totally clueless but yet able to manage the whole thing.  So after destroying flies in the air, fishing with my partners and getting absolutelly no strikes I finally became obssessed with learning to cast a fly properly, fly-fishing technique and how to tie flies.  Along the way I  definetelly developed some good fly-fishing skills. Its been 24 years since I began.
I Have been a guide for trout but mainly for peacock bass, payara and several other species in the Orinoco basin.  I Enjoy developing new patterns for any fly-fishing.
I also teach casting and fly-tying and Im a passionate spokesman on conservation strategies thru sport fishing, research and catch `n release.
I Have been writing articles about  fly fishing, fly patterns and various fish species in our tropical waters for more than 5 years now  featuring my own pictures.
I Would love to be even more involved with the industry!
Lastly, I'm happy to say flyfishing is growing in Colombia and that there's more people involved with all that it means including conservation.
Guess that's that Dan, thanks for publishing my dragon nymph and story on you website Hot Fly page.
Armando"