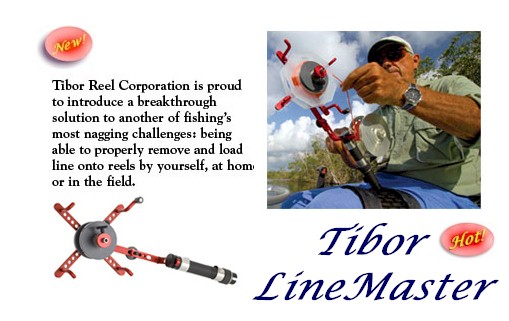 The Tibor LineMaster™ Line Management System lets you change lines quickly and easily, without going to a tackle shop or needing a second person to maintain tension on the line.
Steady tension makes the difference. This is the only line winder on the market with an innovative, spring-loaded disk system that holds the spool firmly in place while you remove or load line and backing in a reliable, one-person operation that applies the steady tension required to prevent line from tangling or binding
as it winds
At home or in the field. An ideal system for any angler and guide, the Tibor LineMaster converts easily to a left or right-hand wind. The neoprene-lined Leg Saddle acts as a convenient "third hand" for solo operation in the field, and the Table Clamp fits all standard counters, allowing for hands-free operation at home or on the road.
No more loads of spools and reels to carry. Big fish, snags
and debris can stretch, fray, break or take lines in a single run. In both salt and freshwater situations, you never know when you'll need to replace line or backing, or adapt to changing conditions by switching from a floating to sinking line. And wouldn't it be nice to be able to stay with your favorite reel?
The Tibor LineMaster has all the tools of a portable Line Management System. The neoprene transport pouch even includes a storage pocket, indelible marker, pipe cleaners and an easy labeling system to wrap, identify and organize your lines – anytime, anywhere. No need to carry all those extra spools!  For more information go to www.tiborreel.com