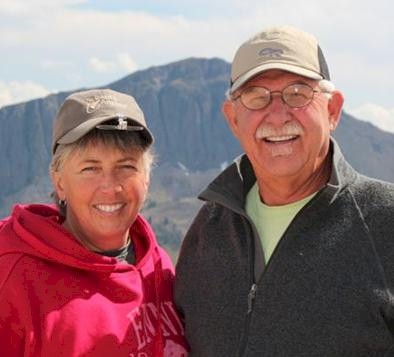 Kate Smith & Ray Schmidt
Please join us in welcoming Ray Schmidt and Kate Smith of Double SS Outdoors to Temple Fork Outfitter's team of sales consultants. Ray and Kate will replace John Bueter, a longtime friend of TFO. John has chosen to dedicate his time to his family, and the Cloud 9 fishing resort in Baldwin, Mich.
Ray recently retired from Schmidt Outfitters, in Wellston, Mich. after 37 years of owning and operating the very successful full-service fly fishing outfitter. Kate is an experienced outdoor photographer and fly angler, who has been active in the industry since the late 80s. Through the encouragement of their many dear friends, Ray and Kate created Double SS Outdoors to help others succeed in the sport of fly fishing. Double SS Outdoors will provide fly fishing related sales and marketing for the Temple Fork Outfitters brand in the Great Lakes region.
"I have known Ray since our humble beginnings in 1995. In many ways he has been a mentor to me and our company for most of the past 19 years as his business and knowledge of the Great Lakes region is arguably second to none. I know that Ray and Kate will be a great asset to our family in the region as they know the fisheries, gear and techniques and most importantly, they know what it takes to run a successful fly fishing operation. They are committed to sharing their wealth of experience with all of our dealers and friends."
~Rick Pope
For more information on Temple Fork Outfitters, and Ray Schmidt and Kate Smith, please visit: www.tforods.com.