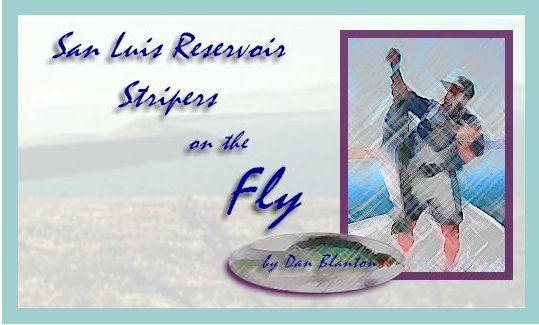 "San Luis Reservoir and the O'Neill Forebay
are arguably this Country's top producers of giant, fly-caught landlocked striped bass"
If you were looking to catch a world record fly-caught landlocked striped bass and asked me what body of water would provide the best opportunity to do it, I'd hand you the answer in a heart beat: California's San Luis Reservoir and it's equalizing basin, the O'Neill Forebay. But don't take my word for it – here's the stats from the International Game Fish Association's world records book:
Bass, Striped – Landlocked
1 kg (2 lb.) 29 lb. 8 oz San Luis Reservoir Al Whitehurst
2 kg (4 lb.) 32 lb. 12 oz San Luis Reservoir Al Whitehurst
3 kg (6 lb.) 38 lb. San Luis Reservoir Len Bearden
4 kg (8 lb.) 39 lb. 8 oz San Luis Reservoir Al Whitehurst
6 kg (12 lb.) 40 lb. 4 oz O'Neill Forebay Al Whitehurst
8 kg (16 lb.) 54 lb. 8 oz O'Neill Forebay Al Whitehurst
10 kg (20 lb.) 49 lb. San Luis Reservoir Len Bearden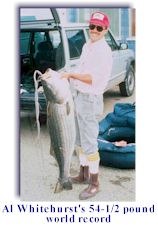 Now that's impressive! Every one of the world records in all tippet classes for landlocked striped bass comes from either San Luis reservoir or the O'Neill Forebay.
All those records are owned by Al Whitehurst and Len Bearden, both dedicated and skilled anglers whose fly angling goal was to catch world record landlocked stripers on fly. They both knew which lakes would provide their best chances for success and both have spent countless hours fly fishing San Luis reservoir and it's little brother, the O'Neill Forebay – from float tubes, no less. They have obviously been successful in their quest for giant striped bass on fly.
Those are just the world records. What the record books don't show are the dozens of stripers taken on fly from these two impoundment's during the past three decades that have exceeded 25 pounds – stripers that never made the record book.
There have been many other dedicated fly-rodders who have scored mammoth stripers on fly from these two impoundment's, anglers like Lee Haskins, Steve Santucci, Mike Clark, and Lee Amrose to name a few. I've fished both impoundment's since 1968 and have caught plenty of big fish on fly ranging to more than 33 pounds. Of course there are other San Luis/O'Neill fly-rod devotees whose names I don't recall or know, anglers who have all scored big Moes at one time or another. These lakes also provide fast action at times with fish ranging from small schoolies to those averaging five to more than 10 pounds, often with surface flies. But, like most fisheries, this is also a place where you may go many trips without a single strike, depending upon the time of year and various conditions.
LAKE FACTS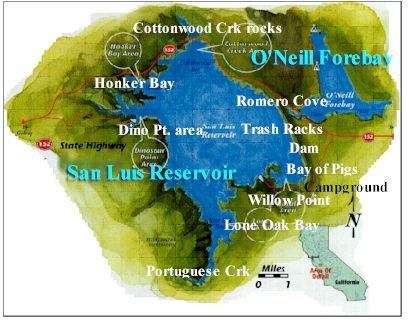 San Luis Reservoir and it's equalizing basin, the O'Neill Forebay are located just two hours from either San Francisco or Sacramento or an hour and a half from San Jose, California in the arid foothills of the western slope of the San Joaquin Valley, along highway 152 not far from the town of Los Banos. Both impoundments are part of the massive Central Valley Project – part of the California Water Plan – a system of water exporting canals that run the length of the state. Gargantuan pumps suck water from the California delta along with striped bass eggs and larva (and just about all else that swims or lives in the delta, including aquatic vegetation and invertebrates) into the California Aqueduct where all is transported into the Central Valley and as far south as San Diego. Although there is currently a striped bass pen-rearing/stocking project at these lakes, stripers were never originally stocked in San Luis Reservoir or the O'Neill Forebay. They got there via the water project and its canal system. For more than three decades striped bass have thrived in those canals and in the off-canal impoundments, growing to gorilla proportions. San Luis Reservoir (affectionately called "Big Louie" and the O'Neill Forebay "Little Louie") and the O'Neill Forebay are the largest and oldest of the "Water Plan" impoundments and accordingly provide fly fishers with the greatest opportunity to catch a trophy striped bass on fly.
San Luis Reservoir has a swaggering 65 miles of shoreline laced with productive coves, flooded willow trees, flats, precipitous rock banks, islands, underwater shoals and mounts and a three and a half mile long, rocked-line dam, all of which are dining rooms for striped bass of all sizes. It has two boat ramps.
Big Louie has a maximum depth of 300 feet with a full head of water. It never is drained so low, however, as to harm the fish populations and because its baitfish population (also pumped-in delta species), the likes of Threadfin shad, American Shad, Sacramento blackfish, carp minnows, Delta smelt, an introduced Japanese smelt, perch, panfish species and many others, there has never been a summer die-off of big fish due to a lack of sustenance or cool water.
Water is first pumped into the O'Neill Forebay from the Delta Mendota and Highline Canals. From there it's pumped into Big Louie via massive turbine pumps (electricity is generated when water is released from the big lake back into the Forebay) so large a 20-pounder can be pumped through without knocking a scale off. The pipes running from the Forebay under San Luis dam are 17-1/2 feet in diameter. Storage pumping usually occurs during winter and early spring. When the pumps are filling Big Louie, the area of the inlet structure (called the "Trash Racks") becomes a serious chum dispenser for the stripers and often congregates them there. Once the pumps are reversed, sending water back into the Forebay and into its outlet canal, the California Aqueduct, the bass disperse throughout the lake.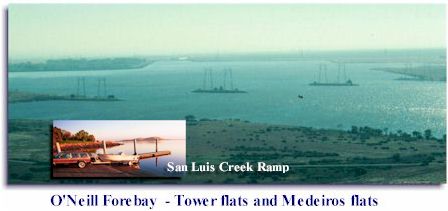 The O'Neill Forebay is profoundly smaller that it's big Brother with only 14 miles of shoreline and a maximum depth of around 60 feet when topped off. It also has two boat ramps. Like Big Louie, Little Louie provides what many consider to be perfect striper habitat. It has vast shallow, weedy flats with numerous channels and depressions that hold countless baitfish which attract marauding stripers. These subsurface weeds which grow thickly to the surface at times and are pocked with open areas can be heaven for the fly fisher tossing poppers and foam Gurglers. Float tubers often rule here, since getting a boat into the thickest areas of this salad bowl can be difficult at times.

Little Louie also has a rock-lined dam, deep holes and channels, is rippled with humps and ridges and has two islands with moderately deep water (10 to 15 feet) surrounding them, all of which hold willing stripers. The baitfish are the same as those in Big Louie, with Threadfin shad being the predominant species. The channel edges paralleling the weed flats, in water ranging from 8 to 15 feet deep are definitely places to work your flies as are the other areas mentioned.  Like most other places, low light periods are the magic hours – start early and stay late if conditions will allow.

THE SEASONS
High summer is not usually the most productive time of year for targeting San Luis Reservoir/O'Neill Forebay stripers on fly. It's unholy hot and the wind usually screams, turning both impoundments into something resembling the North Sea. This is not to say you can't enjoy summer action but you'll have to pick your days when the wind doesn't howl and you'll need to fish the "magic hours" – those periods before and shortly after sunrise and the last couple hours of the day until sunset. Note: if fishing from a floating device, boat, tube, kickboat, etc., you have to be off the water by sunset. Staying out longer will result in an expensive ticket.
Historically, the most productive periods of the year range from Autumn through early summer. October through February can really shine if mild weather without wind prevails. In fact, as this is being written (early November) the Forebay on calm days has produced excellent surface and subsurface action with stripers ranging from a couple of pounds to line-busting Big Moes.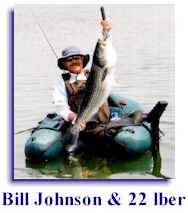 Early spring can be equally productive but normal spring winds can be maddening for boaters on both lakes. Not so with float tubers, though. Why? Float tubers dressed properly with good rain jackets and floatation vests can still prevail in surly waters. They just kick out into the wind, turn their backs to the waves and cast to the mud line where clear water meets turbidity. This is when float tubing shines and some mighty big fish are taken in spring when windy conditions keep boaters off the water.

Later in May and June when the wind lays down at least a few days a week, boaters shine equally and sometimes better because they can cover more water, faster, getting to areas not accessible to tubers and kickboaters.  But don't let a slight breeze keep you off the main lake.  Some moderate swell and mild chop can produce superb action, particularly on the windy shorelines where mud lines have developed.  Mud lines often are the honey holes.  Bait gathers to feed and hide and stripers use the stirred water to cloak and attack.  Cast your fly into the turbid water pulling it back into the clear zone.  Hold onto your rod!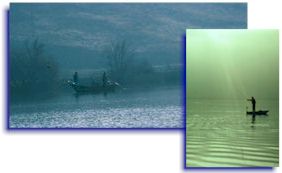 My personal favorite periods are Late October and November on Little Louie and December through February and May through early July on Big Louie. I've had some sizzling action on foggy, drizzly, overcast days in December, January and February. Low light and no wind conditions made for a great bite once the fish were located. Of course the big lake can be productive during October and November too.
March and April action can excell on both lakes, especially for large fish but strong winds produced by coastal fog intrusion into the rim of the southern Santa Clara and Salinas Valley foothills, often make venturing out extremely unsafe. Heed the weather warning flags/lights at the lake.
Like all fishing, however, there are no absolutes and such is the case at these two impoundments, so keep a vigilant ear tuned for word of good action any time of year.
FLATS STRATEGIES
There are flats in both San Luis Reservoir and the O'Neill Forebay but the Forebay rules when it comes to acreage. Back in the late 1960's and 70's one of the most productive approaches during the spring season was to drift the Medeiros flats from the tower islands to check #13, and the flats between the tower islands and highway 152. We'd drift with the wind across the flats using a 6-foot long drag chain to slow the boat and cast in opposite directions (two anglers fishing) to cover a huge swath of water. If no fish were taken on the first drift, we'd move over a hundred or so feet and do it again until we scored. Once fish were located, we'd drop overboard a brightly colored marker float made from a bleach bottle and concentrate our efforts in that area until the fish left. A brisk breeze of around six mph and water not quite capping, proved better at times than dead calm conditions. Stripers are notorious for abandoning their caution when the surface is lightly roiled and foamy. Accordingly a little breeze can be a boon at times.
Since those days, the flat between the islands the highway have become a favorite with sailboarders and this makes fishing there somewhat hazardous if not disconcerting. Weeds have also flourished and by late spring it's often impossible to drift in the same way and you have to concentrate on working the openings in the weeds with both surface and subsurface flies. The water depth on the flats ranges from about four to eight or so feet and the fish can often be in skinny water making it a tubers game.
[ A word of caution: The Forebay water level raises and falls quite dramatically at times depending upon pumping schedules. Boats pulled up on shore at night are often found many yards from the water in morning since water released that night into the California Aqueduct, dropped the lake's water level. conversely it can rise leaving your boat many yards from shore – or worse… Humps, shoals and islands once submerged deep enough not to be boater's hazards can become prop-busters overnight.]
Working the edges of the weed flats where the water ranges from eight to 15 feet deep can also be highly effective. Boaters work slowly along the edge using an electric trolling motor for propulsion, keeping a good cast from the weed edge. Look for pockets or slots in the weeds to search with your fly or Gurgler. Also work the deeper water outside the weed zone. Tubers do the same and once fish are located concentrate on that area, moving on when action stops. Move fast enough to cover a great deal of water quickly but not so fast that the water can't be covered thoroughly. Again, electric motors and drag chains help immensely. Some productive areas where deep water meets the weeds: Madeiros flats; tower islands; the main deep water channel from the tower islands to the highway 152 bridge and the San Luis creek group campground area.
THE RIGHT RETRIEVE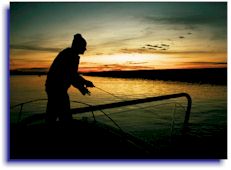 Whether working deep or shallow, a fast erratic retrieve, a mixture of one- to two-foot-long pulls with occasional pauses to drop the fly emulating an injured baitfish, usually works best. Start with a few fast, hard pulls to push water and to catch the fish's eye. No slow, twitchy woolybugger retrieves – please!
Autumn is a great time for surface action and when working poppers and Gurglers, no one does it better than Lee Haskins. He suggests working foam Gurglers (his personal favorite top water fly and mine too) much like you would a streamer or bucktail: erratic retrieve mixed with long and short – some slow, some fast – pulls. Make the fly dart and spit water. If a fish swirls on the fly, keep it moving with faster, shorter twitches and pulls but don't move it ahead too fast too far. Tease it to please it. Large stripers will move for a surface fly but most of those you'll catch will range from two to five or six pounds. Schoolies can be frustratingly size conscious and fly size often makes a profound difference over pattern or color. Experiment!
Regardless of whether you're fishing shallow or deep, the use of a good depth/fish finder to locate fish, structure, holes and drops-offs is paramount to success. Big Louie and Little Louie devotees, tubers and boaters alike, all use them. Portable graphs/fish-finders like the Buddy series marketed by Bottomline are favorites with both tubers and boaters.
PROBING THE DEPTHS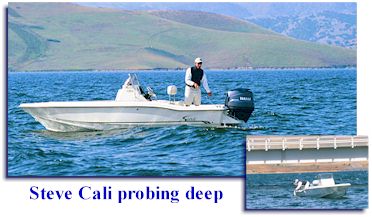 Striped bass can be taken consistently with flies to depths of about 30 or 40 feet (sometimes deeper) and still remain well within the practicality of fly-fishing. I have personally released as many as 50 to more than a hundred schoolies (along with some very large specimens) a day that were feeding at these depths. The key is to use a very fast sinking shooting head or one of the new breeds of lines that cast like a shooting head and will sink a fly deep enough to give it the bends.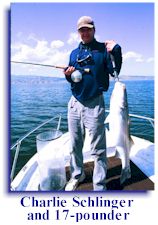 My favorite line for deep presentations is a shooting head ranging from 27 to 30 feet in length of Cortland's LC-13, lead core line looped to a mono type shooting line. I've always been a fan of 25- to 30-pound Amnesia for deep work but recently I've discovered a great new, clear mono-type shooting line that out-performs my old favorite. It's Rio's new clear intermediate shooting line in .031 diameter. It handles extremely well without the usual snarls and tangles.
If you just hate shooting heads an alternative that works exceptionally well are the new sinking lines by Rio. The DC 26 cold water striper lines in 350, 450 and 550 are solid winners. Similar lines are also produced by Scientific Anglers, Airflo and Teeny. The key to deep water success is getting down quickly and being able to throw a long cast – casts ranging from 80 to more than 100 feet. Use the countdown method to locate the strike zone. If you can find suspended bass, you can catch them consistently if you present the right fly at their level.
FINDING THEM

Before you can catch them in deep water you must find them. I begin by looking for them at the traditional places: the rocks lining the face of dams, rocky out-croppings, points and promontories. Islands, both above and below the surface are beacons for stripers. I look for bass suspended above structure such as rocky mounds or submerged tree tops, or below schools of primary baitfish such as shad. How do I find them? Sometimes I just use searching casts, counting the line down until a heart-stopping grab tells me I've found them. But most often these days I find them with my graph/fish locator, a tool almost indispensable for locating bass, bait and structure, too. Don't leave home without one.
SAN LUIS RESERVOIR'S PRODUCTIVE DEEP-WATER AREAS
San Luis Reservoir's productive deep water areas include the following: "Bay of Pigs", aptly named and that area where the southeast end of the dam meets the shoreline forming a large cove. This is in the "Basalt" area of San Luis. Fish over about 25 feet of water, casting toward the rocks and shoreline; The rocks lining the 3-1/2 mile long dam; Fisherman's point; Goosehead bay; Willow Point; Willow Spring Bay; Coves between Willow Spring Bay and Lone Oak Bay; Lone Oak Bay (flats are excellent here too); Points and coves all the way into Portuguese Creek; Dinosaur Point bays, arms and tree lines; Romero Overlook area – islands and submerged mounts; Cottonwood Creek, Honker bay and many more. These areas are all productive but learning all their nuances will take time and exploration and the use of a good depth/fish-finder. Remember – the lake is constantly being drawn down from late spring through summer and early fall. Lake Topography is constantly changing. Underwater mounts become islands; shoreline rock piles and partially submerged trees become high and dry. Nothing beats time on the water, and low water is a great time to learn where the best structure is located. Mark your charts! Take notes!
SAFETY CONSIDERTIONS
I've mentioned wind as being the primary consideration when it comes to safety. Another consideration boaters need to be aware of is to give tubers plenty of room. This is not to say boaters shouldn't fish in the same area but don't rush into an area tubers are working at top speed and then proceed to cut off their casting areas. The last thing any boater would want to do is run over someone in a float tube. If it's obvious there's not enough room for you, leave to find another area. Tubers should wear bright wind breakers and use highly visible tubes or kick boats. Let boaters know you're there. If a tuber is working a breakline along a weed edge and not moving and you need to motor past, do so at a safe distance and a slow speed. Use common boating sense.
Lakes of giants? You bet! It was reported that the California Department of Fish and Game verified a 102-pound striper that was netted, weighed and released. There have been stripers weighing nearly 70 pounds taken by live minnow and jig anglers and of course Al Whitehurst's 54-1/2 pounder taken on a fly from a float tube.
I've experienced many incredible days on both of these impoundments since I first started fly fishing them in the late 60's. Some days it was numbers, others it was few but quality fish. The last great session occurred this past May.
Dave Sellers and Lee Haskins had located a bunch of nice fish ranging in size from six to 20 pounds terrorizing shad along the rocks of the San Luis Dam and over a submerged mount, not far from the Romero area. Dave and Lee scored big time using Flashtail Clousers and Lefty's Deceivers. Dave invited me to fish with him the following day.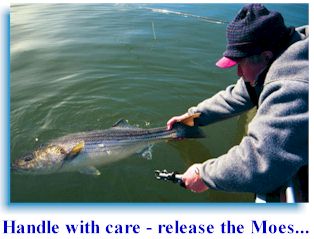 We didn't arrive until around noon and were on the water about 1:00 p.m.. My first fish, a fat 12-pounder, came quickly on a chartreuse and white Flashtail Whistler but things slowed dramatically after that first fish. We worked the entire area and several others without further success before deciding to work the rocks of the dam east of the Trash Racks. Dave moved slowly along the dam using his electric motor to keep us a long cast from the Balsalt boulders. We'd only been working the area about ten minutes when a wrist-jolting strike nearly yanked the rod from my grip. In fact, I let out a blood-curdling scream that nearly caused Dave to leap overboard. I'd been nursing a strained bursa and my setting the hook against a heavy fish, almost put me to my knees. I held on though and when the deed was done, I boggied a 29-1/2 – pounder. She was a splendid fish with stripes as black as ink and not the normally pot-bellied Moes we've caught in the past. She was stocky but well proportioned, looking more like she came from the salt than from a lake. Her fight was all it could be on my 9-weight. It wasn't the largest striper I've taken from San Luis but it certainly was one of the best; and it won't be the last! I know there are 70-pounders swimming around in those lakes and one has my name on it – and she's just waiting to take my fly…
---
The San Jose Fly Shop sponsored this article
For complete outfitting and information
about this remarkable fly fishery, click on the hot banner above
SAN LUIS RESERVOIR/O'NEILL FOREBAY NOTEBOOK
When: Peak period is October through June with occasional good results during high summer, winds permitting.
Where: On either San Luis Reservoir or the O'Neill Forebay located about 15 miles from the town of Los Banos, California about one hour from San Jose, an hour and a half from either San Francisco or Sacramento.
Headquarters: Myriad motels and hotels in San Jose, Morgan Hill, Gilroy or Los Banos – check with local Chambers of Commerce.
Campgrounds: There are three campgrounds within the San Luis Recreation area that are practical for anglers. They are the Basalt Campground with 79 developed sites, the San Luis Creek Gampground with 53 developed sites and the Medeiros Campground which is unimproved. Rates for peak season around $16 a night and $12 a night non peak season. After January 1, 2001 rates will be decreased significantly, and the fee for an extra vehicle and a dog will be eliminated. For campground reservations and information call (800) 444-7275 for on-line information www.reserveamerica.com
Weather information: Twenty-four hour weather information (800) 805-4805.
Fishing hours: You may fish from a boat, float tube or kickboat on either lake from one half hour before sunrise to sunset. You may wade or fish from shore 24 hours a day.
Appropriate Gear: Rods 7 – to 10-weight. Sinking shooting heads ranging from type 4 sinking to leadcore heads ranging from 27 to 30 feet of Cortland's LC-13 with a mono type running line such as Rio's clear, intermediate shooting line in .031 diameter. Other productive lines: Rio DC 26 Cold Water Striper line in 350, 450 or 550 and similar lines by Scientific Angler, Airflo, Cortland and Teeny. For popper and Gurgler action, full, WF floaters in appropriate line weights. You can also use floating shooting heads with a coated running line but up-line at least two sizes. Leaders on sinking lines shouldn't exceed seven feet, nine feet for floating lines and test 12 to 20 pounds. Fifty-pound braided loops on the ends of all lines for facilitating leaders, shooting line and backing work best.

Top San Luis fly patterns: Flashtail Whistlers, Flashtail Clousers, Sar-Mul-Mac and Lefty Deceiver all work well in sizes ranging from 1/0 to 4/0 for subsurface work. Top colors: chartreuse/white; red/white; white/pink/purple; white/brown and black. Standard poppers and sliders are productive but foam Gurglers excel in sizes ranging from two to 3/0.
Necessary accessories: Rain Gear or windbreaker, warm and cool clothes (layers), sunglasses, hat, Peterson's Stripping Guards for finger protection, sunscreen, a good portable or dash-mounted depth/fish-finder with side scanner. Float tube or kickboat if you don't have a standard boat. Electric trolling motor for you boat.
Licenses: California fishing license with striped bass stamp. A two-day resident or nonresident license costs $28.50, plus $3.70 for a striped bass stamp. A 10-day nonresident fishing license costs $28.10, plus the striper stamp. A yearly resident license costs $28.10, plus the stamp and a yearly nonresident license costs $75.85, plus the stamp. Licenses are available at fly shops and tackle stores.
Guides: Prime Time on the Fly Guides service, Dan Blanton, 14720 Amberwood Lane, Morgan Hill, CA 95037 (408) 778-0602
Maps/charts: Fish-n-Map CO (Lake Oroville/San Luis Reservoir) available at most tackle shops.