Sage Introduces Two New Fly Rod Series
Response & Approach

(Bainbridge Island, Wash.) – Sage Manufacturing, fly fishing industry leader, announces the addition of two fly rod families and a selection of outfits ideal for any angler from beginner to veteran. The Response and the Approach fly rod series use Sage's proven high-performance technologies to offer anglers superiority at a reasonable price with made in America quality.
The Response series builds on proven tapers using premium materials that deliver smooth casting, fast-action fly rods. The chestnut shaft color has brown primary thread wraps with black and gold tip wraps creating a beautiful color combination. A Rosewood insert and aluminum reel seat with reverse half-wells grip grace the freshwater weights while an aluminum reel seat with full-wells grip and cork fighting butt are offered for the saltwater weights. Ceramic stripper guides, hard chrome snake guides and tip-top ensure that line shoots through smoothly and does not get bound on the tip. Available in 18 models ranging from 3 through 12-weights, each rod comes in 4-piece configurations in a Brown CORDURA® rod tube for a retail price of $395.
Response Series
The Approach series includes nine individual rods in the lineup and five options sold as outfits. These rods have excellent line feel and control for a medium-fast action rod thanks to high modulus graphite. The oyster shell shaft color goes nicely with the black primary thread wraps and silver trim wraps. The saltwater rods have an all aluminum reel seat with full-wells grip and cork fighting butt. The freshwater rods have a reverse half-wells grip. The individual fly rods come in a silver gray rod tube with a divided liner for a truly affordable price of $295 for the rod and $475 for the outfit. The Approach Outfit comes with an 1800 reel, RIO Gold fly line and a CORDURA rod case. Beginner casters can easily grow with this rod without ever outgrowing it.
 Approach Series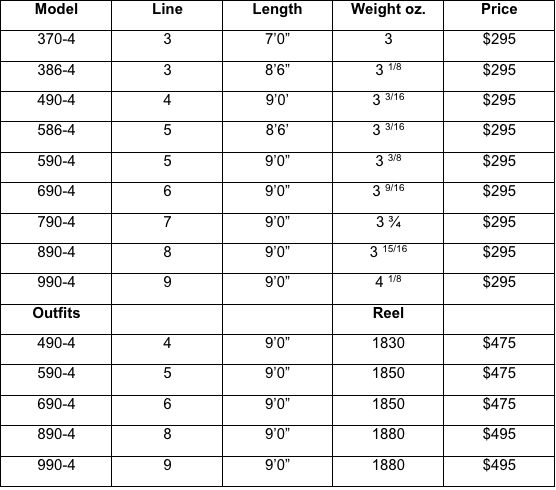 About Sage:
Founded in 1980, Sage was created with one idea in mind—to build the world's finest performance fly rods. Passionate about creating fly fishing products that continually exceed expectations, Sage strives to seek performance advantages through new materials and designs based on a foundation of research and innovation. Sage also offers fly reels, fly lines, apparel, accessories and luggage for avid anglers. For more information, please visit http://www.sageflyfish.com