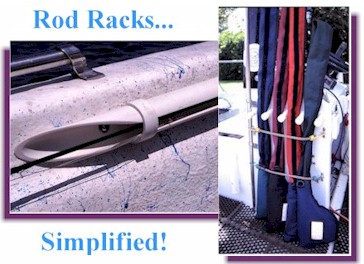 By Dan Blanton
The following photos illustrate how I mounted a couple of 1-1/2 inch pvc tubes that Stan Pleskunas cut for me to provide horizontal rod protection.  Included are photos of simple pvc vertical rod holders, which are designed to hold rigged rods stored in my Rigged 'N Ready Rod Bags.  They are made of 3/4 inch pvc pipe and various fittings – T's, elbows and end caps.
The horizontal tubes are of 1-1/2 inch schedule 40 pvc tubing with a half inch slit cut lengthwise, end to end.  It has a bias cut at one end and is capped at the other.  A simple container clip was fashioned by cutting a 1-inch-wide piece of the same tubing and then cutting a large notch out of it so it could be clipped onto the tube, over the slit, securing the rod inside.  I wanted the tube with a lengthwise slit to make placing the tip section of the rod inside easier.  In fact, two rods can utilize the same tube without tangling.  You don't have to worry about damaging rod guides when inserting the rod tips, which can happen when they are inserted from the tube end.  A piece of foam in the end cap protects the rod tip from being jammed and broken.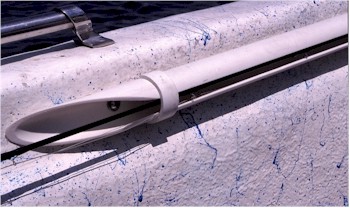 Close up of the horizontal rod tube with rod retaining clip.
This photo shows the 1-1/2 inch pvc tubing bolted to the side of the gunnel near the top with rod retainer clip in place over the tube.  Length of the tube depends upon how much rod tip you need to be covered.  Cut the 1/2-inch slit in the tube with a table saw.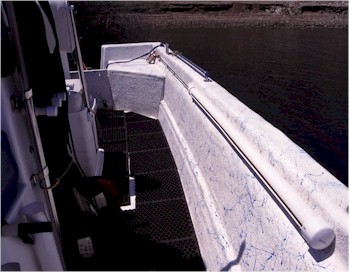 Full View of the horizontal rod tube.
In my skiff I have transom corner storage compartments that I just lay the reel on.  A single, short, rod holder could be bolted to the gunnel near the transom, but this works fine for me.  The main object for me was to protect the rod tips while running, landing fish and from being stepped on.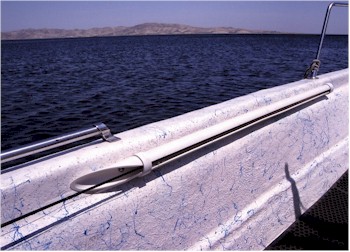 Another view of the horizontal rod tube with rod inserted and clipped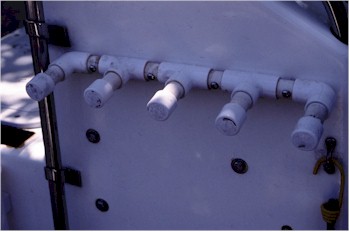 Vertical rod racks made of schedule 40 pvc pipe and fittings.
These were simple and easy to install on the sides of the center console.  Stainless steel screws were used to secure the rack to the console as shown.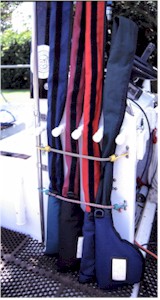 View of vertical pvc rod racks loaded with rods in Rigged 'N Ready Rod Bags.
I can place from 4 to 6 rods in each rack which are located on each side of the center console.  The rods are held in place with bungie cords as shown.  I prefer having the rods in soft rod bags for extra protection and ease of handling and I can actually carry more rigged rods that can be in standard holders.
Of course you can modify these ideas to fit your own needs or you can purchase ready made rod racks.  I chose this route only because I couldn't find manufactured horizontal and vertical racks that could be easily mounted to my hull and because I didn't want racks protruding into the walkway area of the skiff.  I'm very pleased with how this system works.