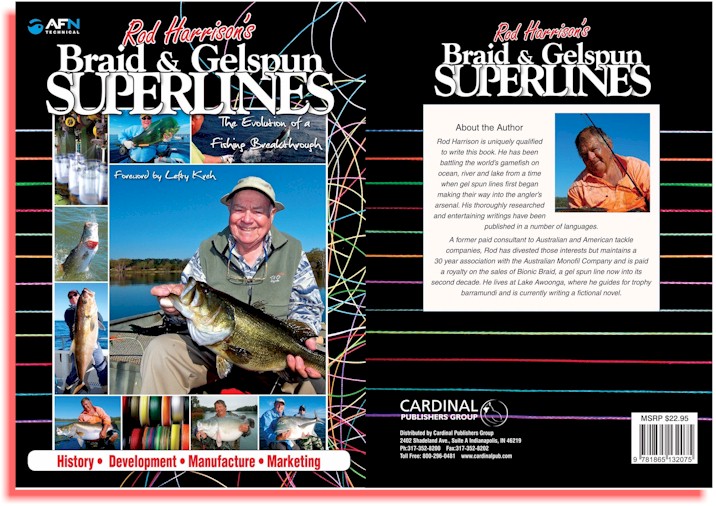 Rod Harrison's Braid & Gelspun Superlines
"If you are using the modern braided lines (gel spun Polyethylene – also called GsP around the world) with your light tackle you need this book… " Lefty Kreh
"No one is better qualified to write a comprehensive work on GsP lines than Autralias' Rod Harrison – AKA – Harro.  He knows the stuff start to finish and all in between.  This book illustrates this better than anything I've ever read on the subject…" Dan Blanton
In the United States the book is distributed by Cardinal Publishers Group, 2402 Shadeland Avenue, Ste. A, Indianapolis, IN 42619; phone: 317-352-8200. Toll free: 800-296-0481 www.cardinalpub.com
MSRP = US $22.95
 Book Review by Jeroen Schoondergang
Like many fishermen, I have acquired an extensive collection of fishing books over the years that I have been fishing. And like many fishermen, I don't jump to attention when I hear that yet another fishing book has been published. Rod Harrison's Braid and Gelspun Superlines was clearly an exception to that rule. When Rod or 'Harro', as he is better known as in the fishing world, e-mailed me that he was working on a book on the new generation of braided fishing lines, I was more than interested. Not only because I enjoy the writings of Harro, but mainly because it is the first book I know off, on a new development that has rocked the world of recreational fishing.
Questions answered
My first conclusion after reading Harro's new 104 page book is that it answered most of the questions I have about the subject and that it left me with some interesting insights in the industry and the world of recreational fishing worldwide.
From start to finish, the book makes clear that Harro knows his stuff and did his homework. In his pleasant, anecdotal style, he explains how Gelspun lines (GsP) came to be after a series of development processes of trial and error. In a next chapter Harro focuses on the different ways of manufacturing GsP-lines, with their pros and cons. This chapter in particular was an eye-opener for me, as it explains what to look for when you are in the market for a good quality and durable line. Like all consumer goods, fishing tackle is often marketed in an aggressive way which means that BS is scooped over the consumer in copious amounts. This is the ideal manual to unravel the mumbo-jumbo manufacturers print on the packaging of their lines.
Another highlight of the book is the chapter on knots. There is much to do about GsP-lines and knots. Unlike monofilament lines, GsP doesn't cope very well with knots. Loss of tension strength of more than 50% is common here, but Harro shows the knots that will optimize breaking strength. I for one will certainly become a regular user of Harro's loop when connecting braid to leaders.
GsP and fishing
The chapters on fishing with GsP-lines, give a good insight in the chances the new lines have created for different styles of fishing that were out of reach in the days of mono and Dacron. Think of speed jigging for giant trevally, bottom bouncing at great depth and vertical jigging techniques which require great finesse.
Harro takes a closer look at tackle. Which reels are perfect for GsP-lines and how to use them? Rods and other GsP-specific hardware are highlighted.
In fly fishing GsP-lines are mainly used as backing. Harro explains the do's and don'ts of using new braids behind a fly line. He gives tips for spooling braid on fly spools, how to fight fish on GsP-backing and, more importantly, how not to fight fish to prevent line or rod breakage or even injury.
Good book?
Critisism? Maybe some of the sidesteps that are so typical for writers as knowledgeable and experienced as Harro. Occasionally he wanders off a bit too far away from the subject, without making a connection with the main subject of the book. But that is about it in my opinion.
When is a book a good book? For me, a good book gives me the feeling that I have learned something, have become a bit wiser. And, just as important, leaves me with the satisfied feeling that comes after a good read. Harro's new book delivers on both accounts.
Braid and Gelspun Superlines is a must for anyone who fishes with GsP-lines, is interested in the industry and techniques and tactics of fishing, or just likes a damn good read.
Rod Harrison's Braid & Gelspun Superlines
ISBN: 9781 8651 3207 5
AFN Fishing & Outdoors: www.afn.com.au