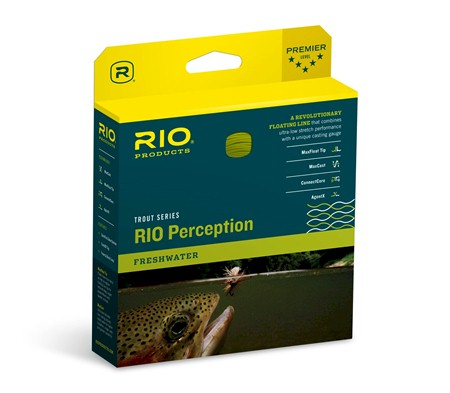 August 1, 2013 (Idaho Falls, Idaho) – RIO Products, manufacturer of fly lines, leaders and tippet material, is pleased to announce two accolades recently awarded for the new RIO Perception trout fly line.
In June, at the European Fishing Tackle Trade Exhibition (EFTTEX) in Vienna, Austria, RIO was awarded the Best New Fly Line for 2014 award for the RIO Perception. In addition, voters at the International Fly Tackle Dealers show (IFTD) in Las Vegas also chose the RIO Perception for the Best New Freshwater Fly Line award.
"To have folks within the fly fishing industry recognize our new line as being the best offering for trout anglers means the world to everyone here at RIO Products," notes Simon Gawesworth, RIO's marketing manager. "These awards give our sales team momentum and helps reinforce that RIO is taking tremendous steps to improve fly lines so anglers can connect with more fish", he added.
Built with ultra-low stretch ConnectCore technology, RIO Perception lines provide unprecedented levels of sensitivity for intuitively better cast timing, easier line lift and sharp, precise mends. The lack of stretch also means enhanced detection of subtle takes and faster reaction times when setting the hook. In addition to the new core, the exclusive SureFire tri-color system improves casting accuracy by making it easy to gauge exact distances with a quick glance. The RIO Perception is available at RIO dealers for $89.95.
To see what the fuss is all about, click on this link to view a video on the new RIO Perception line: the trout line redefined.
About RIO Products:
RIO is a pioneer in developing fly lines, leaders and tippet material to enhance fly fishing experiences across the globe. Offering premium fly lines for both freshwater and saltwater fishing applications, RIO consistently utilizes field experience and scientific testing to create the best products on the market for anglers. Founded 20 years ago in the mountains of Idaho, RIO continues to develop innovative products, design revolutionary tapers and refine performance-driven fly line technologies. For more information about RIO Products, please visit www.rioproducts.com. Connect with us through Facebook, Twitter, Google+ and