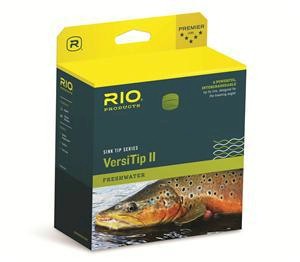 FOR IMMEDIATE RELEASE:
Ocotber 3, 2012 (Idaho Falls, Idaho) – RIO Products, manufacturer of fly lines, leaders and tippet material, is proud to introduce a powerful, interchangeable tip fly line called the VersiTip II.
The new VersiTip II has a short, powerful, front-loaded head for long, effortless distance casts and every line comes supplied with four, 15-foot interchangeable tips – each built with bullet-proof, slim welded loops on both ends for the fastest in rigging. The four included 15 ft tips are a floating tip, a clear intermediate tip with a sink rate of 1.5 – 2 inches per second (ips), a density compensated, Type 3 Sink tip with a sink rate of 3-4ips, and a density compensated Type 6 Sink tip with a sink rate of 6-7ips. The rapid changing nature of the VersiTip II fly line allows anglers to switch tips as fishing and water conditions change.
A unique mending and handling section at the back end of the head enables anglers to mend effectively and control the way the fly fishes at long ranges, while RIO's unique DualTone technology shows anglers where the line loads a fly rod most effectively.
The VersiTip II is made on a supple multifilament braided core and is built with a coldwater coating to ensure there is no tangling when pulled off the reel. In addition, the VersiTip II is manufactured with RIO's AgentX and Extreme Slickness technologies for the ultimate in slickness, shootability and distance.
 VersiTip II lines are available from WF5-WF10 at all RIO dealers and have a MSRP of $159.95.
 About RIO Products:
 RIO is a pioneer in developing fly lines, leaders and tippet material to enhance fly fishing experiences across the globe. Offering premium fly lines for both freshwater and saltwater fishing applications, RIO consistently utilizes field experience and scientific testing to create the best products on the market for anglers. Founded 20 years ago in the mountains of Idaho, RIO continues to develop innovative products, design revolutionary tapers and refine performance-driven fly line technologies. For more information about RIO Products, please visit www.rioproducts.com.