FOR IMMEDIATE RELEASE: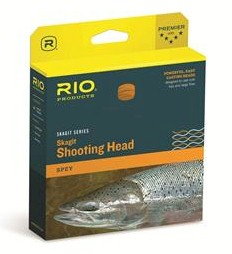 (Idaho Falls, Idaho) – RIO Products, manufacturer of fly lines, leaders and tippet material, is excited to introduce an addition to the Skagit Shooting Head collection – the new Skagit iFlight. Skagit heads are designed for Spey casting with long two-handed fly rods and are specifically made to cast large, heavy flies and fast sinking tips.
The new Skagit iFlight is built on a radically new short Skagit taper, perfected by RIO's Spey experts, to make it even easier to cast. The rear distributed weight deeply loads Spey rods in the "D-loop" and ensures the casting stroke is smooth and efficient, while the steady taper towards the front means the line unrolls with great efficiency. There is enough mass at the front to lift the fastest sink tips and the largest flies making it a perfect fall/winter line.
The iFlight has an 8-foot long, highly visible floating back section that allows anglers to track and control the fly during the swing. The unique clear camouflage intermediate front section sinks at a rate of 1.5-inches per second and is ideal when extra depth is needed, in strong currents, tough winds or when fishing with awkward water hydraulics. In addition, the intermediate front section allows for a much slower swing than regular floating Skagit heads and gives a smooth, clean depth transition between the floating body and the fast sinking tip.
Available in 25-grain increments from 450 grain heads through 750 grains. This line comes in a clear camo/pale orange color. These new shooting heads can be found at any RIO dealer for a retail price of $49.95.
About RIO Products:
RIO is a pioneer in developing fly lines, leaders and tippet material to enhance fly fishing experiences across the globe. Offering premium fly lines for both freshwater and saltwater fishing applications, RIO consistently utilizes field experience and scientific testing to create the best products on the market for anglers. Founded 20 years ago in the mountains of Idaho, RIO continues to develop innovative products, design revolutionary tapers and refine performance-driven fly line technologies. For more information about RIO Products, please visit www.rioproducts.com.