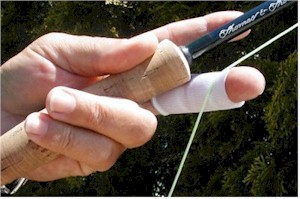 Peterson's Stripping Guards
S
tripping Guards are durable Lycra spandex finger sleeves that fit like skin. Wear one on your stripping finger to prevent stripping cuts. They conform to the contours of your stripping finger so well that they allow for total flexibility and finger-to-line sensitivity. They stay in place all day and perform equally well wet or dry. A box of three will last for numerous outings. If you have ever experienced the pain of a stripping cut and tried tape or band-aids as a remedy, you will appreciate Stripping Guards!
Three Stripping Guards are packaged in a convenient, reusable storage box. Once you try them, you will never want to be on the water without them.
To order: Send check or money order for $5.95 + $1.00 S&H to Peterson Associates, Inc., Suite A9, 3071 Route 35 South, Lavallette, NJ 08735
Mention Dan Blanton's "WHAT'S HOT" page and get two boxes of Stripping Guards for $10.00, including shipping and handling.
Information: Phone/Fax (732) 830-3737
Dealer inquiries welcome
E-mail: gd.peterson@verizon.net
"I've used Peterson's Stripping Guards for several years and all I can say is that I can't fly fish without them!  They are an absolute must fly-fishing accessory, one that will prevent line cuts and burns.  Using one on your stripping finger and also on the line winding finger (as when cranking backing and the line back on the reel) will greatly improve your performance while at the same time provide a prophylactic against cuts and burns.  No more burns from dry lines or cuts from slicing backing!"… Dan Blanton