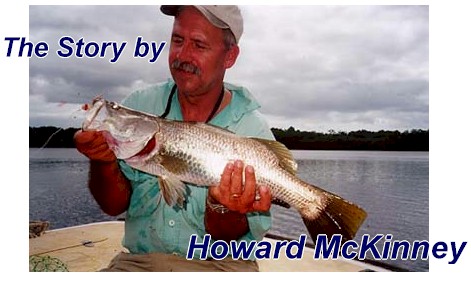 Howard McKinney with a nice Barramundi taken on a Poon Wiggler
Howard's Poon Wiggler
It all started in the Florida Keys.  My guide of 10 years, flats fishing guru and master angler Captain Simon Becker, shared a magical event where during certain tides on slick flat conditions tarpon smash tiny floating flies off the surface.   Close your eyes for a moment and try to imagine what it is like to be surrounded by swirling, slurping, popping, rolling  tarpon between 20- and 120-pounds .  When a fish rolls within range, you make a cast and retrieve your floating fly like a wounded critter fighting for life. The take can be anything from a gentle slurp to an explosion like a depth charge going off at the end of your leader.  As strange as it sounds, we have actually folded the points on our hooks and spent the tide just casting to feeding fish for that unbelievable grab and first jump. We would let the school settle down and then would carefully pole back into range and jump a couple more.  I have been fly fishing all over the world for most of my life, and these have been some of my most exciting fishing days.
The first fly that Simon handed me was a small deer hair bass bug tied on a heavy saltwater hook. It worked incredibly but became waterlogged after a few  fish and would not stay on the surface.  The next year he was using the "Sweet-Lips", a Steve Huff pattern very similar to a Gurgler, commonly used for snook and a hoard of other fresh and saltwater species.  We ran out of those the first day of my 8 day trip, so necessity being the mother of invention, we fashioned a little floating bug using craft fur, crystal flash and soft, closed-cell foam that we use for sailfish popper heads, back at the hotel room.  The first tarpon we cast it to gobbled it like it was its last meal.  After jumping several fish the fly started acting differently.  When it was stripped, it would dive below the surface.   We figured  it was time to tie on a fresh one but under closer examination we saw that the fly was actually behaving like a Rapala lure, wiggling, slithering and diving upon retrieval.  The last fish had cut the foam leaving a diving lip.  Now we had a fly that could be twitched on the surface, stripped a few times to make it dive and wriggle; and, when the retrieve was stopped, it would wiggle it's way to the back to the surface.  The tarpon would not leave it alone!  The action that followed was mind boggling…
Winters in California leave me craving my May and June dates with my two best fishing buddies and flats guides, Simon Becker and Bill Stroh in the Florida Keys.  The only therapy for my cabin fever is at stint at the tying desk.  After many trips to the craft store and hours at the vise, a pattern has emerged that has been eaten by almost every species it has been cast to.  Although it was developed as a tarpon fly, it has fooled redfish, tripletail, dorado, black bass, Australian barramundi, mangrove jacks, giant herring, golden trevally, jack crevalle, African pike and nembwe bream.  All of this in less than a year!
I love a fly that is tied from common materials. The sailfish foam was traded in for winter poly-pipe insulation (only because it comes in a perfect tan color) and the diving lip is now fashioned from a product called craft foam, found in most good craft stores.  Tie a handful of my Poon Wigglers and throw them at your favorite fish!