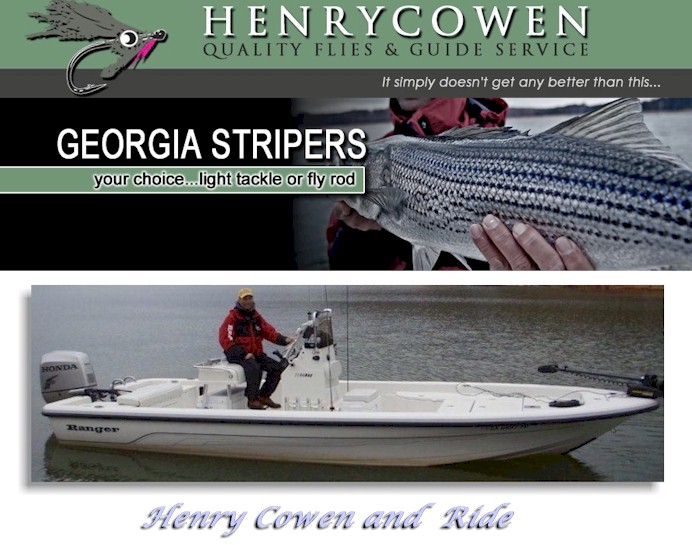 Henry has been pursuing striped bass on both fly and light tackle for over 30 years in both Saltwater and Freshwater. His reputation and knowledge precedes him as being a leader in the fly fishing and fly tying industry.Henry currently guides on both Lake Sidney Lanier (north of Atlanta, GA) and Lake Allatoona (northwest of Atlanta, GA) for stripers and trophy spotted bass. He is an accomplished fly tier  and outdoor writer as well. As an Umpqua Feather Merchants fly designer his flies are available at many fly shops around the United States as well as in the Orvis and LL Bean catalogue.His flies, as well as the articles on how to tie them continue to appear in magazines such as American Angler, Flyfishing in Saltwaters, Fly Tyer, Flyfishing America and Fly Fisherman. His articles on fly fishing techniques and tactics appeared regularly in Salt Water Fly Fishing Magazine as his name was on their masthead as a contributing writer. Henry's name now also appears on the masthead of both American Angler and Fly Tyer magazine as a contributing editor/writer.Henry is also an FFF certified casting instructor. He is well known for his many seminars on salt water fly fishing as well as fresh water fly fishing for striped bass, Kentucky spotted bass and carp.He has appeared, as a guest, on a number of nationally televised outdoor shows (The Orvis Sporting Life, Growing Up Outdoors, The Reel Guys, One More Cast w/Shaw Grigsby and Oneill Outside) as well as some regional outdoor television shows (Georgia Outdoors etc). He is also the fishing personality on the video "Flyfishing for Landlocked stripers" which is available at many fly shops around the country.Henry was recently named to be on the Yellow Dog Fly Fishing Adventures esteemed "field advisory staff".Henry is currently on pro staff with Humminbird Electronics. He is on the guide programs for Sage, Simms, Tibor, Rio, TFO and Orvis in addition to Ranger Boats, G3 Boats, Yamaha Marine and Johnson Outdoors (Minnkota trolling motors).Guide Service

Season: Year Round

Species: Stripers / Spotted Bass

Fee: $300 for 2 anglers (1/2 day)

Occupancy: 3 anglers maximum per guide
 (2 anglers can fish at one time)

Includes: 4 ½- 5hrs of guided fishing and equipment

What You Need To Bring:

State of Georgia Fishing License – You can purchase a fishing license by going on line

Food

Drinks

Sunscreen

Raingear (if inclement weather)

Camera

Important: Please do not wear black bottom shoes.

 *NEW*

The Witching Hour Trip was created for people who love to get out on the water before or after work. It was designed for fly or light tackle anglers to come out to fish at a time when all of the other boats are at the dock. When the sun starts to rise or set and the perfect low light is over the lake, the fish seem to feed on the surface. We will fish for about 3-4 hrs.

Witching hour trips cost $250.00

All trips that originate on Lake Allatoona are considered "witching hour trips" and will be taken on my 16 ½' G3 boat and can only allow for 2 anglers.

Our guide staff is comprised of patient, hard-working professionals. Our guides spend more time on the water than anybody chasing the elusive striped bass. Their ability to work together and share information makes them a powerful and productive team, with intimate knowledge of both Lake Sydney Lanier
 and Lake Allatoona.

More importantly, our guides are all patient instructors who can help make a fantastic day on the water for anglers of all skill levels and experience.

 

We use a 2200 Bay Ranger with a Honda 225 on our Lake Lanier trips. Called the "ultimate bay boat", the 2200 Bay Ranger has quickly become known for its detailed finish, and overall versatility. At the stern, an integrated engine set-back works with a specially engineered tunnel between the hull pad and outboard for easier operation in the shallows. Combined with a low profile design, the extra wide 8′ 4 1/2″ beam delivers more comfort, less wind resistance, and an extremely dry ride. The large, unobstructed casting decks are ideal for fly fishing and the oversized gunnels deliver a 360° fishing platform. The highly maneuverable hull design also includes a raised bow for an impressively dry ride in rough water. Discover just how smooth, solid, shallow and stable a bay boat can be. You are assured a comfortable ride and easy casting on your trips.

 

If you are interested in obtaining the services of our excellent guides, please give us a call, at

678-513-1934 or EMAIL to book a trip today.