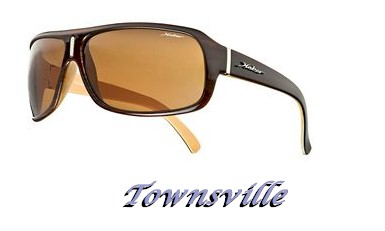 Welcome the new Townsville, Haber's combination of virtually unbreakable Trilon™ frames and revolutionary Haberlite™ polarized, high impact lenses make this a great choice for active people. It doesn't matter whether you're sitting on a boat off the great barrier reef or scanning the rivers of the great westernU.S., the Townsville delivers with style and performance.
"I have been wearing the new Townsville for about a week now and I'm totally enamored by them.  I like the new larger lens and its shape, providing more area of sun-blockage.  The frames are super and I really like that they are un-breakable.  Dan Blanton"
Recommended Use: Recommended for all action sports including fishing, skiing, cycling, water sports and general use. Comes with a micro fiber pouch/cleaning cloth to keep you seeing clearly.
FRAME: Terralon™  environmentally friendly, virtually unbreakable frame, and overall forgiving feel.
     
FIT: Medium / Large
    
FRAME SIZE: 70 x 19 x 117 mm
    
LENS MATERIAL: HaberLite™ Polarized
The flagship lens in our polymer lens offering, HaberLite™ is the finest in a new generation of polarized lenses that provide not only the highest levels of protection from harmful U.V. radiation and blue light, but also unprecedented impact protection.
HaberLite™ polarized provides impact resistance that exceeds polycarbonate with the optical clarity of the best glass lenses. HaberLite™ lenses exceed ANSI standard Z-87.1 for impact resistance in addition to the optical standard ANSI Z80.3 for sunglass lenses. With HaberLite™ you can be assured you're getting optical quality and U.V. protection that exceeds ANSI matched with impact protection that not only exceeds ANSI, it sets a new standard.
LENS GEOMETRY:Optically correct 8-Base
 For more information about Habervision Sunglasses go to our website www.habervision.com