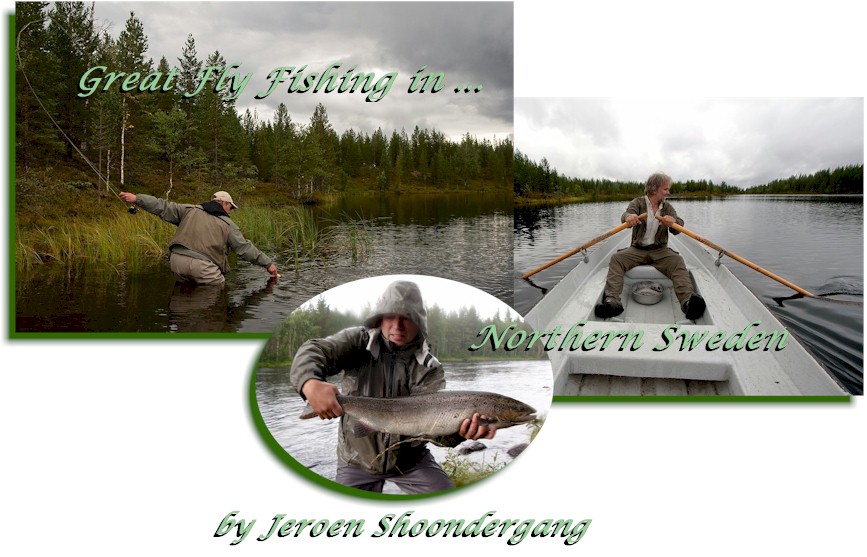 Byskeälven and Tjärnheden, two fly fishing gems in northern Sweden
By Jeroen Schoondergang
Anyone who is willing to venture into the northern Wilderness of Sweden can expect to find some genuine fly fishing gems. The salmon river Byskeälven and the Ice-age lakes of Tjärnheden are two of such gems. Klaas-Jan Gorter, who runs the Culex-Lodge, will gladly accompany you there.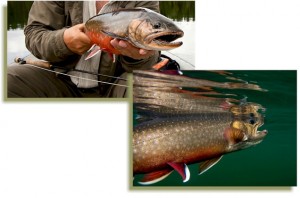 Fishing is a staple part of life for most Swedes. They grow up with weekends on the lake or river, harvesting whatever the forest and the water brings them and cooking up a lunch with berries, wild mushrooms and fish. You can sense this approach to fishing as a way of life when you are a guest at one of the Swedish fishing camps. Guides and other staff are true blooded outdoors people, who first get you on the fish, then prepare you a fire and cook you up a first class meal. From the moment you put your fly rods in the birch-wood fly rod rest, you are home.
The camp at Tjärnheden near the northeastern part of Skellefteå is just such a place. Owners Sara and Sonny Holmberg know what their guests want: comfort in a harsh environment. And they want fish of course, big fish on fly. Both wishes are catered for. The lakes are well renowned for the quality and numbers of fish that will (sometimes readily) rise to your fly. A stay at Tjärnheden is something you will never forget, as the lakes have a population of grayling, brown trout and arctic char in mind blowing sizes.
The char is the star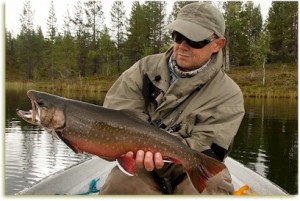 The lakes of Tjärnheden are fly only territory and the party you arrive with are the only people you are likely to meet during your fishing sessions on one of the five lakes in this area. A day here usually starts with a short explanation by Sonny or Sara. Most of the people visiting this place will have a hard time concentrating on listening to this introduction, as their eyes will wander off along the shoreline. Big fish don't stop feeding when Sara and Sonny are talking. Ten to one you are likely to sneak off with a fly rod to drop a sedge over one of the wakes. And ten to one you'll get a heart-stopping strike from one of the resident grayling that grow to well over 20". Don't worry about this behaviour. Sara and Sonny are used to it and don't consider it to be rude. Actually, they see it as the best compliment you can give them.
The camp has a central tipi, or Kåta, a tent used by the nomadic Sami people when they are herding their reindeer (regular visitors of the camp). This tent will be your place to spend the night and take cover from rain. Outside there is an open fireplace with benches around it, the birch-wood rod rest, a couple of belly boats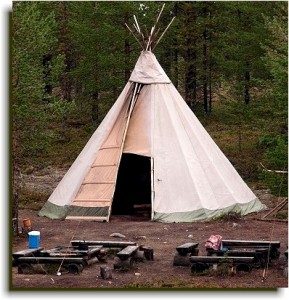 and a small rowboat. You can walk the shoreline, strap on your flippers and take the belly boat, or hop in the rowboat with a mate and start fishing right away. For the more adventurous the other four lakes are a short hike away and not as well fished and documented as the 'camp-lake'. They do share the same characteristics though – deep holes in the landscape that were formed during the great ice age. The fish inhabiting the lakes are from strains that are the same age as the lakes.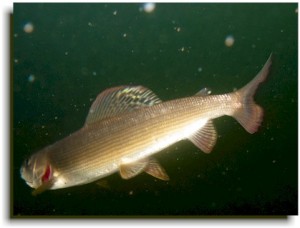 Those first shoreline grayling are just the prelude for what is about to happen during a typical day on the Tjärnheden lakes. Not the grayling, but the arctic char is the star of this area. These fish can be shy, but are more often aggressive feeders. They readily take dry flies, like sedges (to hook size 8!), emergers and if they are in one of their moods, gnat imitations down to size 24 and smaller.
Wait for it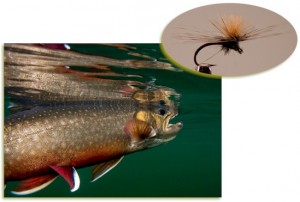 Once you have found a school of feeding char, seducing them into taking a fly isn't very difficult. Hooking one is a different story. The char are notorious for making an appearance. They slide underneath your fly in the crystal clear water. After a short examination and giving their seal of approval, they sweep the fly from the surface. And that is the moment when you should stay focused. Strike on the visible take and you'll get your fly back without a fish. So wait for it and give the fish two seconds to turn away, before placing a subtle strip strike. That will seal the deal.
The arctic char of Tjärnheden reach respectable weights. They are around in double figures, but their average weight is around four pounds. During early summer (that is when the lakes become ice free) the chars are silvery and pale red. But nearing the autumn their bellies will turn bright red and the males will develop a distinctive kype, a prolonged lower jaw that many male salmonids grow when it is time to spawn.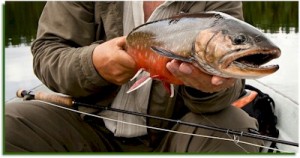 Fishing the lakes is for the best part of the season a dry fly affair. Only when fish don't show themselves regularly, fishermen switch to a British style teamed wet fly combination, heavy nymphs or streamers like woolly buggers, small zonkers or a Mickey Finn. Besides arctic char and grayling (European grayling Thymallus thymallus), the lakes have a healthy population of large brown trout. Tjärnheden is fly only and catch and release fishing, apart from the fish that will be served as dinner or shore lunch.
Sara and Sonny also arrange ice-fishing trips for char, grayling and northern pike and hunting trips for capercaillie (a large woodland bird), grouse, ptarmigan, black grouse and hare.
Byskeälven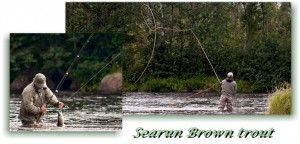 A short drive south of Tjärnheden runs the Byskeälv, a river well known for its excellent runs of Atlantic salmon and sea run brown trout. Klaas-Jan Gorter, a Dutch salmon fanatic, has set up his Culex-Lodge here. His lodge accommodates for anyone who wants to get in touch with Byske-salmon. The river is typical for northern Sweden, wild, wide with a bottom covered with big boulders. Wading can be hazardous, and the shoreline is for the best part covered in pine trees. On some of the stretches this will limit the possibility for a proper backcast, or even a proper D-loop, to a minimum. This is why most fishermen on the Byskeälv turn to Scandi-style fly fishing. They use14' rods with heavy shooting heads, measuring between 30 and 45 feet. The fly is placed by making two to three roll casts, the first to get the line out of the water (you'll be mostly fishing intermediate or sinking lines) and the last to shoot the line across the run. After that it is a matter of mending the line to get the right swing.
The Byskeälv isn't a spate river, but it does rely heavily on rainfall to get things moving. Dry spells will limit your chances of hooking a salmon to near zero and only night fishing might bring some sea trout action. But as the rain comes (judging by statistics, often around mid-July) fishing can turn from bad to spectacular in a matter of hours. On average the salmon in spring and the early part of summer have a good average weight of around twelve pounds. Later more grilse will start to run.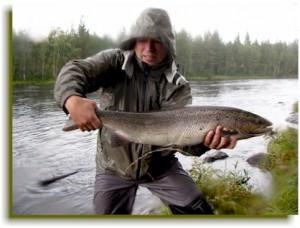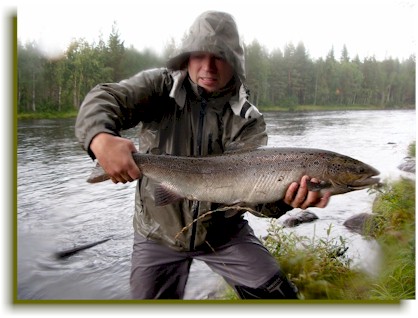 Some of the beats, especially the ones close to the Baltic sea, are easier to wade and run through slightly more open country. These beats can provide some excellent salmon and sea trout fishing with shorter rods. Especially on these beats (but also on other parts of the river) you'll find some very good grayling and brown trout fishing.
Klaas-Jan caters for beginning and experienced salmon fishers. He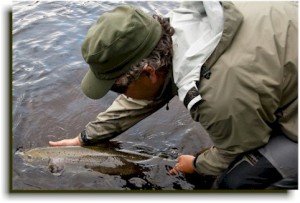 can arrange guided fishing trips on the Byske, or a made-to-measure trip with salmon fishing workshops and casting tuition. His Lodge is situated near a lake which is full with northern pike. Several smaller rivers run through the area, providing challenging fishing for grayling and brown trout. If you stay at Culex Lodge, Klaas-Jan can also take you for a one- or multiple-day trip to the arctic char of Tjärnheden.
Come prepared
Much like the far north of the American continent, Northern Europe is mosquito and gnat country. Come prepared with protective clothing and insect repellent (Deet-based). You will probably get bitten anyway, but that is all part of the northern experience.
The weather can turn from delightful to nasty in seconds. Bring good waterproof clothing and dress in layers. Be prepared for some very cold nights.
Tackle and flies for Tjärnheden:
9'rods capable of medium and long, accurate casts, in sizes #4 to 6. For belly boat fishing many locals prefer a 10' rod. WF-floating lines and leaders up to 12' in length. Tippet sizes from 2X to 5X. Take into account that the lake has some very big fish and that under normal circumstances char and grayling aren't particularly leader shy.
Flies: dry: sedge imitations in brown, black and grey (size 14 to 8), emergers (klinkhammers) in brown, light grey and black. Terrestrials like hoppers and ants (in summer and autumn).
Nymphs: gold bead hare's ear and pheasant tail. Weighted scud patterns, all in sizes 16 to 10.
Streamers: black zonkers, leech flies , like the woolly bugger, mickey finn
This selection will also fish well on the trout and grayling stretches of the Byskeälv and other rivers in the area.
Tackle and flies for Byskeälven:
14' rods, with Scandi setups: heavy (to 800 grains) bellies and running line. You'll need lines in floating, intermediate and sinking, depending on the water level and fish activity.
Flies: in spring heavy tubes in black and silver or orange/red. As the season progresses smaller hook sizes and tubes in colours black or brown/red, silver/black, silver/red, purple/red.
Single hand 9' #9 for salmon, 9' #7 for sea trout. Sea trout will take flies meant for brown trout and grayling. In summer they will become more active as night falls. On overcast days they can be caught during the day.
Getting there:
From Sweden's capital city Stockholm there are several daily flights to Skellefteå. The flight will take about an hour. Both Klaas-Jan and Sara and Sonny can arrange to pick you up from the airport. If you like to travel by yourself, than car hire is available at the airport.
Salmon fishing on the Byskeälv, made to measure fishing trips in the area: www.culexlodge.com 
More information about fishing in Tjärnheden: www.natursafari.se