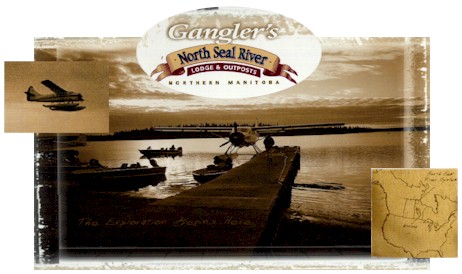 Join Dan Blanton & Ken Hanley
At Gangler's North Seal Lodge
July 2 through July 9, 2005
Located in
Northern Manitoba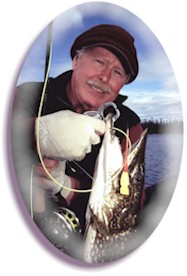 Gangler's is proud to again host two of the world's most well-known and respected  fly fishermen, Dan Blanton and Ken Hanley for a great week of camaraderie, learning, and, of course, world-class fly-fishing, July 2 through July 9, 2005 !
Dan has fished with us a total of six times and this will be his third trip to the amazing fishery of the North Seal River.  The 2004 trip co-hosted by Dan and Lefty Kreh was a huge success and Dan is very excited about returning in 2005 with Ken Hanley and friends.
Dan became addicted to Northern Canada fly-fishing on previous visits with us and is extremely excited to be co-hosting his third trip to the north Seal with Ken Hanley, his close friend of more than 30 years.  Trophy pike, lake trout to 45 lbs., walleye to 12 lbs., and some of North America's largest Arctic Grayling thrive in these waters and it will be an exciting, action-packed fly-fishing week.
This will be Ken's first visit to Ganglers lodge and the North Seal River.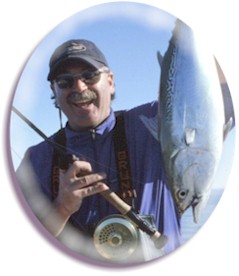 While this will  be his first experience pursuing explosive pike on the fly, Ken is no stranger to hosting groups to exciting angling destinations – world wide.  He has vast experience both in fresh and saltwater, catching a horde of fly-eating critters.  Ken exudes excitement and enthusiasm and is a pleasure to be around.
The structure of the week is very simple- RELAXED. This is not an 'official' clinic and there are no extra charges.  It is simply an opportunity to hang-out with two of fly-fishing's greats, pick their brains, and enjoy some of the world's finest fly-fishing opportunities.
"The North Seal is a vast drainage that hosts Lakes and rivers that hold the kind of pike, Lake trout and grayling a fly fisher dreams about…"
Lefty Kreh
"My old friend, Lefty Kreh, is the one who first introduced me to pike and Lake trout on the fly in Northern Saskatchewan.  Since that first experience with those surface blasting, fly-eating pike and broad-shouldered, bull-dogging lakers I just can't seem to get my fill of them.  Lefty has never steered me wrong and my first trip to Gangler's Lodge on the North Seal River in 2002 was splendid.  Our July, 2004 trip was a huge success and  without a doubt produced the best pike action I've experienced in a decade.  The numbers of big fish were staggering!  I can't wait to share this incredible experience with Ken Hanley."
Dan Blanton
"I can't wait to experience the heart-stopping action of Canada's northern pike. Gangler's Lodge is perfectly situated to provide a grand home base for this adventure. With the addition of lake trout, grayling, and walleye, I'll be kept busy… that's for sure!"
Ken Hanley
Space: limited to 22 people.
Price from Winnipeg: 7 days, food, lodging, guided fishing and charter air transfer – $ 3,495.  Fly-outs to additional lakes are extra.
Deposit: is $900, due within 7 days of booking and should be sent to Gangler's Fly-in Lodges, 1568 E. Wedgewood Lane, Hernando FL, 34465 – Phone 352-637-2244.
New additions: The lodge is adding two Polaris Ranger ATV/trucks to each end of Egenolf Lake (main lake).  This will allow guests easy portage access to the lakes on either side, Minihuik and Blackfish.  Each vehicle will handle 4 anglers, 2 guides and gear.  Both lakes are dynamite and this doubles the amount of water main lodge guests can now access – with no extra fees!  When including the fly-out in the package price, main lodge guests can now access six different lakes as part of their regular package, plus have access to the other 16 fly-out lakes at an extra fee.
All Gangler's fee schedules and policies apply –  bar and beverages not included and tip averages around $200 per person.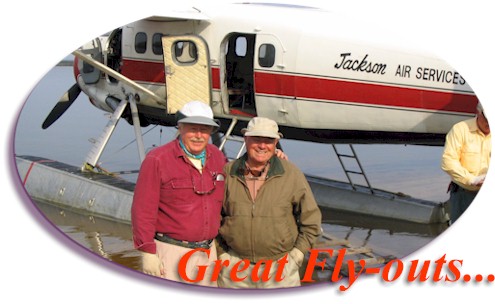 In addition to the superb fishing available on the lodge's home lake, Egenolf, there are dozens of superb fly-out lakes that teem with trophy pike, lakers, walleye and grayling, all within a short 25 to 40 minute float plane flight.  Experiencing a couple of these exciting fly-outs during your stay is highly recommended.  Many fly out several times during a week's stay.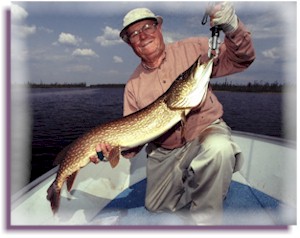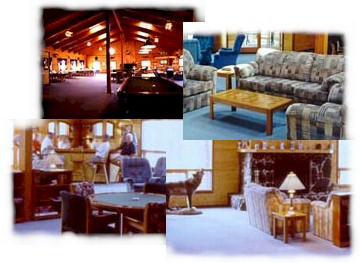 The Lodge


Angler Accommodations


Lodge Boats
Some photos of the 2002/2004 trip below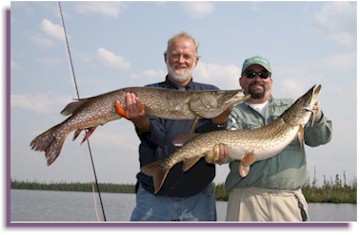 Jim Anderson and Mike Matica 2004
Double Trophy Pike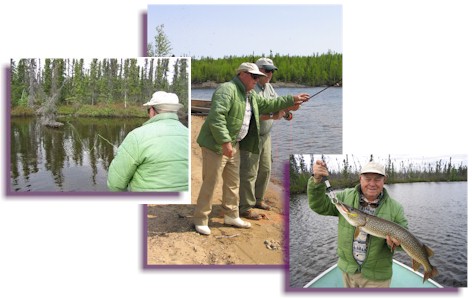 Lefty Doing His Thing…
To Make Reservations for Dan & Ken's Week
July 2 – 9,  2005
1-866-51-LODGE
A deposit of $900 US is due within 7 days to confirm reservation.
Visa, Mastercard and American Express are excepted with a small service fee.
All deposits are non-refundable
Book now – this week is going to fill fast!
Visit our website