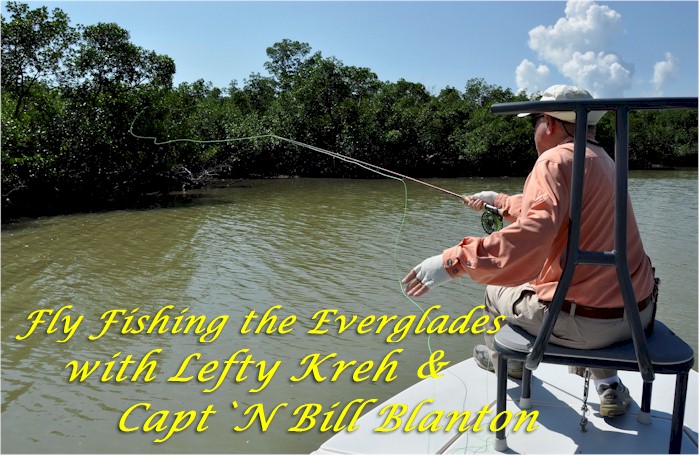 By Dan Blanton
When it comes to fishing trips lots of folk's philosophy is that it's not so much about the fishing but more about the experience; the interaction between friends – the total landscape – and not about the catching. Well, for me, catching fish is right there at the top too. Who doesn't like to catch fish, lots of them…?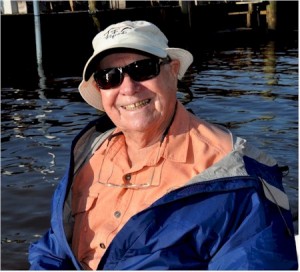 Well, I just returned from a week's fishing the Everglades and 10K Islands out of Chokoloskee with Captain Bill Blanton and my life-long pal, Lefty Kreh. I can tell you this: if we had never caught a single fish it would still have been a trip-of-a-lifetime. Lefty will be 89 this coming February. We have always tried to fish someplace together at least once a year but couldn't the past two. We put it together this year with Coz, Captain Bill Blanton and I'm so glad we did.
Lefty could only fish the first three days with us since he had obligations later in the week but spending three days with Lefty makes any trip the best it could be, regardless of the fishing action.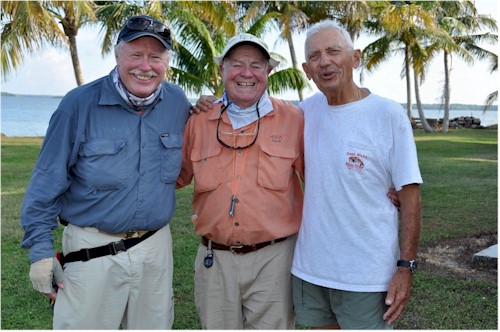 We stayed in Chokoloskee in Ted Juracsik's guest house, right next door to Ted's home and were able to visit a bit with Ted. He's a hoot to hang with too. When you've got Lefty and Ted together be prepared to have your face and belly ache from sustained-laughing. Those two just feed off each other.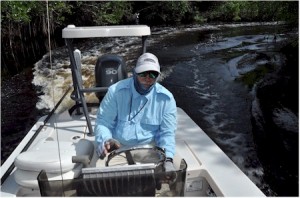 The first three day's fishing was slow but just sharing a skiff with Lefty more than made up for the lack of action. Captain Bill poled his ass off for us keeping us on point and casting to all the best and most likely-looking water. He covered more than 60 miles a day hitting all his high percentage spots based on what the tide and winds were doing. Actually, a huge part of the problem of not finding many fish or larger fish was because the tides were wrong way – low tide at sunrise, with a booming incoming which dirtied the water, especially on the Gulf side, along with 10 to 15-plus wind. Things got better later in the week when the tides were more favorable. We did have one day with fairly strong wind and rain squalls which didn't help either.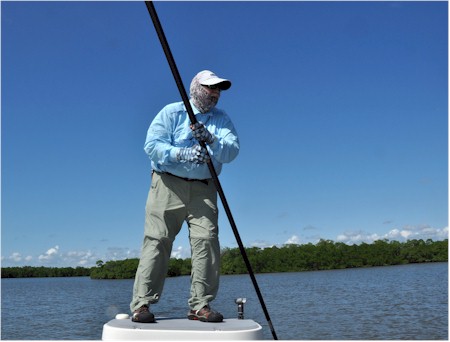 Lefty actually didn't fish much preferring to just shoot photos and visit. I have to tell you though, that even when sitting down, Lefty would drill his casts into the tight pockets like his fly line and fly were laser guided. His loops were tight enough to pass through a screen door. The man never ceases to amaze me.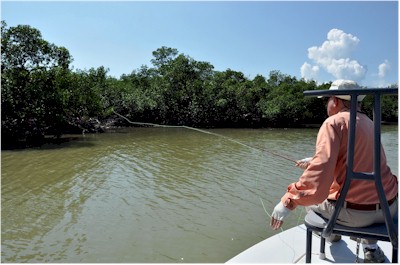 The best two days of fishing were Thursday and Friday (naturally after Lefty left for home). Bill put me onto lots of small snook and some medium-all-purpose reds, plus a smattering of jacks, ladyfish and snapper. The top day resulted in 38 small snook and two reds, followed up the next day with a score of 18 snook and two reds. Again, we never saw a decent sized snook but the small ones were still a hoot on top-water.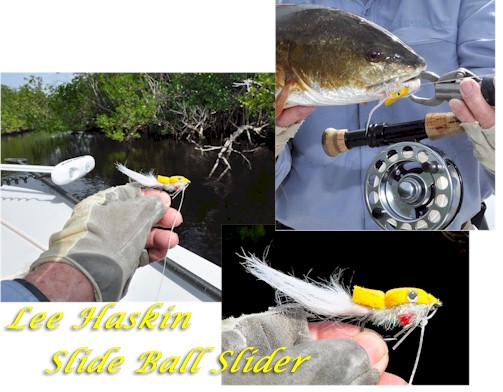 The hot fly was Lee Haskin's "Slide Ball Slider" in yellow and white, about a size 1/0. Both the snook and the reds loved it. The other productive fly was my Mini-FT Whistler in white/chart/blue and Lee's Neutralizer in tan/chart. I found that the SBS fished best for me on a RIO Outbound Short Tropical Intermediate line. I'd fish the fly dry for about 10 feet or so and then after the line pulled it down, I'd pause to let the bug float upward again for a startling blow-up. Most of the fish took it dry within the first couple of feet of the bank. The intermediate line was much easier to cast with accuracy in the wind. I don't think I'd fish a floater in that area again. I just love the ROS lines in both cold-water and tropical versions.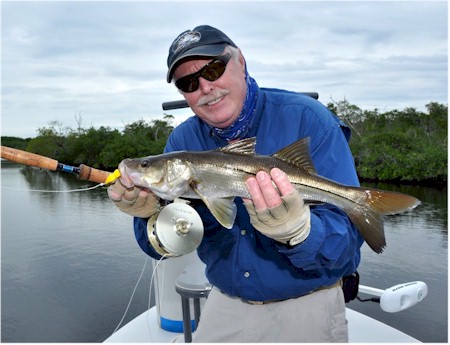 We never got a good shot at tarpon although we saw a few working in a serious mullet mud along with a bunch of sharks. The water was thick enough to plow though and more than one tarpon blew off our hull before we got a look at it. Even when placing a fly in front of a roller, the poon either didn't see the fly or didn't want it. It was exciting nonetheless.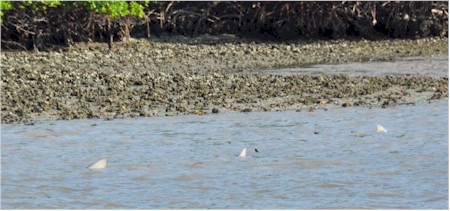 Bill and Lefty hit it off like long lost brothers and between the three of us, the stories were endless and the laughing never stopped until we hit the sack.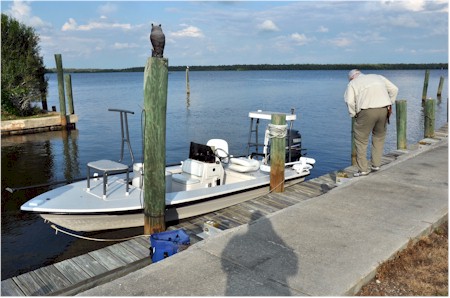 I want to thank Captain Bill again for his hospitality and hard work. This was the second time I've fished the area with Bill and I'd never hesitate to fish with him again or recommend him as a guide. He has a superb, well-equipped skiff and he knows what he is doing. I know Lefty was impressed too.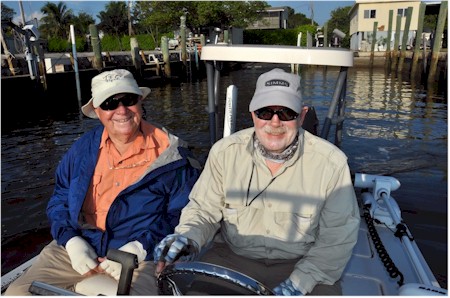 All toll, it was the best five days I've spent fishing anywhere in a long time and I'm so grateful I was able to spend three of those days with my best friend in our sport and industry – my pal, Lefty Kreh.
Love you Lefty, you're the best!
Dan
More Photos