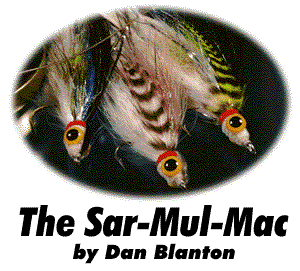 Salt water fly-fishers who tie their own flies often face an incredible dilemma when first preparing for a major excursion to an exotic angling destination, the likes of Ed Rice's "Blue Water Invitational". The dilemma? What flies to tie, which are the best and how many of each version in various sizes and colors must be tied in order to cover all the bases. For anglers like me, tying time – or lack of it – becomes a major issue. Solving part of the problem requires research to determine what patterns have a successful history.
Signing on with Rice's bluewater, long range fly fishing adventure, for the first time a couple of seasons ago, required some pattern advice from the top rods of blue water fly-rodding. They all produced a list of their favorite offshore flies for me, most of which were their own creations – all great, and proven patterns.
I've always hedged my bets when heading for unfamiliar turf and you can rest assured that I tied plenty of each of those they suggested, despite the fact I fully intended to stock the majority of my boxes with my own, time-tested saltwater monikers. Heading the list, was my Sar-Mul-Mac in various sizes and colors, a fly that has stood the test of time for more than two decades – the forefather of all the "eyed" anchovy-style flies you see today.
The first fishing day of our 10-day offshore odyssey, found me at the rail, rod in hand at about 8:30 a.m., and just barely over the worst case of sea sickness I'd experienced in 25 years. I was positioned in the starboard corner, backup to the "next-up" angler, readied at the port side. The cobalt ocean, now placid, was full of Striped marlin and monster wahoo, and was looking more like a pin cushion as dozens of thrashing bills pierced the surface, slashing at frantic baitfish. The air was electrified and our excitement had reach its Zenith.
The next up angler was rigged and ready for marlin and would get the first cast once the boat was placed in neutral and live mackerel where tossed over board to entice the crashing billfish to within casting range. In order to capitalize on the possibility that wahoo would also streak into the wash, I had armed a sardine version of my Sar-Mul-Mac with a wire bite leader. The plan was that if the first caster hooked up, I would then immediately cast into the carnage, looking for a wahoo hookup.
Number one got bit almost instantly, his marlin off and running. I slammed my fly into the wash and it was nailed almost before I could make the first strip. I fully expected to have 250 yards of backing instantly ripped from my reel by a torpedo-sized "hoo". Much to my amazement, though, a 100-pound Striped marlin shouldered its way out of the water, hauling gallons of water skyward, spraying the air with millions of droplets, glistening like diamonds in the golden sunlight.
"Surprised", was a gross understatement!
The rooting gallery watching from the upper deck roared in delight as the massive fish careened in and out of the sea in a series of magnificent, gyrating leaps as it headed for Guam. All I could do was hang on, hoping the deck hands would get one of the inflatable skiffs launched in time so we could give chase – the only chance any of us would have to land a marlin on fly while casting from the mother ship.
I really didn't expect to land the striper. I didn't. It billed me off after about the eighth jump, so far out on the horizon that it looked like a flying fish instead of a 100 pound marlin. No one likes to lose a fish, but I was extremely pleased that the marlin had eaten my Sar-Mul-Mac without hesitation – I had just added another species to the list of dozens that found favor with my old standard.
During the course of the trip my Sar-Mul-Mac, in several versions, produced hugely for me, with species like Yellowfin tuna, world record class Black skipjack, Sierra mackerel, Lady fish and others. It cast shadows on most of the other patterns I tried. I did hook several big wahoo on them, as well, but didn't land any. Ditto for marlin. With these species, Murphy's Law prevailed! Thank God for the tuna and skippies – my only success story that trip…
I originated the Sar-Mul-Mac (sardine-mullet-mackerel) in 1971, and, frankly, it was a decade ahead of its time. To my knowledge the only other flies that came close to it were Bill Catherwood's patterns, which were an inspiration to me. My first patterns incorporated glass optics. Today I glue on solid, plastic eyes. And, of course, I now have taken advantage of new materials like flashabou and crystal flash – all of which have improved the fly's performance.
The Sar-Mul-Mac in a variety of sizes and colors will fish as well or better than any other pattern existing today, anywhere, anytime, both in fresh and salt water, for a huge variety of species. You can count on them to produce anywhere on the globe – I'd put money on it!
Following are the tying instructions for one of my favorite versions – the sardine pattern of the Sar-Mul-Mac, which does an outstanding job of simulating sardines, cavallito, herring, a variety of shad, and other similar baitfishes. In addition to those species already mentioned, this is one of my favorites for both freshwater and saltwater striped bass, particularly where the larger shad species are the principal forage fish. Delta black bass love it, too…