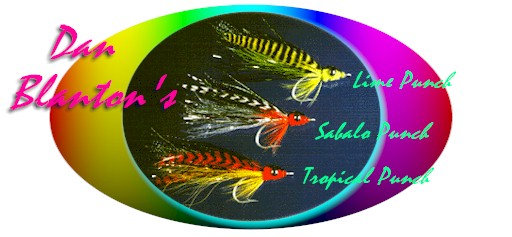 The Story
by Dan Blanton
I created my first Punch – the Tropical Punch – around 1980 to entice flats and channel snappers, snook and baby tarpon.  It proved to be deadly on Rio Chico, Venezuela snook and tarpon and later shined with dozens of other species, fresh and salt.  When it comes to taking our Pacific rock bass and other reef species, the Punch series heads the list of productive monikers – especially the Tropical Punch and Lime Punch.
| | | |
| --- | --- | --- |
| Flamboyant Vermillion rock bass taken on a Tropical Punch | A much younger Dan Blanton with one of many Punched snook | A typical Olive Pacific Rock bass taken on a Tropical Punch |
The Punch is a style very similar to my highly productive Sar-Mul-Mac but is just smaller and somewhat simpler to tie.  I wanted a small, gaudy attractor-type baitfish pattern to entice a variety of tropical game fish which often feed on brightly colored reef species and shrimp.  The Tropical Punch was the first of the series and it has been a huge success over the years.  It is carried by Umpqua and is a great seller, world wide.
One of my most memorable experiences using my Punch patterns was in the mid-80s fishing for the first time at Rio Chico Venezuela for baby tarpon and snook.  A few fly fishers had given this wondrous tarpon nursery lagoon a try with flies, but without much success.  My wife, Cindy, and occasional travel buddies, Jim Anderson and Bill Scott booked a trip to fish the Rio Chico in late Septemer, 1987 to test the waters for Fishing International.  Our host that first trip and several others following, was Alex Sauter, a German fly angler who had moved to Venezuela to ferret out great fly waters.  He scored a big time find with Rio Chico which is actually Tacariqua Lagoon, about 3-1/2 hours drive south of Caracas.  The lagoon is part of a National wildlife refuge, protected from commercial fishing.  Excellent baby tarpon and snook fly fishing continues there today.  We tried lots of flies the first day or so of a five day stint, but nothing proved as deadly on those fish as my Tropical, Lime and Sabalo Punches tied on 2/0 hooks.  The four of us in just five days tallied a catch and release score of more than 400 fish, with many of the snook exceeding 10 pounds with a few tarpon ranging to 40 pounds.  Most of the poons averaged from 2 to 10 pounds and were a delight on 8- to 9-weight rods.  Many of the snook we hooked couldn't be turned from the mangroves…
Some years later, my Tropical Punch scored other species that remain indelible in my mind.  I was fishing Christmas Island targeting primarily bonefish, but having had a long love affair with fly fishing for reef species, I spent a couple of days tossing Punches to reef structure.  I can't tell you how many different critters I took on both Tropical and Lime Punches.  Snappers and groupers of infinite variety, most of which I couldn't identify and some that couldn't be turned.  I also hooked two of the largest Giant Trevally I've ever locked horns with, both on a Tropical punch.  I landed one that weighed around 30 pounds after a helluva bout with many near misses with razor coral.  The other, a monster that I guess went around 80 or 90 pounds also ate a Tropical Punch delivered with my 8-weight rod because my guide was a hundred and fifty yards away with my 12-weight.  The Mother of Moes was terrorizing bait in a channel and when I dropped the 3-/12 inch Punch in front of her, she inhaled it from three feet away – literally inhaled it!  I set the hook, the water exploded and within the next 60 seconds that fish owned my fly line and all of my backing, completely destroying the drag pawls on my little SA reel.  My hands shook for 30 minutes and I remain miffed at my guide for a couple of days – although I doubt I could have landed that fish even if I'd been using my 12-weight…
Others have provided me with details of similar encounters with monsters that ate Punches and of huge scores with a variety of species both in fresh and saltwater.  For some a Punch of one flavor or another is their favorite black bass fly, others tout it as their only rock bass fly, or whatever fly.  One thing for sure is they do shine for many species and you should have a few in your fly box.
Some years ago, well known artist John McKim started producing a column for Western Outdoors, entitled Fly Ideas.  John has produced hundreds of columns high-lighting some of the best flies know to man, wonderfully illustrating them with his superb line drawings.  I was  honored that he chose my Punch series for one of his columns.  The illustrations shown here are the same ones John used in that column.  John has also agreed to share others of his many past Fly Ideas – hot flies – with us.  Look for them and also check out John's great web site.  Just click on the hot link banner on the Hot Fly Page. Thanks John!